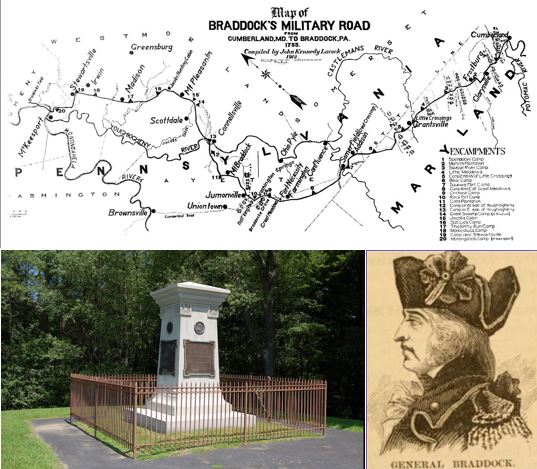 October 11, 2018
Braddock Road Update
On a cold, rainy day, the "Road Not Taken" looked briefly like it might live up to its name. Despite that, Roland Vendeland's Osher class of about 20 participants boarded a small bus for the hour and a half trip southeast of Pittsburgh to see history come alive at Fort Necessity, Jumonville, as well as the sights along Braddock Road that figured into the French and Indian War in the mid-1700s.

Once at their destination, Park Ranger Josh acted as their guide and gave a delightful explanation of the Fort's importance. He said the initial necessity for this fragile looking wickiup of a building was to keep the soldiers out of the rum stored there while their livestock took advantage of forage at Great Meadows. George Washington, 21 years old in 1754, was in charge of building a road to remove the French from the area. Washington was slogging along at about three miles a day through disputed territory then called Virginia by the English, who claimed it by King's Charter, and the French, who claimed it by exploration and called it New France.
Ranger Josh explained to the group how Washington modified the structure to make it more like a fort with the star-like design recommended by military texts of the period. Even so, the configuration looked rudimentary because it contained only a small rough cabin with a tiny stockade around it.
Washington would retreat twice before finally returning to the area as aide-de-camp to General Braddock, Commander in Chief of the British army in America. Inept and arrogant in dealing with the Indians, Braddock was surrounded and killed in a battle near what is now Braddock, PA. The tour finished there, old history invisible under a rain-soaked battlefield.
While they may have retraced these trying events, the class stayed comfortably dry in the bus. Along the way, they passed several significant points and stopped at others, including Jumonville, site of a Civil War Orphan's School, for a lunch enjoyed in vast nostalgia for summer camp: tater tots, barbecue, Kool-Aid, and cookies.