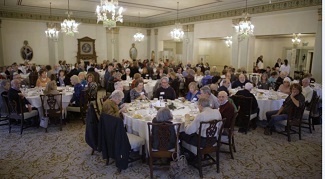 December 22, 2017
Winter Luncheon 2018
Reservation are due by Monday, February 19 at noon.
Join us for the 2018 Winter Lunch!  Lunch is a gourmet plated three-course lunch that includes a Salad, Entree, Dessert, Coffee or Tea.
Lunch Choices: 
Pasta Primavera - Seasonal vegetables over pasta tossed in a garlic and white wine sauce
Chicken Marsala - Lightly coated chicken breast braised in Marsala wine with fresh mushrooms
Grilled Salmon Fillet - Served over baby spinach with a Pernod sauce & topped with a julienne of tomatoes 
Entertainment will be provided by CMU students!
Members and their guests are welcome. Register online for Course ID:2347 or call the Osher office.