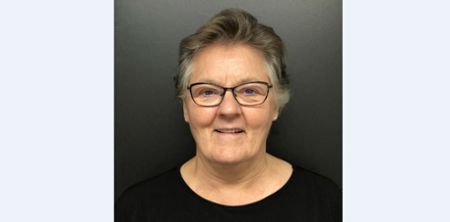 November 01, 2018
Volunteer of the Month - Jan Hawkins
Like many others, Jan Hawkins began her Osher "career" by volunteering in the office at the Hunt Library. This opportunity presented itself when Jan finished a 33-year career with Westinghouse. She was keenly interested in joining Osher Lifelong Learning at CMU and gladly volunteered her support in order to expedite her membership application. Jan chose Osher at CMU because of her affiliation with the university as the parent of a student: her son received his undergraduate degree in Finance at CMU in 2008; and, in May 2018, he finished his Executive MBA — with sponsorship from Westinghouse. It seems this family has a strong commitment to the university, Pittsburgh, and one of its renowned corporations.
Jan's professional career with Westinghouse began in her home state of Washington as part of a government-owned, company-operated contract at Hanford. This site was a key component of the Manhattan Project. In early 2000, Westinghouse relocated Jan from Hanford to Pittsburgh; and, over the next 14 years, she moved a total of eight times. Two of these corporate relocations involved international assignments — one in Manchester, England and one in Brussels, Belgium.
In 2015, Jan retired from her position as a Human Resources Director at Westinghouse. During her career, Jan enjoyed many opportunities to travel . . . and she has added to these with personal choices of destinations and experiences. After nearly 50 countries and all seven continents, Jan still has deep desires to travel. Possible future trips include Vietnam, Japan, Russia and…..??
Today, Jan resides in Oakmont. Her daughter, (Lynsey) a corporate attorney, lives in New York with her husband (Ray) and their two daughters (ages 4 and 5). Jan's son (David), his wife (Briana) and their two children (ages 2 and 6 months) also live in Oakmont.
Jan is proud to be a part of the Osher at CMU team. She is currently a member of the Board of Directors and chair of the Human Resources Committee.