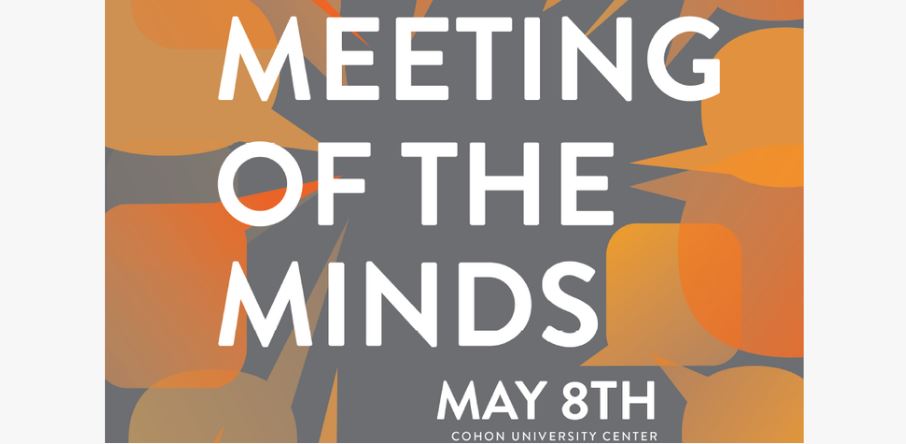 May 17, 2019
Meeting of the Minds: Wrapup & Report
Osher at CMU sponsors awards in the CMU Meeting of the Minds competition, recognizing outstanding posters, across a range of disciplines, that have positive impacts on individuals' quality of life and health. Judges select awardees based on:
The impact of the project on the quality of lives of people including senior citizens
Creativity, originality, and efficacy of the project, based on effectiveness of the presentation and abilty of the student(s) to articulate the significance of their work.
This year, 36 projects were submitted for consideration for the Osher awards. Of these, six were not eligible because they were oral presentations. Two applicants failed to appear, leaving 30 posters to be judged.
Anna Estop, Peggy Heidish, John Olmsted, Bruce Rabin, Randy Weinberg, and Mark Winer served as judges. Raja Sooriamurthi did much of the preliminary work but was unable to serve as a judge owing to health issues. Following protocols from previous years, we formed two judging trios, each of which reviewed half of the projects:
Review morning session posters (14 posters: 7 for each team, 15 minutes per poster)
Confer to pick 3 top contenders from each team's set
Visit contenders in opposite set (3 for each team, 15 minutes per poster)
Review early afternoon posters (9 posters: 4 for A, 15 min ea; 5 for B, 12 min ea)
Select up to 2 top contenders from each team's set
Visit contenders in opposite set (2 for each team, 10 minutes per poster)
Confer to sort top contenders thus far; list tentative winners
Review afternoon session posters (4 for A, 12 min ea; 3 for B, 15 min ea)
Confer to pick up to 2 top contenders from each team's set
Visit contenders in opposite set (2 for each team, 10 minutes per poster)
Confer and choose winners.
Six projects were selected for awards: two first place ($800 each), two second place ($450 each), and two honorable mention (no cash award). Randy Weinberg presented the awards at the award ceremony and reported "Our $800 first prize awards and $450 second prize awards were very respectable relative to the others. Boeing had one $1000 and one $2000 award. All the CMU awards ranged from $0 to $1000. There were several other certificates given without cash prizes, so our 'honorable mentions' were just fine."
Winners were the following:
First Place Winners:
Rriddhiman Bezbaruah, Mechanical Engineering: "Using Additive Manufacturing to Create Next Generation Brain-Machine Interface Devices to Improve Stroke Rehabilitation" 
Cristina Banuelos, Biological Sciences: "Structural brain network topologies associate with aspects of value-based decision-making"
Second Place Winners:
Jack Forman, Materials Science and Engineering; Katherine Forrester, Biomedical Engineering; Andre Gutierrez Marty, Mechanical Engineering; Beichen Liu, Chemical Engineering; Rena Miu, Chemical Engineering; "Low Cost Artificial Lung" 
Wyatt Swift-Ramirez, Chemistry, "Gentle Attachment of Bioactive Molecules onto a Robust Graphenic Scaffold"
Honorable Mentions:
Puja Dutta, Biological Sciences, Targeting ppGalNAc-T3 to Block the Migration and Invasion of Cancer Cells
Alexander Baikovitz, Mechanical Engineering; Jonathan Duffy, Electrical & Computer Engineering; Zachary Sussman, Computer Science; "In-Sight: Tension-Based Haptic Feedback to Improve Navigation for People who are Blind"
Judge Feedback:
Mark Weiner: It was a lot of fun. Watching these kids present their material, I wonder if I would have made it through college if I had been in classes with this crowd. In fact, they were better than many of the presenters I have encountered in the business world.
Peggy Heidish: [It was] great fun. Over the years I've attended MOM, but never got to experience the depth of it as I did this year being a judge and working with the team.
Anna Estop: It went very smoothly and we are getting very efficient. I learned a lot and had fun at the same time.
Randy Weinberg: It was a fun and energizing day. Lyn and crew got the checks and certificates ready very quickly. Most of our winners were present. Overall, the attendance was much higher than I expected.
I found it to be awesome, rewarding, enjoyable, and informative.