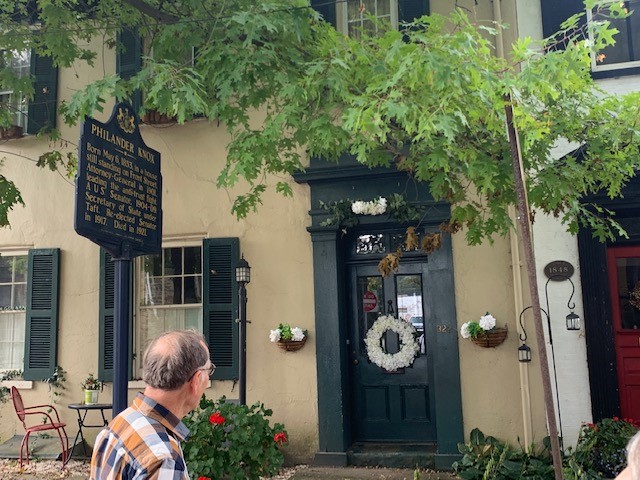 December 13, 2019
Osher in the News: our Brownsville Trip!
This article below was posted to the Herald Standard website, and is a wonderful piece writen about our recent day trip to Brownsville!
Historic Brownsville drawing interest from around region
By Frances Borsodi Zajac
A group of Pittsburgh tourists gathered around Brian Brashear on the grounds at Nemacolin Castle.
"Welcome to Brownsville,'' the historian and tour guide smiled as he prepared to take the group on a walk up and down Front Street, "one of the oldest and most historic streets in Fayette County.''
Brashear explained on this beautiful fall day that Front Street was part of the Nemacolin Trail, named for a Native American chief who created a route to the Monongahela River that would later be used by settlers, who called it the Whiskey Path as they rolled barrels of whiskey down to the river.
Brashear shared information on some of the historic homes and people who once lived on Front Street – "some more famous than most people might think.
They included: the site of the former Black Horse Tavern that housed meetings for the 1791 Whiskey Rebellion, a building that once served as an academy for young ladies and later the location for one of 15 newspapers once based in Brownsville, homes of steamboat captain Henry Miller Shreve for whom Shreveport, Louisiana was named, U.S. Rep. John Littleton Dawson, who authored the Homestead Act and Philander C. Knox, U.S. attorney general for Presidents McKinley and Theodore Roosevelt, secretary of state for President Taft and a two-term U.S. senator.
Asked about Brownsville's population, Brashear said, "In the 1800s, it was really, really crowded because of the railroads and close proximity to the National Road. So there were more people then than there are now. In the 20th century, it declined a little bit. We're trying to rebuild the town. As we go, we'll talk about that.''
Tourist groups are starting to discover Brownsville, one of many Fayette County towns steeped in history. The community that can trace its roots to an 18th century trading post grew from the transportation and coal and coke industries as well as local businesses. While Brownsville has experienced some difficult times, revitalization efforts are underway through a number of community efforts.
The Pittsburgh tourists came by bus for a daylong tour that would include stops at Nemacolin Castle –where they would have lunch served by the Brownsville Historical Society, Historic Church of St. Peter, Monongahela River, Rail and Transportation Museum, Brownsville Heritage Center and Frank L. Melega Art Museum, both in the Flatiron Building, and the former Temple Ohave Israel synagogue as well as the community park at Snowden Square and the nation's first Cast Iron Bridge.
Roz Goorin explained, "We're with Osher Lifelong Learning Institute at Carnegie Mellon University. This is a new travel, special interest group and we just got started.''
The group decided to visit Brownsville after seeing a presentation on Brownsville by former mayor Norma Ryan and high school student Nick Seto.
"Norma had us all pumped up about historic Brownsville,'' said Goorin.
The group included two former residents eager to see their hometown.
"My father was born in this town in 1913 and my great-grandfather started Krause's Furniture store in 1903,'' said Debbie Schwartz Pechersky, who graduated Brownsville High School in 1970. "Growing up here, you don't think of living in an historic town.''
Rana Grossman Tonti found the Front Street house where she used to live: "I left in 1968 when I went to the University of Pittsburgh and I had three siblings who did the same thing.''
Happy to make the trip, Grossman said, "It's good to come back.''
Ryan joined the tour at St. Peter and was just as excited about their visit, saying, "They're an outstanding group of people.''
Asked how tours might help the community, Ryan commented: "Brownsville can truly become a tourist destination and that certainly is an economic boost to the town. These tourists bought lunch here and at the Heritage Center, we sold them items in the gift shop. They also generously donated to each museum they visited.''
Ryan added, "BARC provides a tourist packet of all the sites in the region for visitors to enjoy. The Laurel Highlands Visitors Bureau has a booklet of sites to see that is included in the packet. Southwestern Pennsylvania can truly tell the story of the Making of America, the Westward Expansion and the Industrial Era that brought immigrants to our great country to make us who we are today. I am very happy that my parents immigrated to America. We do have a story to tell in Brownsville.''
For more information on Brownsville and tours, Ryan advised contacting Browsnville Area Revitalization Corp. at 724-785-9331.