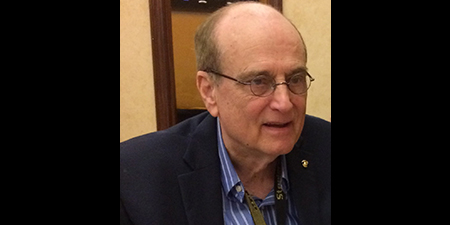 August 01, 2018
Volunteer of the Month - C. R. Thomas
A Behind-the-Scene Look at Osher Study Leader C. R. (Chuck) Thomas
Often a playwright may be asked, "Where do you get the ideas for your plays?" In the case of C. R. (Chuck) Thomas, study leader for the Osher acting workshop, Have You Ever Wanted To Act On Stage?—he wittily responds, "Oh, the ideas just come to me." For example, Cam Moo, the first existential cow in Adam and Estelle: The Real Story of Creation and the Fall of Man. And after having written 86 plays and producing 80 in the Pittsburgh area, the ideas just seem to keep coming. Dr. Thomas has been teaching this acting workshop at Osher at CMU since 2010. While a good acting scene can be compared to a tennis game, with continuous movement and back-and-forth action between the actors on stage, the emphasis for Chuck and his co-study leader, Nancy Santangelo, is concentrated on having the actors deliver a satisfying performance by either holding and reading from a script, or some actors choose to memorize their lines. Chuck is on stage during each rehearsal coaching the actors in sotto voce, and Nancy helps with blocking and pointing out where the emphasis should be in the delivery of the lines. The class culminates with an evening of play performances followed by a reception. The entire event, including parking, is free to Osher members and their guests.
Dr. C. R. Thomas hails from Clarksburg, WV, where, bored, he mentally dropped out of school in the 5th grade. After graduating from high school, he enlisted in the Marine Corps, and upon being honorably discharged from the service, he started his college experience. It was at WVU that he regained his love of learning. He graduated in 3 years, 6 weeks while simultaneously working 3 part-time jobs and paying his own way through college. He eventually completed 5 college degrees. Chuck started writing comedic scenes in high school, and later, while teaching high school for 1 year, he wrote a play that had a role for at least 71 out of 82 students, doubling the attendance at that particular senior class play. He left teaching briefly, and later joined the faculty at California University of PA, where he taught for 30+ years before retiring in 2002. At CalU, Chuck was elected 14 times to the position of spokesperson for the university faculty and president of the faculty union. He also received a Distinguished Faculty Award for Excellence in Teaching from the Commonwealth of PA.
Since retiring Chuck has spent much of his time writing essays, poems, and plays. Some of his essays and poems have appeared in the Osher Signature publication as well as the We Were There collection of essays related to World War II published by Osher. He also likes to indulge in one of his favorite pastimes, watching films, in addition to following college and professional basketball. But he continues to hone his passion for play writing, and he looks forward to teaching the Osher acting workshop twice a year. The ideas for plays just keep coming to him.