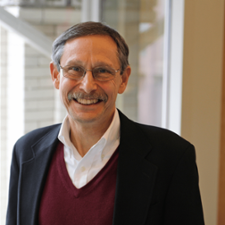 April 08, 2019
Randy Weinberg Receives Gelfand Award
Provost James H. Garrett, Jr., has announced the 2019 award recipients including Osher's newest board member, Randy Weinberg, who will receive the Mark Gelfand Award for Educational Outreach.  The Mark Gelfand Award for Educational Outreach is given annually to a member of the university community who has combined sustained, effective community service with academic coursework and a deliberate process of student reflection to enhance the learning experience, teach social responsibility and improve some aspect of life in the community. Special consideration is given to individuals who focus on science, technology, engineering or mathematics educational outreach to younger populations.
About Randy Weinberg
Teaching Professor and Faculty Director, Information Systems Program in the Dietrich College of Humanities and Social Sciences
Randy Weinberg has served as a faculty member in the Dietrich College of Humanities and Social Sciences Information Systems program since 1998. He was the faculty director of the program from 2001 through 2018. His main professional interests are in information systems education and applying information technology in service to the larger community.

He helped solidify service learning as a cornerstone of the undergraduate Information Systems (IS) curriculum. Over his 20 years at CMU, approximately 1,600 students have participated in IS community-based service learning courses in both Pittsburgh and Qatar, IS global summer service experiences and a long-running summer institute for underserved student populations.

Prior to his service at Carnegie Mellon, he was a professor of computer information systems at St. Cloud State University, St. Cloud, Minnesota. He began his professional career in the early 1970s, during (as he calls it), 'The Jurassic era' of computing, working as a programmer at IBM on the System/370 operating system.

He earned his B.Math. and Ph.D. degrees from the University of Minnesota.

In his 32 years as an educator, he has been privileged to work with an amazing galaxy of students, faculty colleagues, staff members, and community project partners.