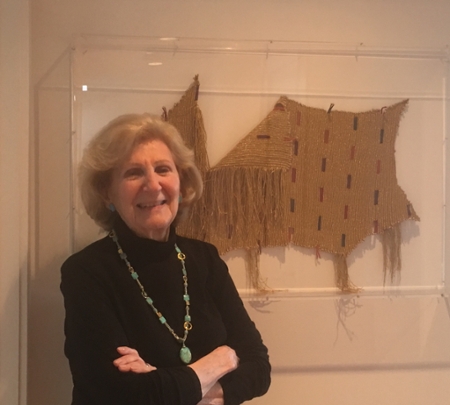 April 06, 2018
Volunteer of the Week Marilyn Meltzer
For those of us "of a certain age" and trivia buffs as well, the song "Dream Weaver", written and sung by Gary Wright, that hit the billboard charts in the mid-70's, spoke of the mind weaving dreams, ("Oh dream weaver/ I believe you can get me through the night/Oh dream weaver/I believe we can reach the morning light"). With apologies to Wright, as well as the late John Lennon, who used the phrase in his song "God" in a solo album prior to Wright's hit, members of Osher are most fortunate to have a literal "dream weaver" among us. Marilyn Meltzer began weaving in the 60's when her three children were approaching adolescence. Her colorful, imaginative fiber installations have been exhibited twice in the International Tapestry Exhibition in Lausanne, Switzerland and can be seen in Pittsburgh's Carnegie Museum, the Museum of Art and Design in NYC, other museums, and in corporate and private collections. She has authored a book on weaving. An annual award in CMU's School of Design Prize is awarded in her honor.
A prolific reader as well as a dream weaver, Marilyn started book clubs in the 1950's in her native Los Angeles. When her husband's career eventually brought her to Pittsburgh, her interest in literature complemented her artistic career. After joining Osher, she met former Osher member Maureen Hahn who needed a partner to teach her Current Literature class. Marilyn agreed, and when Maureen moved out of town, Marilyn continued to teach Current Literature yearly for the past eight years to present. She spoke highly of "the smart people who make up such a good cohesive group" in her class. Some of these students continue with her in outside book clubs as well. Marilyn has enjoyed Osher classes as a student, citing courses in the classics taught by Andrew Miller, Al Kosmal's cooking classes and Sheila Werner's courses on WWI and II among her favorites.
Marilyn Meltzer's husband, influential American political economist and Tepper School Professor, Allan Meltzer, died in May, 2017. She is the mother of two sons and a daughter. In addition to her other mentioned interests, she has recently joined the Pittsburgh Dragon Racers and is an enthusiastic rower.