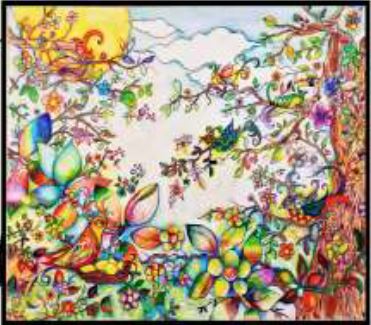 February 02, 2018
Shuman Juvenile Detention Center Billboard Project
March 2018 Artwork by a Resident at Shuman
Shuman Juvenile Detention Center partnered with Florida Recycled in Pittsburgh to launch its "Why Art?" community service project, which provided at-risk children the opportunity to showcase their artistic talents. It also helped remind the public of the importance of finding solutions to problems faced by vulnerable populations.
Current and former Shuman residents and staff, along with students and staff from Spectrum Charter School and the Western Pennsylvania School for the Blind, created 12 billboards to be displayed on Port Authority buses in targeted Pittsburgh areas. View the billboards [PDF].
The billboards also were used to a create a 2018 calendar [PDF], which is available to download for free. (Hint for printing: rotate view, print 2-sided, fold, and staple.) 
Almost 50 people worked collaboratively to color each billboard, learning the value of sharing, planning, and teamwork, as well as how to better express themselves through art. The project not only promoted self-worth and empowerment, it also afforded at-risk populations a voice in addressing the necessity of the arts in our lives and culture.
Special Thanks To:
Lindsey Gross, whose poster was in the Artistic Discovery Contest sponsored by Congressman Mike Doyle, and the Gross Family
Volunteers: Stephanie Jimenez and Janice Schuler
Elaine Effort, KQV Radio "Pittsburgh Profiles"
Carnegie Mellon University Osher Lifelong Learning Institute
Juvenile Detention Centers and Alternative Programs (JDCAP)
National Partnership for Juvenile Services (NPJS)
Project Funded in Part By:
Craftsmen's Guild of Pittsburgh and "A Fair in the Park"
John (Rocki) Oravik Industrial Mechanical Consulting
Laura and Kevin Horner
Maria Piantanida Charitable Fund through The Pittsburgh Foundation
Soup N'at and the Union Project
Project Made Possible By:
County Executive Rich Fitzgerald
Gerry Florida of Florida Recycled
Port Authority Advertising Account Executive Maurice Fisher
Studio Blue at Shuman Juvenile Detention Center