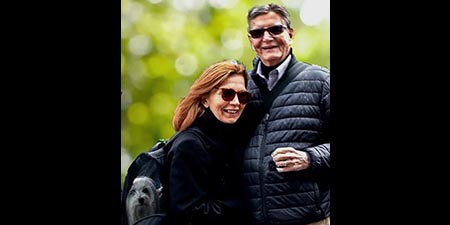 June 28, 2018
Volunteer of the Month - Joe and Rosemarie Shirk
I always have an enjoyable time talking with Joe and Rosemarie Shirk. Today we got on the subject of favorite Osher classes and I ended up adding another to my already kind-of-full summer schedule. 
You may have met the Shirks in one of your classes, particularly if your schedule is heavy in music, design, or science. I first encountered them (and their little dog Renfrew) when we shared the front row at the Mellon Institute auditorium for Flavio Chamis' Three Perspectives in Music class in the spring of 2017. Joe has a longtime service record (ten out of his twelve years) on the Osher at CMU Board of Directors (from member, to Treasurer, to Vice President, to President). He was also instrumental in getting Flavio to teach at Osher at CMU.
 
Together, Rosemarie and Joe have done photography work for Osher at CMU, as well as a little moviemaking. They created the Osher Four Images pin and poster, a piece that offers Bernard Osher, Mayor Bill Peduto, psychiatrist and Osher study leader Cleon Cornes, Carnegie Mellon University President Farnam Jahanian (when he was the provost), longtime Osher member Ed Landerman, Andrew Carnegie, and everyone's favorite canine classmate, Renfrew Shirk, as a work of art.
 
In addition to the quality of coursework and instructors offered at Osher at CMU and how that keeps our minds active, Joe and Rosemarie both stressed the importance of the socialization opportunities Osher offers. "There are studies showing that the greatest predictor of a long life is how social you remain as you age," Joe said to me as they sent me a link to Susan Pinker's TED Talk, "The Secret to Living Longer May Be Your Social Life." 
 
Joe hails from New Castle, IN and Rosemarie from Butler, PA. They met in Chicago where she worked as a Regional Trainer for Marshall Field's and he in marketing for the Quaker Oats Company. "We moved to Pittsburgh in 2003 to take advantage of the city being an ideal place for retirement - with its excellent reputation for the arts, education, medical care, and a low cost of living.  The climate did not play a role in our decision."
 
Oh, and the course I mentioned signing up for after speaking with the Shirks is popular Cleon Cornes' The Life and Music of Franz Joseph Haydn. It starts July 5 in Porter Hall, and as of this writing, there are eight seats open.