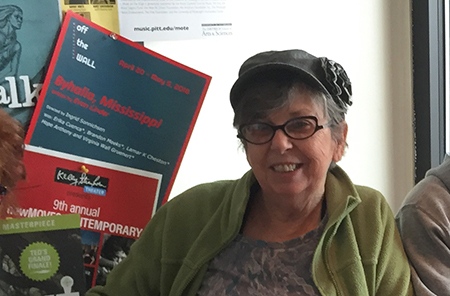 August 31, 2018
Volunteer of the Month Lee Fogarty
For board secretary Lee Fogarty, retirement isn't quite retirement. In fact, it's not really retirement at all. 
She travels. She takes Osher classes in politics and sociology and body movement. She attends lectures on art and medicine. She's an executive coach. She likes mysteries written by women writers for their psychological and philosophical themes. She's recently become interested in workplace design, a relatively new field that develops office plans to create optimal environments for a variety of work styles. She enjoys reading, kayaking, and walking. Lee also meets with friends every Saturday morning to talk about politics, women's issues, and the state of the world.
She laughs and says a friend recently told her, "You have not gotten the 'relaxation' part of retirement."
Lee was a psychologist by profession who worked mostly as a generalist, but also focused on anxiety and depression with an emphasis on women's issues. Now, as an executive coach, she operates in the upper levels of organizations to help managers and CEO's develop reliable and productive teams while managing diverse and often strong personalities. She recalls how a colleague described the work. "As a friend of mine used to say, it's teaching really smart people how to play well together."
If the idea of psychology conjures up images of a comfortable and warmly appointed office, that's part of it. However, Lee also volunteered as a psychologist for first responders at ground zero for two and a half weeks after 9/11. "Mostly it was just being there, talking to them, making sure they were eating and drinking, and, you know, sometimes just being able to say 'I know it's really awful.'" The work, she notes, was intense, and also unique for a psychologist. "In psychology, you're supposed to make your people come to you, but we had to reach out to them."
When it comes to Osher's programs, Lee enjoys the classes, and she also notes the broader value of the organization. "I think the socialization is really important. I think the classes are really interesting and challenging, and [they] help me and help us keep using our brains in really good ways. You get to interact with interesting and smart people."
She also mentions the trips Osher plans for members. A group traveled to Cleveland this year and there are others in the works. "I think that's a really good thing that they're doing. People have been asking for this because they want to have more chances to travel with people they know and trust. I think that's a really good thing that's going to happen."
Lee's daughter, Traciy, is a social worker who has lived in England for 15 years, and she's now starting her own private practice. Lee traveled to England in September 2017 for her wedding, when Traciy married her wife Ursula.
Lee also has two cats, Jamma and Andy, and she says, "Luckily, they do not have opposing digits because they would be in very bad trouble all the time."
Her near-term plans include teaching a class at Osher on personalities and how to get along with different people, and Lee recently took a ten-day trip to Japan that included stops in five cities as well as Hong Kong. She plans to go to Madrid, Spain, this fall.
Pictured: Lee at her weekly Saturday morning meeting with friends at Zeke's Coffee in East Liberty.