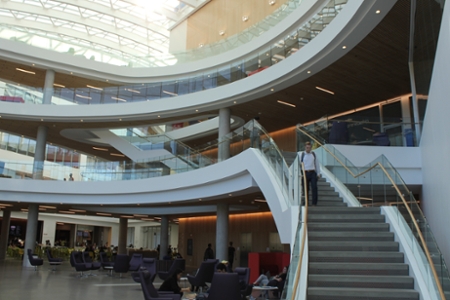 October 05, 2018
Tepper Grand Opening Update
By Jim Reitz, President, Osher Board of Directors
I spent much of Thursday & Friday, September 13th & 14th, attending events – keynote speeches, panel discussions, and tours celebrating the Grand Opening of the new Tepper Quad. Is it because of my role as president of Osher that I was able to do that? NO! The events were open to ALL of the Greater CMU Community – and that includes you.

I heard an address by Jerome Presenti, VP of AI at Facebook, and a CMU alum. An illustrious panel discussed the future of Smart homes, Smart cars and smart cities. They all had such impressive resumes and were all CMU grads.
I'm sure you are aware that CMU has moved into the rated area of one of the top universities in the world. You may not know that CMU is No. 1 in the world in "collaborative" higher education. The seven separate schools at CMU are no longer in fact separate. The College of Engineering, College of Fine Arts, College of Humanities & Social Science, School of Computer Science, College of Science, Heinz College of Information Systems and Public Policy, and the Tepper School of Business are inter-connected.
Students in each school do not just know about each other, they work and study together. Consequently, a new engineering discovery is enhanced by adding an artistic element, a digital element, and consideration of how it will impact society and the workforce.

I think it is accurate to say that the biggest draw that brings members into the Osher Lifelong Learning Institute at CMU is our classes. We are justly proud of what a wide variety of classes we offer and their quality. But becoming an Osher member opens your world, your life, your inquiring minds to so much more. We offer lectures, social events, arts gatherings and other opportunities.
I hope you already knew all of that. What you may not know or think about is all that occurs at this amazing University, which is also open to you. I go to all of the CMU theatre plays each year and get a lot of pleasure out of seeing characters on TV, Broadway, and the movies I first saw on stage at a CMU play.
Last year CMU theatre brought in a guest director from the University of Oregon, considered one of the best Universities for theatre in the US. He said that CMU's theatre department is the best in the country.

Back to the Grand Opening of the Tepper School building. The second of the two days focused on an event titled – Intersect@CMU – The Intersection of Science Technology and Society. This focused on the ways CMU is a world leader in university collaborative learning. AND this was the 1st of what is to be an annual event. Anticipate world-class leaders coming in each year to speak and you can attend.

At your own Osher program, we are also involved in a version of "Intersect." We encourage all of our members to celebrate the intersection of Continued learning, the stretching our minds and with the stretching of our abilities to keep up with an always expanding – never stopping - use of technology. For some this means increasing our digital skills and for some it is being newly introduced to and having the audacity to master basic digital skills. We are learners.
I once heard an Osher member say – I looked at the catalog and didn't see a course of interest. That blew my mind. I have the opposite problem. I see so many interesting, challenging courses and I can't take them all.
But if you truly are ever in the situation of that individual, expand your horizons. You are right in the midst of a great university community with numerous mind-expanding opportunities. We post CMU events regularly on our Weekly Emails and our web site.
Widen your horizons to include your access to incredible things happening on the campus through which you frequently walk and you are invited.