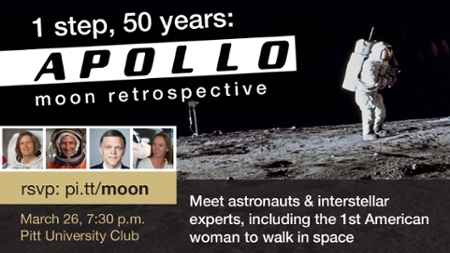 Apollo: 1 step, 50 years-Moon retrospective
WARNING: Registration is now closed.
The Honors College at the University of Pittsburgh invites Osher at CMU members to a panel discussion: "1 step, 50 years: An Apollo moon retrospective." 
Meet a panel of interstellar experts:

» Kathryn Sullivan, 1st American woman to walk in space
» Jay Apt, former space shuttle astronaut
» Douglas Brinkley, bestselling author of history of the space program
» Jennifer K. Levasseur, PhD, Museum Curator, Smithsonian National Air and Space Museum
This event is free & open to the public, but seating is limited. RSVP by submitting the Google form: pi.tt/moon.