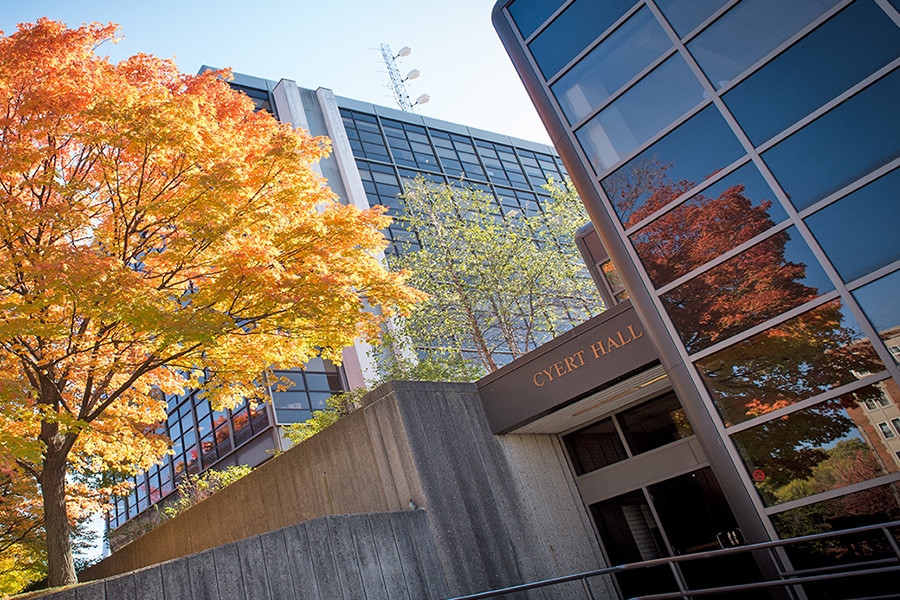 March 29, 2019
Osher's New Space
photo by Steve Chabassol
TO ALL MEMBERS OF THE OSHER LIFE LONG LEARNING INSTITUTE AT CMU.
WE HAVE BEEN GRANTED OUR NEW SPACE.
We know many of you have been watching this process unfold for several years, wondering if anything is really happening and perhaps doubting. Now we can definitively say we WILL have new space.
The specifics of space definition, outline, rooms, etc are yet to be worked out, but we wanted to alert you that a BIG STEP has happened. We just learned it and you deserve to know right away to participate in the "Journey" with us.
We will be in Cyert Hall. Where is Cyert Hall, some of you will likely ask? CMU has not produced many good maps of campus since the recent building boom, but the best one is right in the back of your Osher catalog. I'm sure you've seen it. Get your catalog or go on line - I'll wait.
OK, you've got it. No (#) 3 is Cyert; #1 is the Stadium Garage; #8 is Hunt; #20 is Wean; #18 is the new Tepper.
Cyert is directly across the street from the bus stop coming from Squirrel Hill or Shadyside. There will be a traffic light right near there also.
It is very close to the bus stop from Oakland and downtown.
It is very near the campus shuttle stop.
It is across the street from the new Tepper Quad, where we anticipate being able to use their assembly hall and perhaps other space.
Cyert is approximately 1/2 of the distance from the stadium garage as to the distance from the garage to Hunt.
We will be very near Cohon University Center where a lot is always going on and we use space.
ALL of our classrooms AND our offices will be in one spot - with a central lounge where members can meet and greet.
We'll have the latest in audio visuals, an emphasis on soundproofing and we're promised pleasing design.
We'll have all new chairs for classrooms.
This granting of new space came after MANY, MANY meetings, submissions, and negotiations on the part of members of the Board of Directors over the past several years.
Three of us met with CMU's new provost, James Garrett, last week. He listened to us. He made clear he believes in our program. We were very impressed with him, his vision for CMU - AND - Osher's place at and importance to - CMU.
He once taught for us and offered to do so again. That led to a meeting with a dynamic, experienced and very enthusiastic, Project Manager who will be in charge of necessary demolition, design and construction. We feel very fortunate to have our project in her hands.
Yes, we will have to raise a significant amount of funds for the build-out and furnishing of the space, but when that is complete our program, which is always improving, will move to an even better level. Our plans for the fund-drive are already under way. Expect to have an invitation to be a part of it.
Timing? We won't have access to the finally determined space layout until January of 2020. Renovation will take perhaps 4 months. We "Could" be in our new space by Summer term of 2020, but I'm sure you all have had experience with construction "unexpecteds," (to coin a word) so don't hold me to that date.
Important note: although we can't move IN before summer of 2020 at the earliest, we have to move our offices OUT of Hunt by sometime THIS summer. We don't know exactly where at this point. I do need to say - be prepared to be patient with our office staff and your board committees over the next year and perhaps be ready to ask - How can I help?
I expect you have all had some experience of "Living-Out-Of-A-Suitcase." (Now where did I put that file?). We will get through it. I'M EXCITED, I mean I'm REALLY EXCITED - as are all who have worked hard for this stage. You're going to like it!
Sincerely,
Your President, Jim Reitz