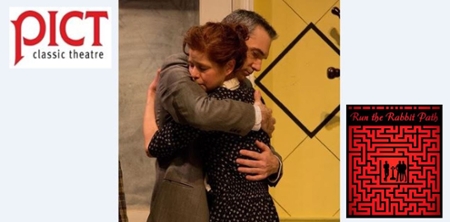 PICT Classical Theatre
Run the Rabbit Path
By Ray Werner
Directed by Alan Stanford
In the shadow of Pittsburgh's steel mills, two Irish American brothers and their sister struggle through the trauma of planning their father's wake, in the kitchen where he died the day before. Their father's love guides them through the morass of emotions as they stumble onto the mystery of the rabbit path.  Ray Werner takes us through this funeral family process with all the wit, tenderness and charm for which his plays have become so loved in Pittsburgh.
Appropriate for ages 14 and older.
For all ticket and programming event information, please visit our website at picttheatre.org or call our office at 412-561-6000.
Run the Rabbit Path will be performed at WQED, 4802 Fifth Avenue, Oakland 15213
20% discount on adult tickets for Osher at CMU Members
Discount code for any performance date: CMUOSHER
Special programming events include:
Opening Saturday night,  Saturday, February 2, 7:30pm, Sponsored by UPMC. Join the playwright, production cast, crew, director, and staff for our Opening Night celebration immediately following the show, which will host a special Irish musical treat for everyone.  Festivities will be held at WQED. 
A talk-back discussion will immediately follow the Sunday, February 3 matinee.  Our director, joined by playwright and cast will participate in this audience driven exchange.
Join us at WQED on February 6 at 6:30pm for a 30 minute pre-show lecture, given by playwright Ray Werner, on his inspiration for the play. Performance begins at 7:30pm.
On Thursday, February 7 at 6:30pm, we will conduct an interview with Ray Werner, Playwright of Run the Rabbit Path

, sponsored by the

Jack Buncher Foundation

.  Join us in Studio B for this Q&A session exchange. Performance follows at 7:30pm.
Don't miss the chance to join us for our "Food Truck" evening, held on February 8.  The truck du jour will be ready for your order at 6pm.  Join us inside Studio B for arelaxing dinner experience.  Performance begins at 7:30pm.
Stay for our special talk-back discussion immediately following our Sunday, February 10 matinee.  Join Playwright Ray Werner and three professional participants for a discussion on forgiveness, a theme weaved throughout the play. 
Join us for a pre-show cocktail hour at The Mansions on Fifth on Wednesday, February 13 at 6pm.  Ray Werner will be joined by area playwrights for creative conversation.  Performance begins at 7:30pm at WQED.  Please see our website for additional information regarding purchasing a ticket to our cocktail event or event & show package.
A pre-show dinner at The Mansions on Fifth will take place on Thursday, February 14.  A short tour of the mansion will take place at 5pm, dinner in the formal dining room begins at 5:30pm, and playwright Ray Werner will talk about his inspiration behind the play before we head off for WQED.  Performance begins at 7:30pm.  Please see our website for additional information regarding purchasing our dinner & show package.
A special pre-show culinary experience will take place on Friday, February 15 at 6:30pm in Studio B. Classic Culinary Culture (#2 in the series) will bring us the delights of bread making.  Samples will be served.  Performance at 7:30pm.