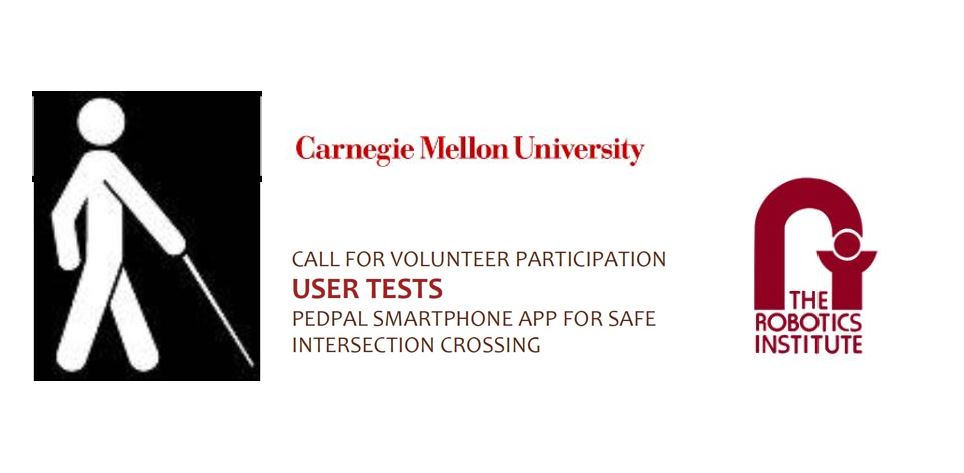 August 07, 2019
PedPal Mobility Research
By Stepen F. Smith pedpal-userstudy(through)lists.andrew.cmu.edu
The Intelligent Coordination and Logistics Lab at the The Robotics Institute of Carnegie Mellon University is recruiting individuals to participate in a user field test of a smartphone app called PedPal. PedPal has been developed in my research lab to assist pedestrians with disabilities and/or mobility challenges to safely cross signalized intersections. The PedPal app allows its user to communicate directly with the intersection to indicate how much time is needed for crossing. Please see the
PedPal flyer
 [pdf] for further details.
Anyone who would be interested in participating in these user tests should contact my lab by email or phone. Please indicate your availability over the period from August 12 to August 23, 2019 and September 3 to September 13, 2019. We are happy to test on most days at most times if you let us know what dates and times work best for you. We anticipate needing a minimum of 1 hour and a maximum of 2 hours for each user test. 
Please contact us at:
pedpal-userstudy@lists.andrew.cmu.edu
or 412-268-8811 or (assistant) 412-268-3078.
Thank you! for your interest in this project!
Best regards,
- Steve
Stephen F. Smith
Research Professor and Director,
Intelligent Coordination and Logistics Lab
The Robotics Institute
Carnegie Mellon University
url: http://www.ozone.ri.cmu.edu/