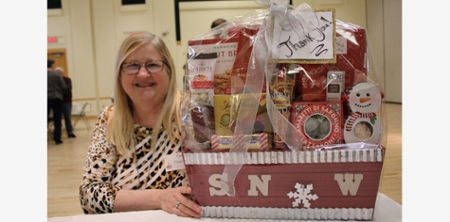 December 19, 2018
Volunteer Ice Cream Social
I scream, you scream. We all screamed for ice cream this past Tuesday, December 11, at Osher at CMU's Volunteer Ice Cream Social in the Rangos Ballroom. The event was hosted by the Osher staff, Chelsea, Chris, Olivia, and Lyn to celebrate our 2017-2018 volunteers. Osher volunteers dug into sundaes (caramel or vanilla ice cream, with hot fudge and caramel sauces, fruit and nut and real whipped cream toppings) as well as plates of assorted seasonal cookies.
Carol Couvrette won the Grand Raffle prize, a basket filled with various holiday goodies. Several members won Scotty Dog-shaped tins of Scotty-shaped mini-shortbreads, and Chuck Glassmire won the 50-50 raffle.
After we'd eaten a little, employees from the Carnegie Science Center gave a demonstration in which they made ice cream before our very eyes, using just milk, half-and-half, sugar, and vanilla, plus a little liquid nitrogen. It took just a few minutes, with no subsequent freezing necessary. And it didn't taste half-bad.
Jonathan Decker took photos throughout the event. Including mine, below. (When did my hair get so much more salt than pepper?)
Like characters in a "Holly Jolly Christmas" scenario, we got to say "Hello" to friends we know and everyone we met, outside the usual classroom environment. That's nice. And what's more holly-jolly-making than ice cream? (Yes, even in December.)