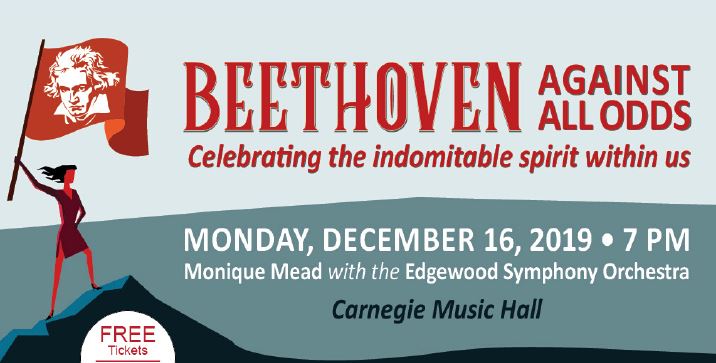 December 06, 2019
Monique Mead: Beethoven Against All Odds on Dec 16th, 2019!
Violinist Monique Mead, Edgewood Symphony to Perform Beethoven Violin Concerto
Free Admission to Carnegie Music Hall Dec. 16 Celebrating Beethoven's Birthday
PITTSBURGH— On Dec. 16, violinist and CMU Professor Monique Mead and the Edgewood Symphony will join the global celebration of Beethoven's 250th birthday with a free public concert in Carnegie Music Hall. The event will mark the end of Mead's tour spanning three countries, six states, and 35 local venues during which she will have performed Beethoven's Violin Concerto 50 times in 250 days for individuals/communities facing adversity.
The program begins at 7pm and will be as diverse as Mead's tour, as she brings together people from the venues she visited. The evening begins in the lobby with exhibits from the tour, a short documentary and Congolese singers, followed by Mead's performance of Beethoven's Violin Concerto with Walter Morales and the Edgewood Symphony. The event will end with a reception, Beethoven's "Ode to Joy," sung in German by the Bruderhof Community, and Mariachi International of Pittsburgh offering Beethoven a Mexican birthday serenade. Tickets are available at the door and at www.beethovenintheface.com.
Having had to learn the famously difficult Beethoven Violin Concerto in the face of her own adversity, Mead performed it for the first time in March 2019 with the Edgewood Symphony. "It was Beethoven's indomitable spirit that gave me the strength to push through," says Mead, "I felt that if he were able to rise above deafness and despair to write this magnificent concerto, I would surely be able to rise above my personal adversity and find a way to play it."
After her successful debut, Mead announced her gift of 50 community performances, challenging the audience to reach out to people facing adversity and bring them the beauty of what they had just experienced. She set up the website www.beethovenintheface.com to take requests, video-document the performance marathon, and share stories about the people and her experiences.
The response was tremendous.  Requests came in from the Squirrel Hill community, inner city schools, senior care facilities, mental health facilities, medical practices, hospitals, Congolese refugees and Mexican immigrants, as well as individuals suffering from isolation, illness, or grief.
"It's a unique performance model that guarantees adventure because you never know where you'll be performing next," Mead says. The 50-concert tour was determined by individual community members, who requested and organized each event. "The collaborative aspect set a friendly tone for the concerts and made it possible to connect with people who would otherwise not be reached."
Mead prefaces each performance with musical examples and stories about Beethoven's life. She also shares her experiences from the tour, as documented in a moving video by Michael Savisky. "I would like listeners to understand that this music is born from Beethoven's 'indomitable spirit,' with the power to comfort, inspire, and transform us through this deeply human ritual of live performance," Mead says.
After the performances she spends time with her listeners, hoping to discover how they managed to overcome their difficulties and live meaningful lives. "Every one of these stories and experiences deepens my relationship with the concerto and informs my evolving interpretation," Mead said. It has also deepened her relationship with her 14-year-old son, Tino Cardenes, who has accompanied her on the piano for 39 of these performances.
In many cases, the venues themselves presented adversities, ranging from cramped spaces, dead acoustics, poor lighting, questionable pianos, extreme temperatures, patient emergencies, sound interference, excited pets, and those who might gesticulate, sing along, wail, cry, or even yell obscenities. "It has forced me to humble my 'inner diva' and realize it's really not about me—ever."
With a growing waiting list, Mead recognizes the continued need for musicians to be agents of comfort in their communities and hopes to collaborate with musicians and funders to expand these efforts in 2020.
For more information, go to https://www.beethovenintheface.com/
About Monique Mead: Monique Mead (www.moniquemead.com)
Monique Mead has been a lifelong ambassador for classical music as a violinist, educator and innovator. She has devoted her performing career to nurturing new audiences and deepening the musical experience for seasoned concertgoers. Since 1998, she has appeared regularly as a soloist and presenter on German television and radio featuring her innovative youth concerts with prestigious German orchestras in Berlin, Munich, and Cologne, among others. In the U.S. she has collaborated with the Pittsburgh Symphony, San Diego Symphony, Mainly Mozart, Orcas Island Chamber Festival, and other organizations to create engaging concert experiences. She currently serves as Board Chair of Chamber Music Pittsburgh and Artistic Director of the Rancho la Puerta Chamber Music Festival in in Mexico. As Director of Music Entrepreneurship at Carnegie Mellon School of Music, Monique is dedicated to helping students forge new pathways for music in the 21st century. She performs on a 1717 Stradivarius violin, graciously on loan from Carnegie Mellon University.
About Edgewood Symphony: https://edgewoodsymphony.org
 The Edgewood Symphony, a not-for-profit organization, strives to be the best volunteer symphony orchestra in the region while providing cultural experiences to its members and community through challenging symphonic music. The ESO is committed to valuing its members and providing them with the opportunity to improve their technical and musical skills and share their passion through high quality performances and educational outreach.