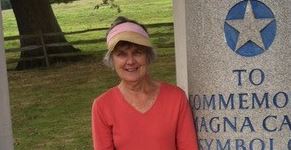 Volunteer of the Month-Jane MacLeod
The most difficult aspect of writing Jane MacLeod's bio is nailing her down for more than 10 minutes. This woman is busy. Says Jane: "I plug in my Osher classes first and then build my weeks around them." Jane has been a member of Osher for about 12 years and has taken a ton of courses; she has particularly focused on the environment, politics, history, art, writing and music. While she claims not to have a favorite class, the one she enrolls in at least once a year is the Writer's Workshop. A couple years ago, Jane's article about Shakespeare's Richard III was published in the Pittsburgh Post-Gazette; she credits the Workshop for inspiring her to write and submit the story.
Born and bred in Cincinnati, Ohio, Jane was a third grade school teacher in her first career; in mid-life, she earned a Master's Degree in Social Work and became the Director of Social Work at UPMC Shadyside Hospital until her retirement in 1999. Her husband Gordon, who died in 2007, was a professor and physician at the University of Pittsburgh. Prior to moving to Pittsburgh in 1974, Jane and her family lived in Boston, New Haven, Washington DC, and Geneva Switzerland. They also made two round-the-world voyages with the Semester at Sea Program. Their two sons, Scott and Sandy, live in California and Maine respectively.
A serious flute player all her life, Jane currently plays with a recorder consort and serves on the Board of Chamber Music Pittsburgh. Other ongoing interests include volunteer work for political campaigns and environmental organizations, a walking group, singing in a church choir, and gardening. At Osher, she has volunteered as "Ambassador", a role created to ensure the instructors' classes run smoothly.