News Grid
Promote news on any page using a news grid. You may hand-pick the News Articles or use an RSS feed to automatically populate the grid. You may also feature news from another site if an RSS feed is provided.

An example of a news grid.
Configure the News Grid
Note: To use a news grid you must have an established news section on your site or an RSS feed from another CMU site.
Using a grid, for Type select News
Select an option for What to show

Pick Articles - Select specific News Articles from your site to include
RSS - Automatically pull in News Articles using an RSS feed

Select the Number of Columns to display
Complete the settings for Heading, Grid ID, Style and Background Image (optional)
Follow the steps below for the What to show option selected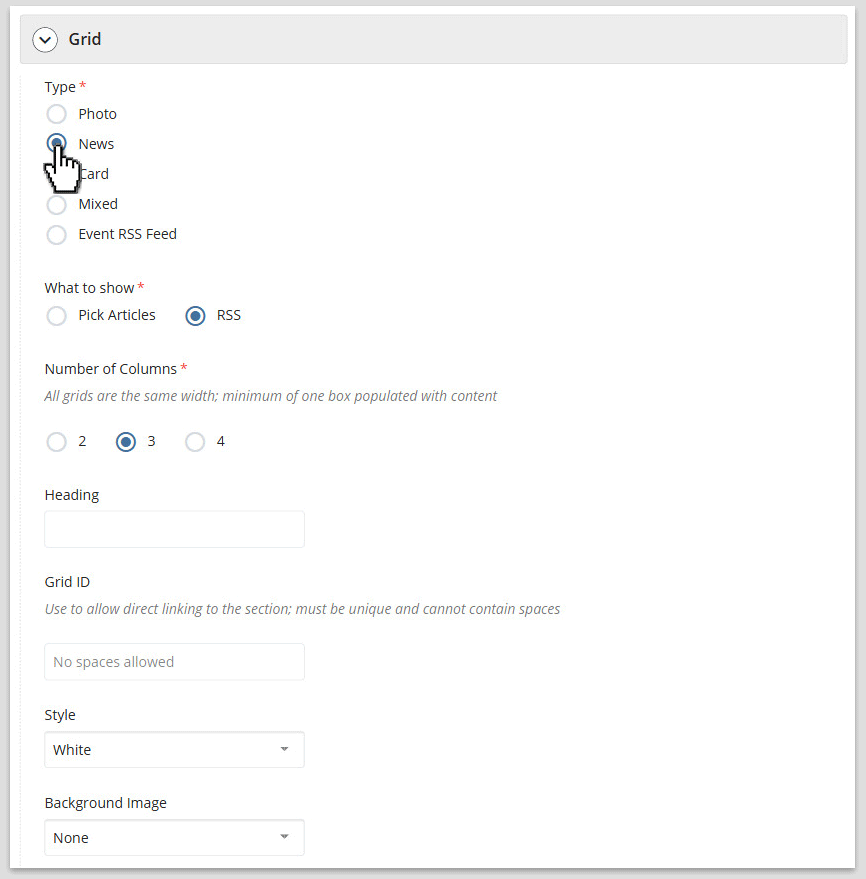 News grid settings in the page edit interface.
Pick Articles
Pick News Articles from your site.
Specify whether the link to the News Article should Open in New Window
Choose Page to browse and select the News Article on your site
Click the plus sign (+) to add another News Article, repeat steps 2-3
Specify whether to include Images, Publication Date and Article Summary from the articles
RSS
Pull in an RSS feed to automatically populate the grid. The RSS feed can be from your site or from another site.
Enter the published RSS Feed URL and be sure to include https://
Specify whether the links to the News Articles should Open in New Window (recommended if using an RSS feed from another site)
Specify whether to include Images, Publication Date and Article Summary from the articles
Select the Maximum articles to display (1-30)