Check Links
The CMS has limited ability to check for broken links, however a combination of the link checking methods below will help ensure your links are fully functional.
Internal Links
Internal links are links contained within your site, such as one page linking to another. An internal link check is automatically performed during publish.
Publish a page or folder (publishing a folder will perform a link check on all pages within it) and wait for the publish job to complete
View notifications by clicking on your Profile at the upper right of the Main Toolbar then Notifications, OR on the Dashboard in the Notifications widget
If broken link(s) were found, it will display completed (1 issues(s)) in the subject line; select to view the notification
Scroll to the Broken Links section to find the broken link(s)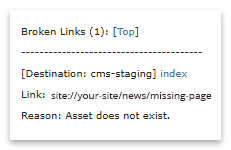 External Links
External links are links that take website visitors to another site. The CMS does not have the ability to check external links, however third-party tools are available for checking all links on your live site.
Third-Party Tools