Sidebar
A sidebar is an area of content that can be added to a Content WYSIWYG. A sidebar appears alongside the main content area in desktop view, and below the main content area in mobile view (more on responsiveness).
Sidebars are super because:
You can put a variety of content in them including text, images, links, calendar events, and lovable yet loopy characters
They come in a variety of colors and styles
You can add multiples on a page
Bio Index and News Index pages have the option to feature a Jump Menu as a sidebar which provides links to different sections on the page
I could see myself going crazy with sidebars. What are the best practices I should follow?
We understand, we love them too! It's easy to think that sidebars are like post-its for miscellaneous content. However, there is a thing as too much sidebar! Follow these best practices to ensure your sidebars aren't taking center stage.
Stick with 1-3 sidebars per page
Use sidebars to complement the information in the main content area
Use sidebars to draw attention to something quickly, like a deadline or a contact method
Avoid lengthy content in sidebars; if you have a lot to say about something, consider placing it in the main content area
Having color options is nice, but try to be tasteful; a rainbow of sidebars may distract from the content
What are some uses for sidebars?
Helpful links
Contact information
Calendar events & deadlines
Twitter feeds
Quick tips
A nice picture. Tip: did you know you can use any picture from CMU's Flickr account on your website? You're welcome!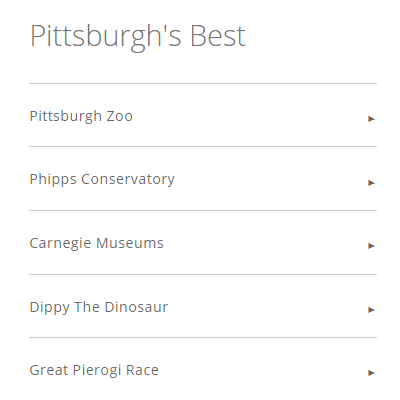 The example above uses the Simple style which contains a white background.