News Article
News Article pages can be used to present stories, press releases, events, announcements, blog posts, media mentions and more.
News Article pages include the following features:
Pre-defined fields for authoring news such as date, summary, byline and media inquiries
Option to add a photo
Tagging ability for filter functionality
Sidebar for link list, event list, or WYSIWYG
Hero and additional content area
Ability to feature in Hero of other pages
News Article pages provide the information that News Index pages use to create a directory listing of news.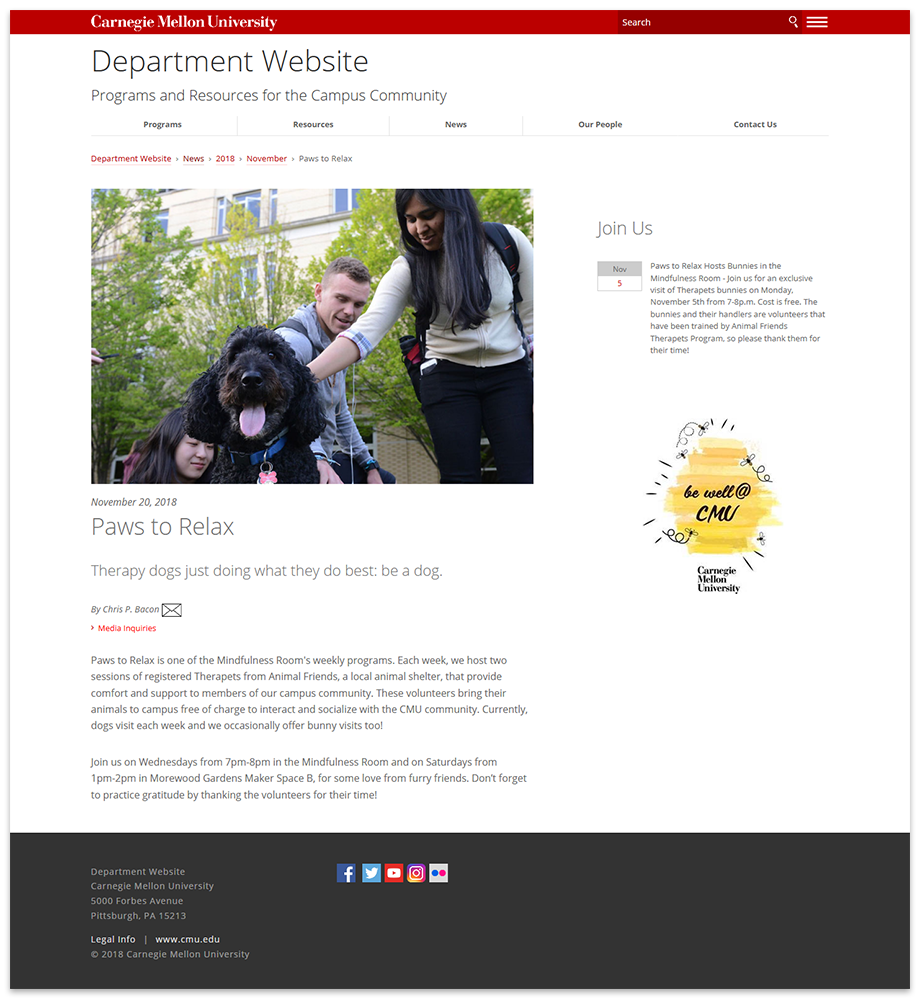 Example of a News Article page.
Create a News Article Page
Ideally, News Article pages should be contained within a designated news section on your site; if you're starting from scratch, review the folder structure recommendations and create your folders for your news section.
Select the folder in the asset tree where you want to create the News Article page

Click Add Content > News > News Article
Complete the required information:

Page Name - Enter the system name for the page (displayed in the asset tree and live URL); follow the requirements provided in the interface
Placement Folder - This will reflect the selected folder; click on folder to change if necessary
Title - Enter the user-friendly name displayed in the navigation (typically the title of the article)
Description - Enter a summary of the page; used by search engines
Start Date - Specify a timestamp for the article. Note: a date set in the future will publish the page on that date; more on scheduled publish.


Specify whether to Display Date on Article

Hide from Navigation - To prevent page from displaying in the navigation, leave at the default Yes; change to No to include it

Include Hero Section (optional)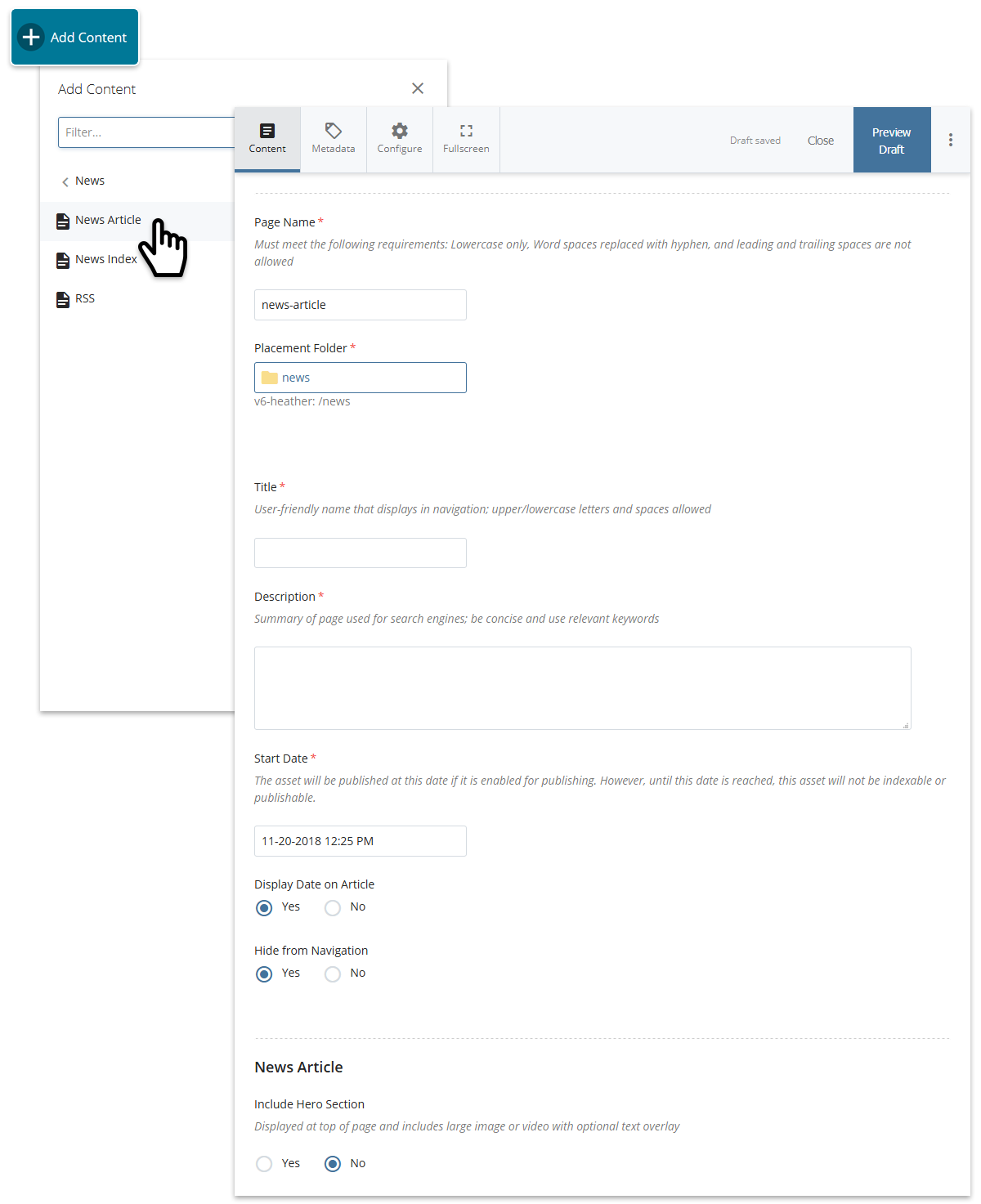 Creating a new News Article page.
Image, Subheading, Byline & Media Inquiries (optional)
Include Syndication Image at top of article - If you want to display the syndication image on the News Article, select Yes
Subheading - Enter a subheading to be displayed below the article's Title
Byline - Enter the Name and Email of author
Media Inquiries - Enter the Name, Unit or Title, Email and Phone of the person in which to make media inquiries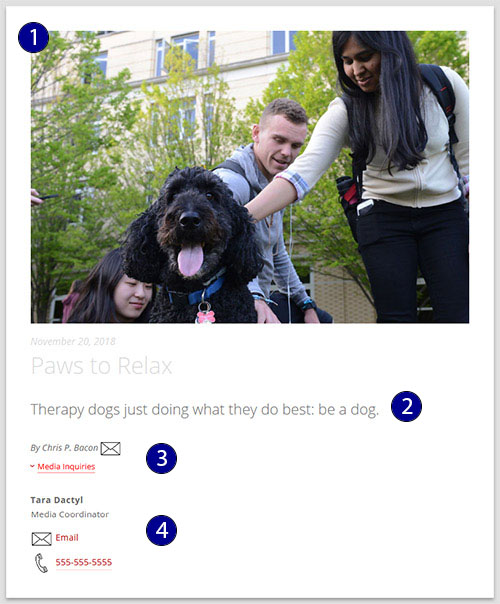 Example of image, subheading, byline and media inquiries; media inquiries is collapsed by default and can be expanded by clicking the Media Inquiries link.
Page Categories (optional)
Categories allow filtering on News Index pages. Specify what categories the News Article should be tagged with (new categories can be created in the categories block; more on categories). Click in each box to select one or more categories; to remove a category from being selected, click on it and press delete.
General

CMU Categories - Common categories used across CMU's websites

Site Categories (Custom)

Categories 1 & 2 - Categories specific to your site
Concentrations - Concentrations specific to your site
Degrees - Degrees specific to your site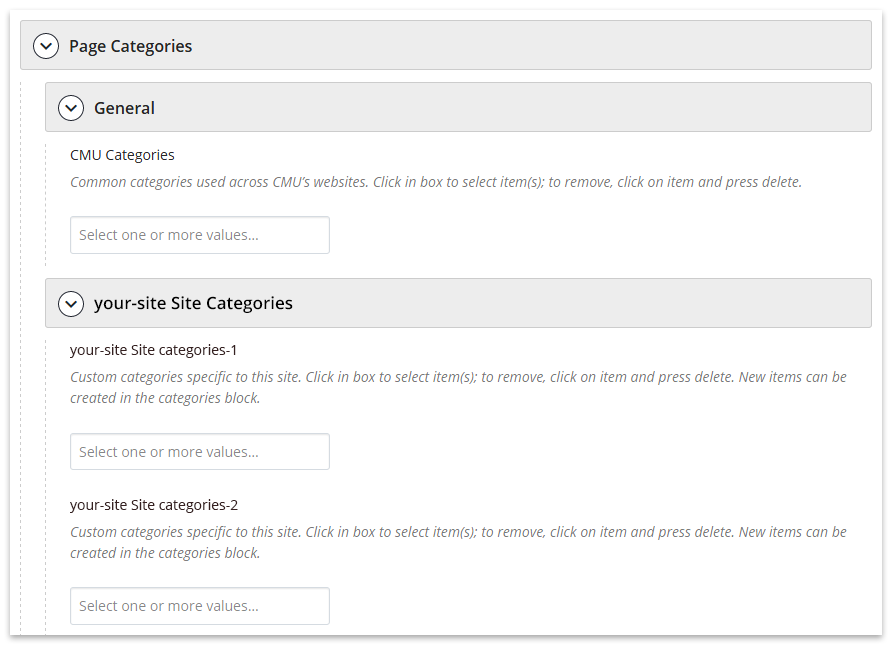 Page categories in the page edit interface.
Main Content
Section ID (optional) - Specify a Section ID if you want to link directly to this section on the page
Content - Enter the body of the news article into the WYSIWYG
Sidebar (optional) - Add a sidebar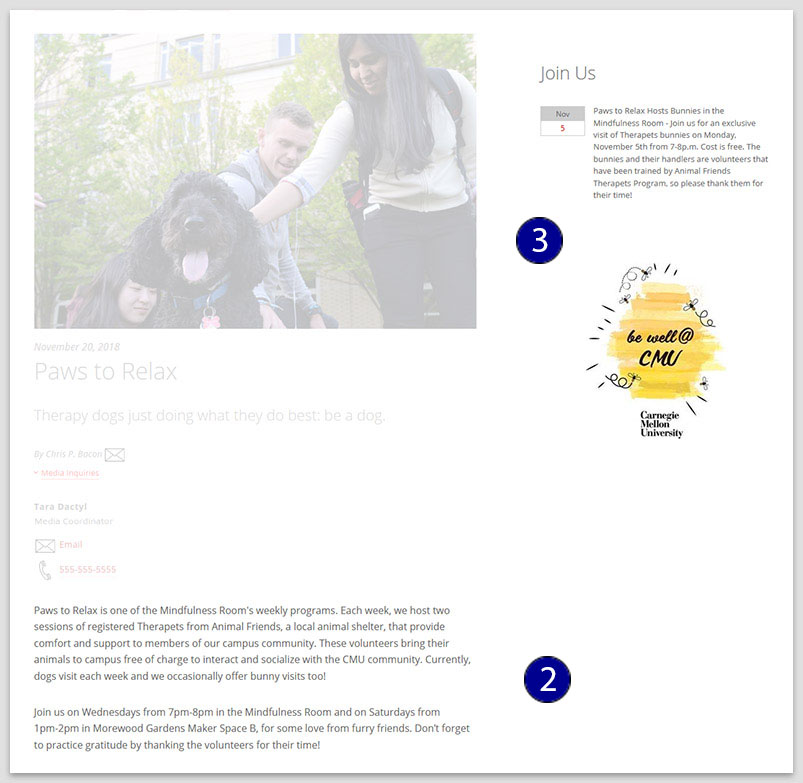 Example of main content and two sidebars (event list and WYSIWYG) on page.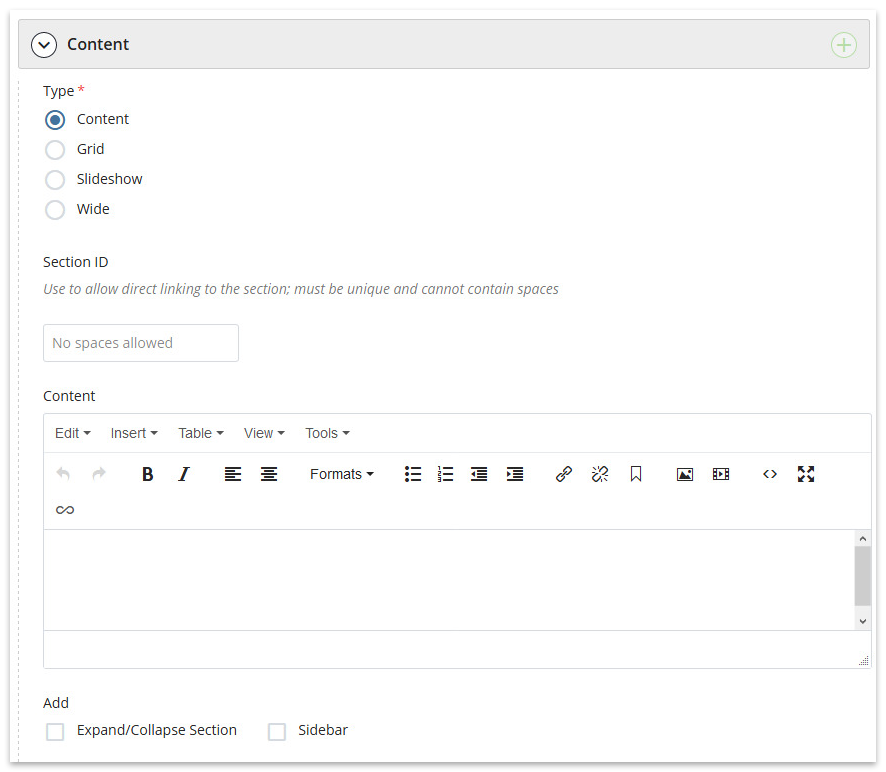 Additional content area in the page edit interface.