Google Analytics Reports
Within Google Analytics, reports are powerful tools that you can use to quickly gather information about site performance, discover how your site is performing in real-time or get more granular about your data. Whatever your data needs, make sure to leverage Google Analytics to make your websites more helpful and effective for your audience.
For our CMS users, we provide the premium version of this platform, Analytics 360, which gathers and processes more data.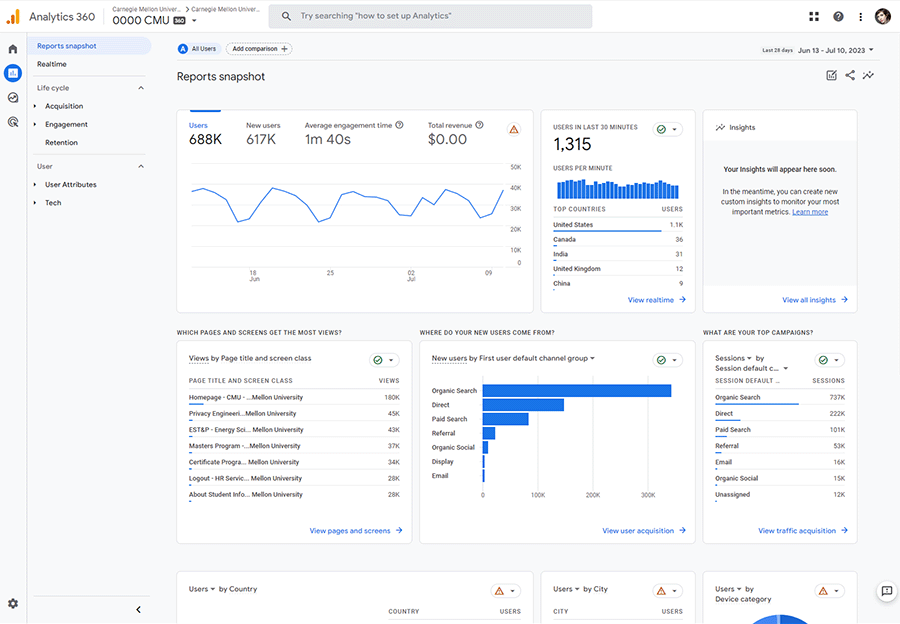 Overview Reports
Reports Snapshot
The Reports snapshot provides you with a quick overview of all of your reports, and includes site traffic, page views and most common device types.
Use reports snapshots to get a quick gauge of your site's performance.
Realtime Report
The Realtime report lets you see how your site has been performing within the last 30 minutes, allowing you to witness activity as it happens.
Monitor your site traffic live after an email or social media post with realtime reports.
Life Cycle Reports
Acquisition Reports
Find how both new and existing users come to your site with Acquisition reports. For example, users can arrive at your site in different ways, including direct link, email, social media or searching.
Use acquisition reports to ensure your content makes sense, no matter how people access your site.
Engagement Reports
Find what site visitors do while they're on your site with Engagement reports. You can see forms of interaction, pages visited and time spent on pages.
Determine how people are interacting with your site with engagement reports.
Retention Reports
Retention reports tell you how long a site visitor engages with your site each day after their first visit.
Discover how your audience engages over time with retention reports.
User Reports
User Attributes
User attributes reports tell you more about your site visitors, including locational information like geographic region and city.
Ensure your content is optimized for your audience with user attributes reports.
Tech
Tech reports help you to identify the technology that people use to access your site, including browsers, operating systems and device types.
Make sure that your site accommodates your site visitors with Tech reports.