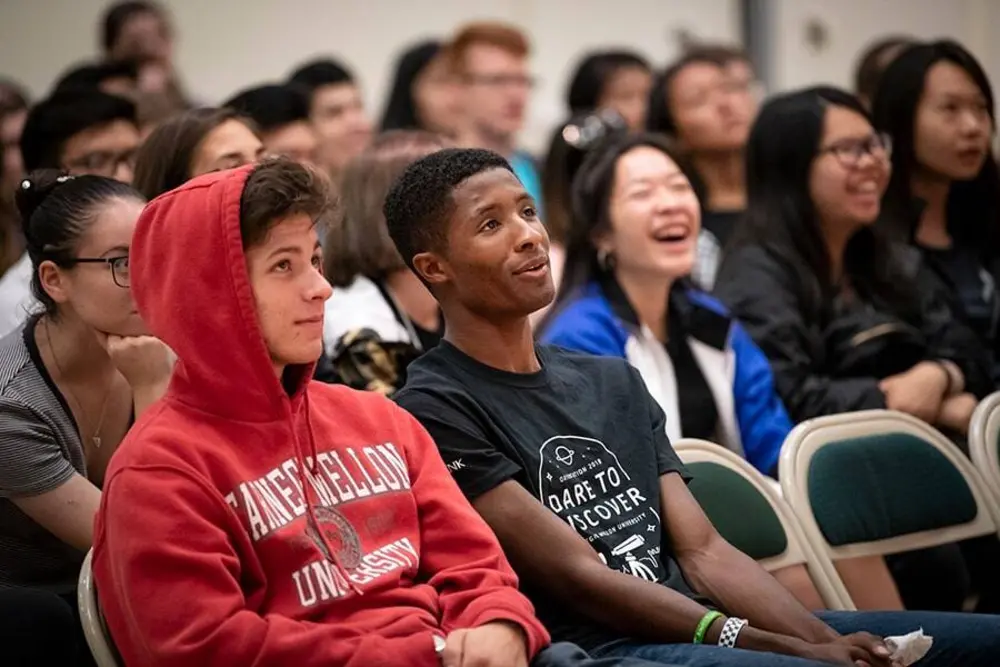 College counselors play a vital role in the admission process for our future students.
We deeply appreciate the work you do to help guide students through the process. The resources below will provide you and your students with important information about Carnegie Mellon's application process.
Connect with Us!
Meet our staff and get to know our admission counselors; contact our office if you have any questions or concerns — we're here to help; and stay updated throughout the year by joining our College Counseling Mailing List!
Please note that Carnegie Mellon doesn't participate in traditional counselor calls and we don't use student updates in the admission process. If you'd like an update on your student applicants, please connect with one our our admission counselors. Email us at admission.andrew.cmu.edu with any questions. 
Applying to Carnegie Mellon
Below are resources to help guide you and your students through Carnegie Mellon's application process:
Please note that Carnegie Mellon accepts application materials after our admission deadlines. For Regular Decision, we'll accept self-reported updates from applicants until January 15; we'll continue to accept documents and updates from high school counselors after that date. If you need to send any materials on a student's behalf, please email @email and attach the material(s) as a PDF that includes the student's full name and date of birth.
Access and Diversity Initiatives
The Access and Diversity Initiatives team within the Office of Admission is committed to the recruitment and enrollment of historically low-yielding, underrepresented populations. We work closely with community-based and other college access-oriented organizations in order to assist talented students with the admission and financial aid processes.
Our team members include:
Please feel free to reach out with questions or to discuss how we might better assist your students.
While our team's focus is on recruitment and enrollment, we know that their Carnegie Mellon journey doesn't stop here. We work with a variety of campus partners to address the needs of students we work with. An important campus partner and great resource for enrolling and current students is the Center for Student Diversity & Inclusion.
Financial Aid
Carnegie Mellon is committed to meeting the demonstrated need of our undergraduate students, and we're here to help your students through the financial aid process.
Financial aid for Carnegie Mellon applicants is processed through our Office of Admission and is need-based only. We offer aid to U.S. Citizens, permanent residents and DACA recipients.
We encourage counselors, students and families to connect with us about the financial aid process. Students can fill out the Net Price Calculator to get an estimate of their financial aid offer prior to applying to Carnegie Mellon.  We've also provided answers to the most common financial aid questions in our Financial Aid FAQ.
Applying for financial aid should be free for those who qualify. Please let students know they can contact our office for CSS Profile fee waivers.
The Impact of COVID-19
We know that the COVID-19 pandemic has impacted students in many ways. With this in mind, Carnegie Mellon has joined over 300 other colleges and universities in signing a collective statement, "Care Counts in Crisis: College Admissions Deans Respond to COVID-19 (PDF)(opens in new window)." This statement affirms our priorities for self-care and care for others during the pandemic.
Additionally, we've extended our test-optional policy for all first-year fall 2023 applicants. We've put together a list of questions that you and your students may have about applying. Review our FAQ and please let us know if we can help with any additional questions.
We know that assessing fit is an important part of the college search process, so we offer a variety of online visit options, including online campus tours, information sessions, student panels and residence hall tours, as well as limited on-campus visit opportunities.