Center Summer Hours
During the summer months, the Center will be open from Monday through Friday from 9 a.m. - 5 p.m. Stop by and say hello!
The Center for Student Diversity & Inclusion
Diversity and inclusion have a singular place among the values of Carnegie Mellon University.
The Center for Student Diversity and Inclusion (CSDI) actively cultivates a strong, diverse and inclusive community capable of living out these values and advancing research, creativity, learning and development that changes the world.
The Center offers resources to enhance an inclusive and transformative student experience in dimensions such as access, success, campus climate and intergroup dialogue. Additionally, the Center supports and connects historically underrepresented students and those who are first in their family to attend college in a setting where students' differences and talents are appreciated and reinforced.
Visit the Center
Located on the lower level of the Cohon University Center, the Center is a centralized hub for students and provides an on-campus option for students looking to socialize, hold meetings, take a break between classes or study. This modern space capable of hosting large groups, while simultaneously accommodating space for individual students looking for a quiet escape. Student organizations are welcome to reserve space in the Center, as well as utilize the space to foster intergroup dialogue and community building.
The Center for Student Diversity and Inclusion is an environment focused on identity, belonging, campus climate and support.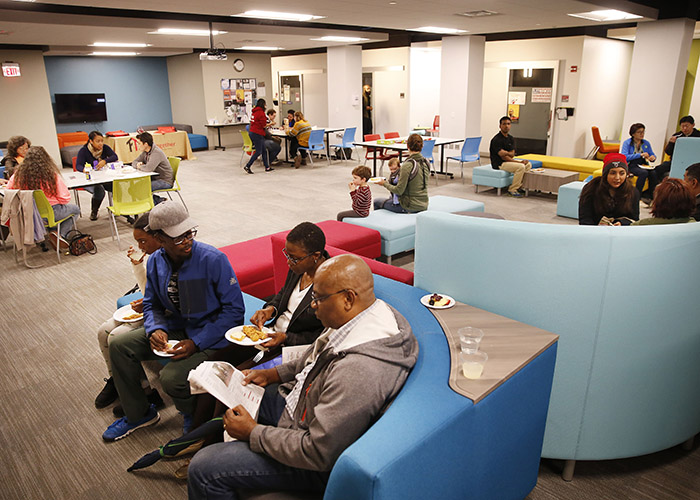 Meet Me at the Center
Check out the "Meet Me at the Center" video highlighting the voices of student ambassadors and Center team members.
The Center Newsletter
The Center for Student Diversity and Inclusion sends out a newsletter to students, other campus-wide affiliates, and the greater Pittsburgh community.
Sign up to receive the newsletter, and please invite members and friends of the CMU community to subscribe as well.