Center for Student Diversity & Inclusion Virtual Summer Office Hours
From May 24 to July 30, the Center's in-person office will be closed and we will be operating remotely Monday through Friday from 9 a.m. - 5 p.m Eastern. For all other requests, Center staff will continue to be available to serve your needs and assist you remotely via phone, email or video/audio conferencing platforms.

For remote assistance during regular business hours contact the Center for Student Diversity and Inclusion by calling 412-268-2150 or by email.

Please check out our virtual events or request an individual meeting with our staff.

The Center Community is as present as ever and always here to support you!
Diversity and inclusion have a singular place among the values of Carnegie Mellon University.
The Center for Student Diversity and Inclusion (CSDI) actively cultivates a strong, diverse and inclusive community capable of living out these values and advancing research, creativity, learning and development that changes the world.
The Center offers resources to enhance an inclusive and transformative student experience in dimensions such as access, success, campus climate and intergroup dialogue. Additionally, the Center supports and connects historically underrepresented students and those who are first in their family to attend college in a setting where students' differences and talents are appreciated and reinforced.
Connect with the Center Team
The Center Team is here to support the Carnegie Mellon community.
Are you a student interested in talking about 
student organization advising, mentoring, bias reporting, program and event development, or something else? Fill out our Student Meeting Request Form and we can connect.
Would you like to collaborate with a Center Team Member on your department's next project or would you like us to attend your next event? Let us know by filling out our Center Team Collaboration Request form.
The Center's Newsletter
The Center for Student Diversity and Inclusion sends out a newsletter to students, other campus-wide affiliates, and the greater Pittsburgh community.
Sign up, and please invite members and friends of the CMU community to subscribe as well.
The Center is a great space.
A centralized hub for students, this space provides an on-campus option for students looking to socialize, hold meetings, take a break between classes or study.
The Center is a modern space capable of hosting large groups while simultaneously accommodating space for individual students looking for a quiet escape. Student organizations are welcome to reserve space in the Center, as well as utilize the space to foster intergroup dialogue and community building.
The Center for Student Diversity and Inclusion is an environment focused on identity, belonging, campus climate and support.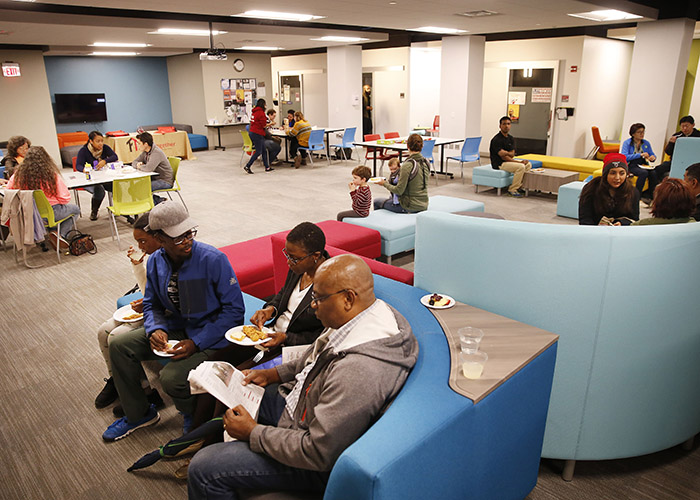 Discover more university events that support a diverse and inclusive community by exploring these sites.