The Center for Student Diversity and Inclusion stands in complete solidarity...
After learning of the horrible tragedy at the Tree of Life Synagogue on Saturday, the Center for Student Diversity and Inclusion stands in complete solidarity with our Jewish students, families and community members in Pittsburgh. With broken hearts we grieve the senseless loss of life, and express our deepest condolences to the families, friends and neighbors of the victims of today's tragedy. We stand with the Jewish community to affirm their human dignity and right to fearlessly live, work and dream in peace.
The Center is ready to receive you with open arms. Please come into the Center to find a safe haven or decompress. Plan, strategize or mobilize efforts. Build new bridges of shared understanding. Come together and create a better tomorrow. The Center is here to support all of those in need at this time.
Information about vigils, events, and solidarity gatherings will continue to be updated. In recognition of the needs of the Pittsburgh campus at this time, the University will be gathering today, Monday, at 5 p.m. in Rangos Auditorium. We gather to honor those who were lost, reaffirm our values, and begin the process of moving forward together as a community. Click here for additional campus resources: resources. Our doors in the Center are open and will be each day this week from 8:30 a.m.-9 p.m.
In peace and unity,
Angela

Angela N. Campbell, Ph.D.
Executive Director, Center for Student Diversity and Inclusion
Diversity and inclusion have a singular place among the values of Carnegie Mellon University
The Center for Student Diversity and Inclusion actively cultivates a strong, diverse and inclusive community capable of living out these values and advancing research, creativity, learning and development that changes the world.
The Center, in its inaugural year, offers resources to enhance an inclusive and transformative student experience in dimensions such as access, success, campus climate and intergroup dialogue. Additionally, the Center supports and connects historically underrepresented students and those who are first in their family to attend college in a setting where students' differences and talents are appreciated and reinforced.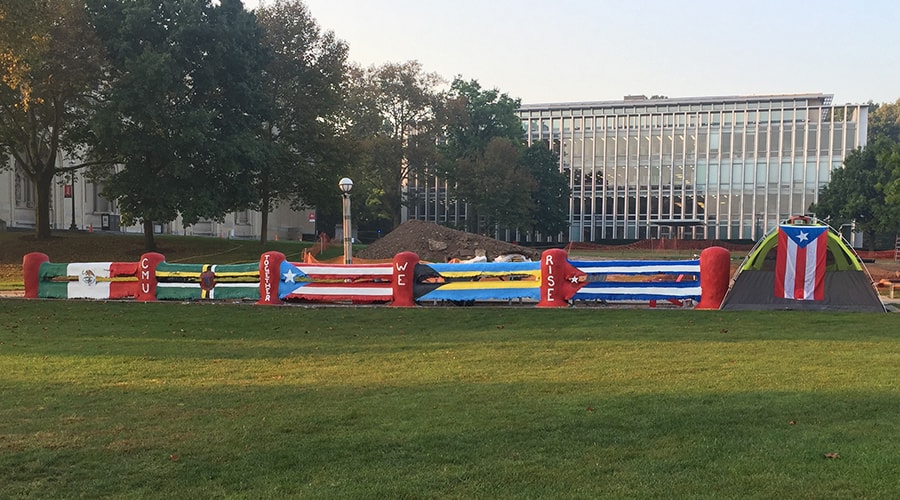 "Together We Rise" is a grassroots organization at CMU that's raising awareness and collecting donations for those affected by recent natural disasters in Mexico and the Carribbean.