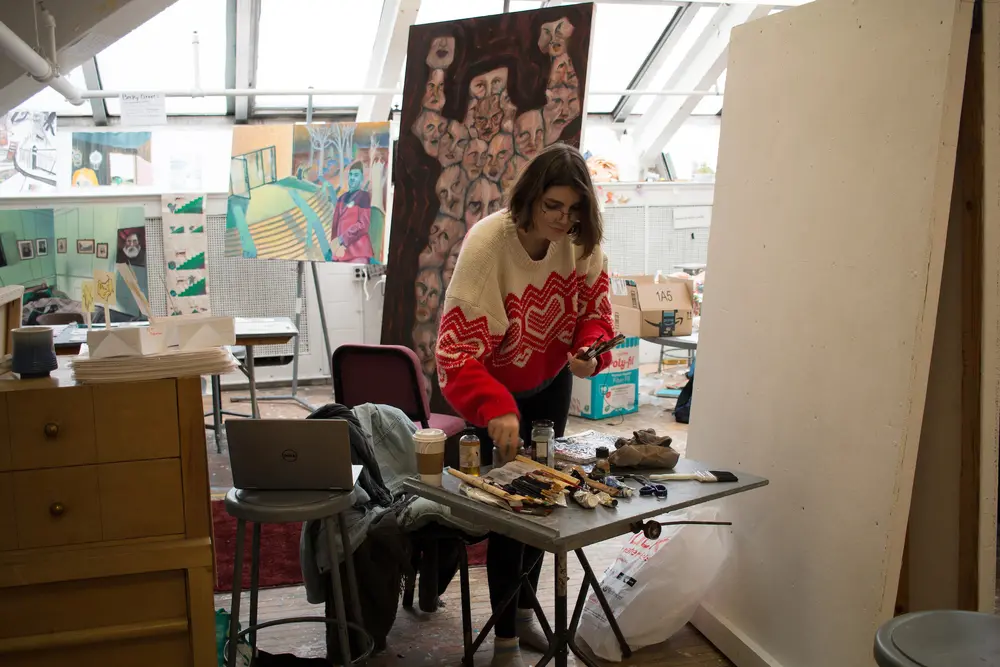 School of Art
Art, unlike any other academic pursuit, challenges you to re-examine deeply-held beliefs, find uncertainty among rigid rules, and see the world in completely new ways. Here, the intrepidly curious and relentlessly daring collaborate on work that breaks barriers. You'll develop your unique voice by experimenting with many different artistic materials and techniques and developing interdisciplinary critical thinking. 
School of Art Majors, Minor and More
Choose the path that fits you best. Browse all current School of Art curriculums and courses.(opens in new window)
Art

Bachelor of Fine Arts
Minor

In your first half of your program, our Foundation courses challenge you to try new materials and new ideas while exploring the boundaries of artmaking. In the final two years of the Art program, you'll have the freedom to choose a concentration or to forge your own hybrid path. We offer a wide range of advanced courses in the following areas:

Drawing, Painting, Printmaking and Photography: In our image-saturated culture, CMU's 2D classes challenge you to find new ways that this work can confront complex and timely ideas. 
Sculpture, Installation and Site-Work: This area embraces the challenging and ever-evolving definition of sculpture and its role in society.
Electronic and Time-Based Media: Across all courses in this area, you'll harness emerging technologies to investigate complex questions of how technology shapes society and how artists can co-opt technology to subvert it for creative expression. 
Contextual Practice: You'll explore experimental approaches to art making such as street art, participatory art, urban interventions, interactive social media, public installations, and politically engaged art. 

No matter which concentration you choose, you'll expand your artistic knowledge and put it into practice in five different kinds of classes:

Transdisciplinary Research Studios
Foundational Media Studios
Advanced Studios
Critical Studies Courses
Professional Development Courses
University Academic Courses

If you're in another CMU college or department, you can add even more creativity to your curriculum with a School of Art minor, which requires six courses.
 
BXA Intercollege Degree Programs

Bachelor of Computer Science and Arts
Bachelor of Humanities and Arts
Bachelor of Science and Arts

At Carnegie Mellon, you'll find interdisciplinary thinking woven into the curriculum of every program. But nowhere is this truer than the BXA programs, which combine different academic areas with the arts in inventive, visionary ways. Each program's focus is unique, but any of them will give you the creative, technical, academic and practical skills you need to innovate across disciplines in ways that are all your own. 
Class of 2022, Six Months After Graduation
88%
Employed or in Grad School
High School Course Requirements
4 years English
10 electives
Mix It Up
You're not just one thing. You're a scientist. An artist. A technologist. A maker. A writer. Carnegie Mellon has been mixing it up for decades, and whatever you want to pursue, we've got the right mix for you.