Living the tradition
We take our rich traditions and reinvent them in unconventional ways — because that's what this place was designed to do from day one.
Great Scots
No matter where you're from, you'll be proud to be a Tartan. Our founder's Scottish heritage is woven into the fabric of our university in many ways: our beloved mascot (Scotty, the Scottish Terrier), our official Tartan colors, our Kiltie Band and one of the nation's only bagpipe majors.
Paint Out Loud
Painting the Fence is a time-honored Carnegie Mellon tradition, but it comes with a strict set of rules: You have to do it between midnight and sunrise, in its entirety, using only paintbrushes. Want to make sure your message stays up? You'll need to guard the Fence around the clock — which can be just as much fun as painting it.
Spring Carnival
Here, you'll find plenty of ways to let loose and have fun — especially during our annual Spring Carnival, where you can see musical performances, ride a roller coaster, watch a talent show and meet with alumni.
The highlight of the event is the Booth and Buggy competitions, where Carnegie Mellon students team up to show off their creativity through multilevel structures and lightning-fast aerodynamic vehicles.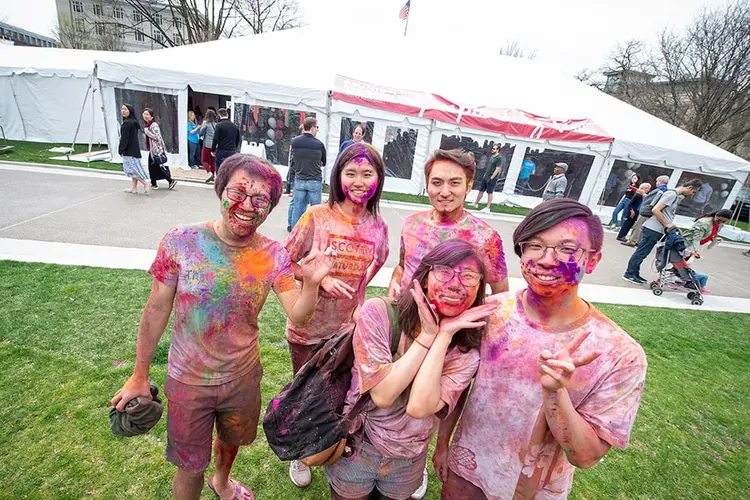 Structured creativity
In Booth, student organizations build elaborate one or two-story structures with a game all designed around the yearly Spring Carnival theme. Booths are displayed side by side along the midway parking lot for all Carnival-goers to enjoy.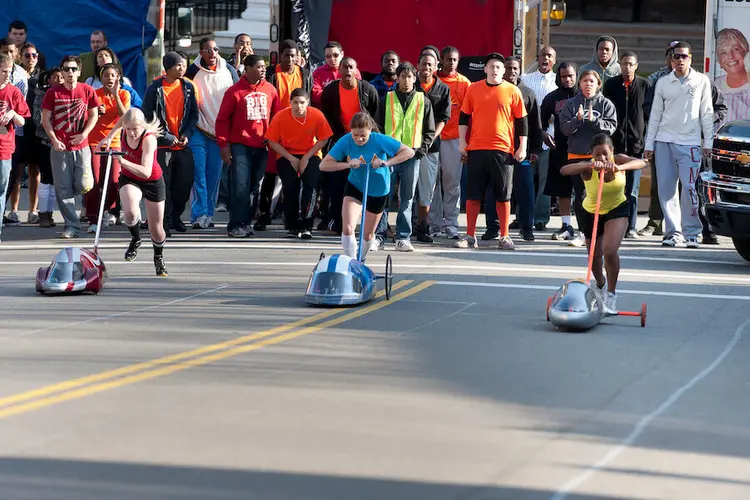 Powered by brains and brawn
Buggy is the highlight of Spring Carnival. Part high-tech soapbox derby and part relay race, Buggy is uniquely Carnegie Mellon. Student teams compete in a five-person relay race through neighboring Schenley Park. Teams include pushers and a driver. The pushers propel their buggy through the uphill sections of the course, while the driver steers through the downhill portions of the course reaching speeds of 35 miles an hour!