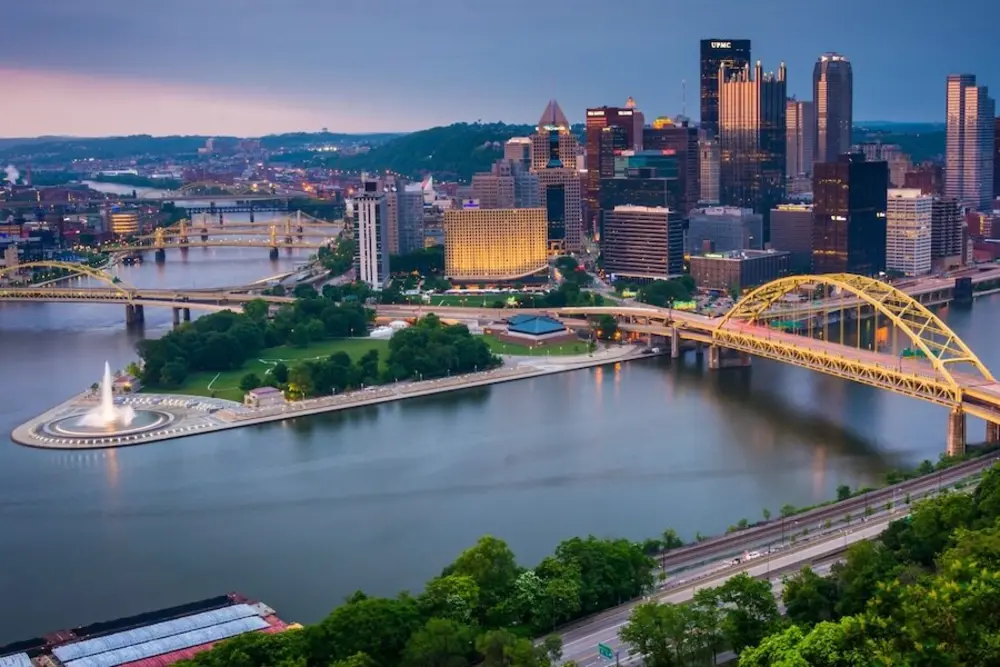 The playground of the reliably radical and the predictably unusual.
From Pittsburgh's Point State Park, you can see three different rivers connect. We think that's a pretty apt metaphor for the entire city — because here, minds of all kinds converge to discover amazing culture, devour eclectic cuisine and engage in work that advances the world.
Pittsburgh is a place that's home to academic paragons and athletic powerhouses, eye-opening cultural experiences and endless adventure — and maybe soon, to you.

Innovation and Opportunity
This is a city that breeds innovation — a bustling ecosystem of emerging industries that power the economic prosperity of the region, the nation and the world.
Technology
Robotics and software engineering play a prominent role in the city's tech scene: Pittsburgh is home to offices for Google, Uber, Intel, Philips, Westinghouse, Thermo Fisher and Apple, as well as a budding ecosystem of tech startups that include Module, BirdBrain Technologies and Gecko Robotics. More than 300,000 people work in the region's tech-related industries, and thanks to our low cost of living, networking opportunities, "maker" culture and access to small business accelerators, the city is an appealing choice for entrepreneurs and startups.
Health care
With two of the country's largest hospital systems, Pittsburgh's world-class health care network allows health-related startups like Apollo Neuro and Ocean Genomics to thrive. The city also has a reputation for biomedical innovation — cultivating lifesaving technology, advancing medical devices and developing regenerative medicine and pharmaceuticals.
Energy
The city has a storied legacy in the energy industry, which accounts for thousands of jobs in the region at companies like Chevron, Eaton, PPG and Shell. Today, there's a concerted effort to put Pittsburgh at the forefront of energy innovation, with a focus on integrating traditional and alternative energy sources to create solutions that are cleaner and more cost effective.
Advanced manufacturing
For over a century, the Pittsburgh region's skilled workforce, outstanding transportation infrastructure and plentiful industrial sites and buildings have made it home to a thriving manufacturing industry. Today, that industry is expanding into growing fields like additive manufacturing, engineering, information technology and robotics. Both global giants and smaller specialty companies are making goods in Pittsburgh — and many are partnering with CMU to make game-changing strides in the process.

Culture
When you're not on campus, you'll find lots of ways to pass the time in Pittsburgh. From eye-opening art exhibits to heart-racing theme parks, there are all kinds of ways to experience the city.
Explore a new perspective: Between 90 distinct city neighborhoods and over 86,000 students studying across 10 colleges and universities, Pittsburgh is a prime place for exploration: of places, of cultures and of ideas.
Carnegie Mellon is nestled in one of Pittsburgh's oldest neighborhoods. Just swipe your ID, and you'll gain access to a network of public transportation that will take you anywhere in the city — including free access to many of the city's prominent cultural institutions, like the Andy Warhol Museum, the August Wilson African American Cultural Center, the Carnegie Museums of Art and Natural History, the National Aviary and the Phipps Conservatory and Botanical Gardens.
Experience the arts: If you're a culture vulture, Pittsburgh is your kind of place. Enjoy a night at the opera, a concert from the symphony orchestra or a show in the Cultural District. If you're looking for something more low key, you can cozy up with a book from the Carnegie Library of Pittsburgh, which is just a short walk from campus and boasts stunning Beaux Arts architecture.
 
Kick back and let loose: If fun and games are on your itinerary, don't miss the pinball scene at Kickback, or the board and tabletop gaming options at Games Unlimited. Knock over some pins at Arsenal Bowling and Swissvale Bowl-a-Rama, or try your hand at axe-throwing at Lumberjaxes. Prefer your fun on four wheels? Try skateboarding at Swissvale's Switch and Signal.
Get some fresh air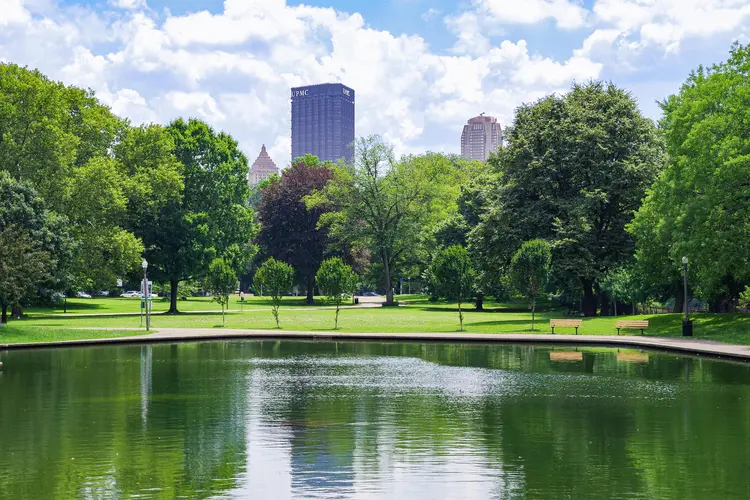 Amid throngs of sports fans donning black and gold (the official colors of the Pittsburgh Steelers, the Pittsburgh Pirates and the Pittsburgh Penguins), you'll find plenty of green. The Pittsburgh region has 15,000 acres of public parks; 400 miles of biking, hiking and walking trails; and more trees per square mile than any other U.S. city. It's also home to one of the largest concentrations of certified "green" buildings, including the Phipps Conservatory.
Opt for an outdoor adventure and take a walk or bike ride in Point State Park, which sits at the nexus of the city's three rivers in the heart of downtown. It serves as a waypoint for trails and bike lanes in all directions, including the Great Allegheny Passage, which goes all the way to Washington, D.C.
Get some thrills at Kennywood Park, named among the best theme parks in the nation for its old-fashioned atmosphere and first-class roller coaster scene. Or if chills are more your thing, take the bus downtown and glide on the ice at PPG Plaza's 2,000-square-foot outdoor rink.  
Or, if you just want to decompress close to campus, take a walk through Schenley Park, a 456-acre green space that's a popular gathering spot for CMU students and home to our annual Buggy Race. 

Culinary artistry
From eclectic vegan cuisine to stick-to-your-ribs sandwiches, Pittsburgh has made a name for itself as a place of culinary innovation. If you're the kind who appreciates inventive, delicious food, you'll find plenty of ways to fill your plate. Check out some of our favorites below.
 Take Out and Quick Bites
BFG Cafe - Garfield boasts some impressive take-out spots, but this Greek restaurant's especially good if you're looking for vegan and vegetarian food. Plus, their gyros are top-notch. 
El Burro - If you have a party to feed and a hankering for burritos, look no further. El Burro is famous for their taco trays and burrito platters, but they also have an extensive vegan and vegetarian menu. A new location in Regent Square now joins the original restaurant in the North Side.
Showcase BBQ - People come from all over the city to visit this Homewood barbeque establishment specializing in both pork and turkey ribs.  
Coffee, Tea and Something Sweet