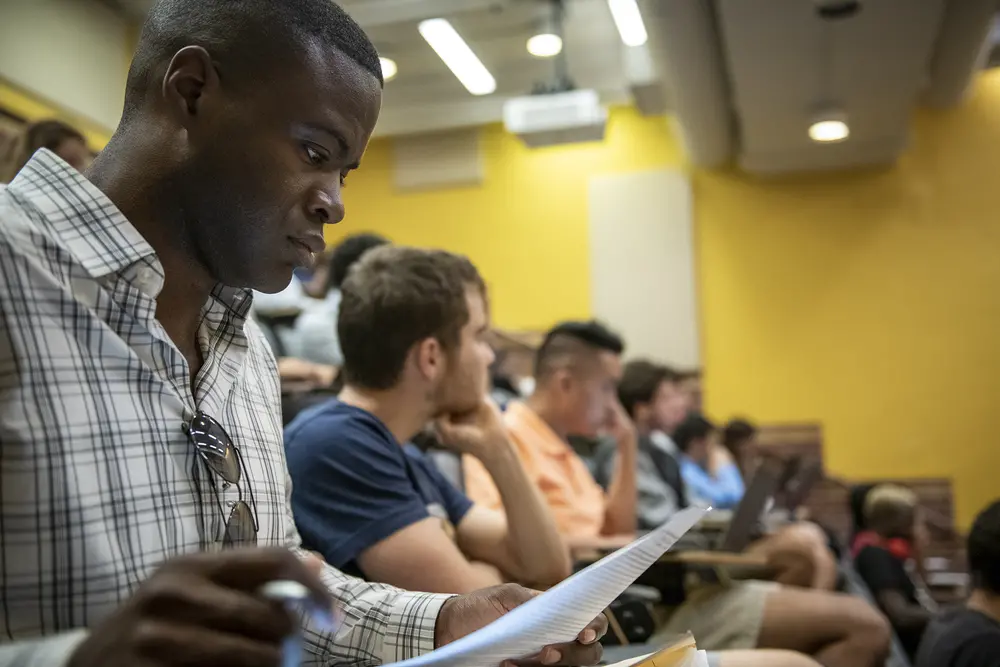 Philosophy
As an undergraduate philosophy student, you'll get into the real world, gaining an understanding of deep-rooted foundational concepts and learning how to apply them to modern challenges. With instruction from internationally recognized faculty, you'll sharpen your critical, interpretive and evaluative skills, which will serve you well in any future path you choose. 
Philosophy Majors and Minors
Choose the path that fits you best. Browse all current Philosophy curriculums and courses.
Philosophy

Bachelor of Arts
Minor

The philosophy major provides a broad humanities education while sharpening your analytical skills. Its flexible curriculum focuses on the history of philosophy, values and normative theory, the logic and philosophy of mathematics, epistemology, and the philosophy of mind. With this major, you'll lay the foundation for a career in law, education, marketing communications, journalism, government and more — because the skills you learn here will prepare you for success in just about any pursuit. 

As a Philosophy minor at CMU, you'll develop a broad philosophical foundation. Philosophy minors take courses in Logic/Methodology, the History of Philosophy and Philosophy electives. 
Logic and Computation

Bachelor of Science
Minor

Reflecting the department's distinct approach to philosophy, this degree gives you a firm foundation in logic, computation and statistics, providing analytic methods to address philosophical issues. In this program, you'll take a common core of courses in logic, methodology and computer science, along with individualized advanced electives and a senior thesis. Ultimately, you'll gain skills that will serve you well in a multitude of professions, including software engineering, computer science and business analytics. 

As a Logic and Computation minor, you'll gain skills in logic, analytic philosophy, mathematics, statistics and computer science. You'll take higher-level Philosophy courses related to logic and computation as well as coursework in an area that uses logical and computational tools, such as computer science, linguistics, mathematics, psychology or statistics.

 
Linguistics

Bachelor of Arts
Minor

Language is an essential part of human life and human culture — and in this program, you'll learn what it is, how it works, and how and why we do what we do with it. Bringing together courses from philosophy, English, modern languages, psychology and the Language Technologies Institute, the degree offers you a broad set of options for exploring your interests. And when you graduate with a Linguistics major, you'll have the skills to pursue a career in academia, translating, interpreting, publishing and more. 

The Linguistics minor will provide you with the analytical skills and linguistic concepts needed to understand language scientifically, whether formally, as researchers, or informally, as participants in daily linguistic interactions. As a CMU Linguistics minor, you'll take on a set of rigorous core courses, informed by contemporary approaches to the study of linguistic form and meaning, and the principal domains of linguistic analysis.

 
Ethics, History and Public Policy

Bachelor of Arts
Bachelor of Science
(Jointly offered by the Department of History)

This program is highly interdisciplinary, which makes it a quintessential Carnegie Mellon degree. As an EHPP student, you'll build on a solid liberal arts foundation as you learn how to conduct historical research, analyze and construct arguments, evaluate evidentiary statements, present your ideas persuasively, and manage your time effectively. You'll also learn how to craft policies that address real-world problems while taking historical knowledge and competing values into account. With this degree, you'll be prepared for graduate study in a wide array of disciplines, or a career in fields like law, business, finance, nonprofit management and government.

 
Ethics

Minor

As an Ethics minor, you'll be introduced to central ethical concepts and theories proposed and defended by the great philosophers of the past, while developing an understanding of how these theories and concepts can be applied to practical problems. With a background in ethical theory and its applications, you'll be ready to respond more sensitively and appropriately to the new and unavoidable ethical problems that technologies, businesses, unions and branches of government face.

 
Societal and Human Impacts of Future Technologies (SHIFT)

Minor

SHIFT minors at Carnegie Mellon acquire the skills, knowledge and experience to take on leading roles in integrated, multidisciplinary analyses of current and near-future computational technologies. As a SHIFT minor, you can focus in one of three areas:

Technology: Build your basic technological competence and learn the concepts and frameworks that will provide you with high-level understanding of computational technologies, including their possibilities and limits.    
Social & Behavioral Sciences: Learn the concepts and frameworks of social and behavioral sciences (e.g., economics, psychology, sociology), including methods and analyses such as experimental design and quantitative and qualitative data analysis.
Ethics, Policy & Design: Gain core concepts and frameworks to address and analyze ethical, policy and design challenges relevant to current and near-future computational technologies. 

 
Classes of 2019-2020, Six Months After Graduation
69%
Employed or in Grad School
High School Course Requirements
4 years English
3 years Mathematics**
1 year Science (2 or more preferred)
2 years Foreign Language
6 electives
**Three years of mathematics should include at least algebra, geometry, trigonometry, analytic geometry, elementary functions as well as pre-calculus. Advanced mathematics courses are encouraged.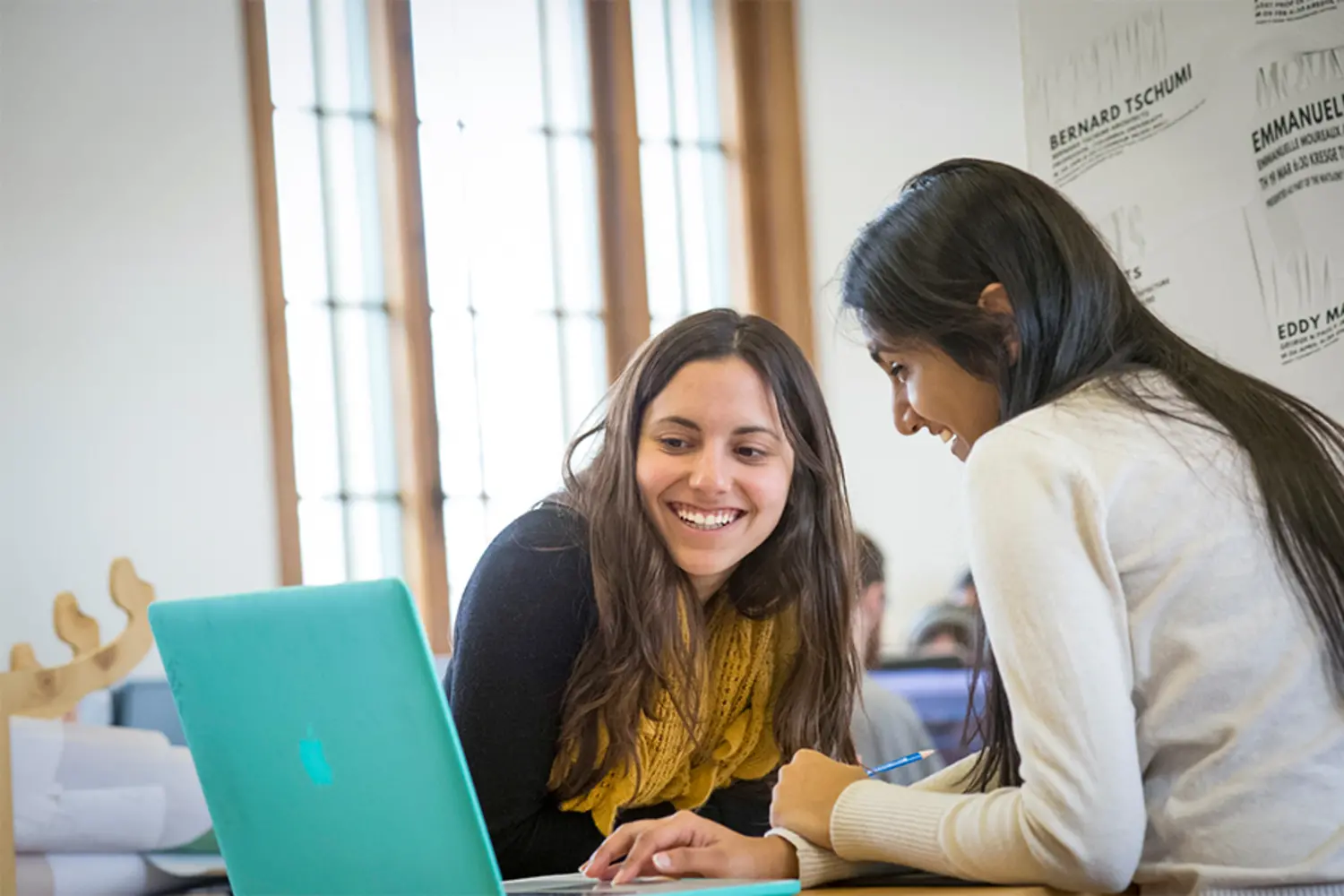 Apply
Submit your application for the Dietrich College of Humanities and Social Sciences.
Mix It Up
You're not just one thing. You're a scientist. An artist. A technologist. A maker. A writer. Carnegie Mellon has been mixing it up for decades, and whatever you want to pursue, we've got the right mix for you.