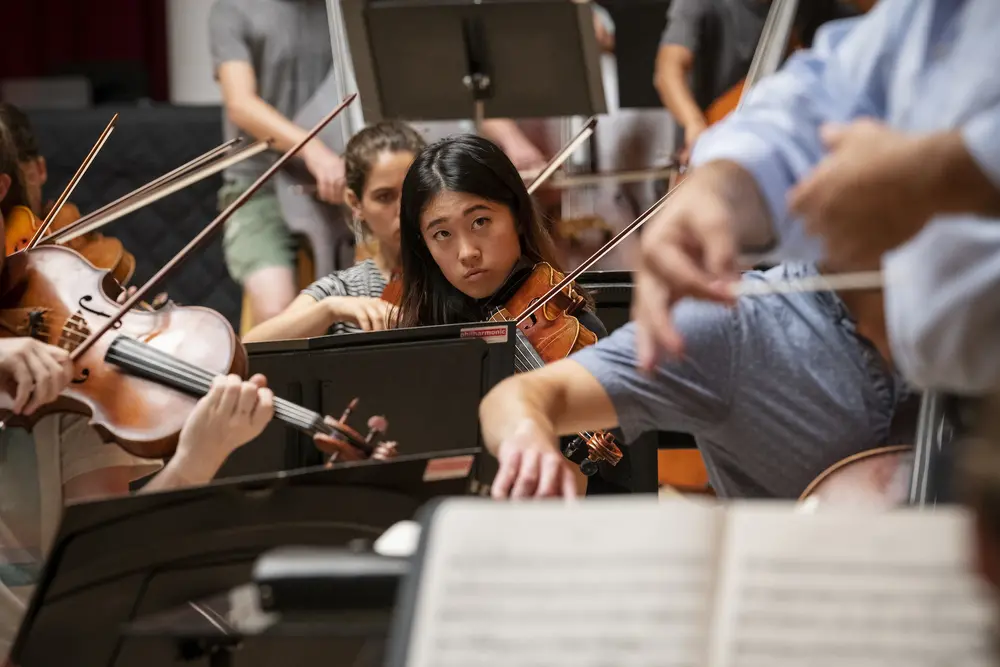 School of Music
It takes a mix of talent, work ethic, and lived experience to make a musical impact on the 21st century. And that's what an education in the School of Music prepares you to do. Surrounded by aspiring talent and dynamic personalities — in performance ensembles, opera productions, chamber groups, and recitals — you will be positively challenged to compose, teach and create the future of music.
School of Music Majors, Minors and More
Choose the path that fits you best. Browse all current School of Music curriculums and courses.(opens in new window)
Instrumental Performance

Bachelor of Fine Arts

No matter what instrument you play, you'll find a home in this program. Offering private studio instruction by Carnegie Mellon's world-class faculty--many of whom are principal players in the Pittsburgh Symphony Orchestra--you'll learn from masters of their crafts, and understand what it takes to become one yourself. Undergraduate instrumentalists can earn a Bachelor of Fine Arts degree in every orchestral instrument, as well as bagpipes, euphonium, guitar, and saxophone.
Piano Performance

Bachelor of Fine Arts

Our piano performance degree is nationally recognized for a reason. As a student in this program, you'll be instructed by expert faculty, receiving supervised instruction in collaborative piano, keyboard harmony and chamber music. You'll also have the opportunity to take master classes taught by world-renowned visiting artists. And if you're interested in teaching piano, a two-year program leading to certification in piano pedagogy will give you the chance to instruct students in a closely supervised environment through the Carnegie Mellon Preparatory School, which has received national acclaim as a model of excellence. 
Vocal Performance

Bachelor of Fine Arts

If your primary instrument is your voice, this program will prepare you to amplify its impact. You'll study the classical bel canto technique with an emphasis on vocal health, and enhance your performance skills with four semesters of acting and dance. You'll collaborate with students and faculty on fully staged productions, and you'll join the ranks of acclaimed alumni who are performing on Broadway and with orchestra and opera companies around the world. 
Music Composition

Bachelor of Fine Arts

A perfect fit for musicians who want to compose original pieces, this program places a strong emphasis on contemporary music and computer technology. As a composition student, you'll study under professional composers as you develop works for all types of instrumental and vocal groupings. You'll also get the opportunity to have your pieces performed by one of several school ensembles, including our string quartet, or even the Pittsburgh Symphony Orchestra. 
Electronic Music

Bachelor of Fine Arts

Computers are the instruments of today and tomorrow, and in this program, you'll become a future-ready musical expert with a deep understanding of emerging styles, practices, tools and techniques. You'll learn the latest applications of sound design and computer-based music generation, as well as electronic, electro-acoustic, and intermedia performance. And you'll balance it with a rigorous education in traditional musical subjects. Above all, you'll get the chance to explore all kinds of new methods of expression, preparing you for a career as a polished, professional electronic musician. 
Music and Technology

Bachelor of Science

In true discipline-mixing fashion, this degree program began as a joint project between three schools: the School of Music, the School of Computer Science, and the Department of Electrical and Computer Engineering. Now, it's the best of all three worlds, giving you the instruction, insight and experience to hone your skills in areas like recording technology, audio engineering, computer music, music composition, music performance and music theory. With a collaborative approach to cutting-edge education, you'll get both specialized knowledge and the breadth of skills to pursue a career at the intersection of music and tech.  
BXA Intercollege Degree Programs

Bachelor of Computer Science and Arts
Bachelor of Humanities and Arts
Bachelor of Science and Arts

At Carnegie Mellon, you'll find creativity woven into the curriculum of every program. But nowhere is this truer than the BXA programs, which combine different academic areas with the arts in inventive, visionary ways. Each program's focus is unique, but any of them will give you the creative, technical, academic and practical skills you need to innovate across disciplines in ways that are all your own. 
Minors for Music majors

Minor in Collaborative Piano
Minor in Conducting
Minor in Music Technology

Minor in Music Theory
Minors for non-Music majors

Minor in Music
Minor in Music Technology
Minor in Music Theory
 
Recent Employers
San Francisco Conservatory of Music
High School Course Requirements
4 years English
2 years Foreign Language
10 electives
Mix It Up
You're not just one thing. You're a scientist. An artist. A technologist. A maker. A writer. Carnegie Mellon has been mixing it up for decades, and whatever you want to pursue, we've got the right mix for you.