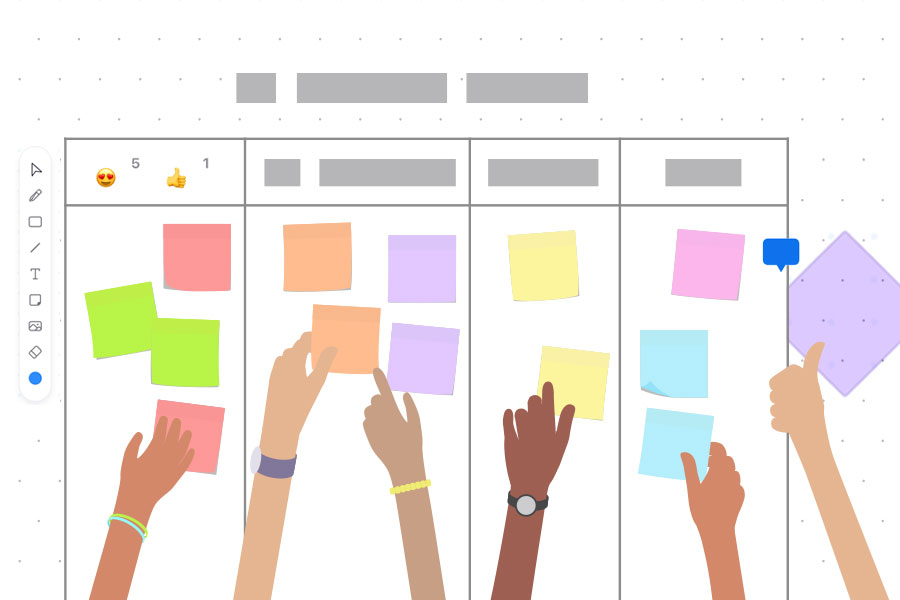 January 17, 2023
Get the Most Out of Meetings with These Features from Zoom
Remember when Zoom was a new technology no one knew about? Yeah, neither do we! Zoom rose to international attention during the COVID-19 pandemic and has been upping its game with additional product features ever since. Now that Zoom has firmly cemented itself not just into our emergency days but our everyday, hybrid lifestyle, it will remain an important tool for all of us. Here are some features you may want to try in 2023.
---
New and Improved Whiteboard
Whether you're meeting in a Zoom room, remotely from your laptop, or on the go with your mobile device, Zoom's new Whiteboards feature is designed to bring everyone together. 
When joining a meeting, hosts can click the Whiteboards button and choose to collaborate visually on either an existing whiteboard they've created from a previous meeting, a whiteboard that has been shared with them, or a new whiteboard. For security, hosts can control who contributes to the Whiteboard. You can also select from a small set of templates to help move the brainstorming forward.

To work on whiteboards when not in a meeting, open the

Zoom desktop app

.

Click

Whiteboards

to access

past creations

or

prepare new ones in advance

. 
---
PowerPoint Backgrounds
Sure, it's great seeing the presenter in a small window off to the side in Zoom meetings, but if you'd really like to be involved in your presentation, turn your PowerPoint into your video background. 
To set this virtual background,

start

your Zoom meeting.

Click

Share

and then

Advanced

. 

Then click

Powerpoint as Virtual Background

.

Click

Share

. 
SHARING SLIDES AS A VIRTUAL BACKGROUND
---
Live Closed Captioning
Closed Captioning isn't just for those with hearing disabilities. A recent study showed that 90 percent of students use captions to increase their understanding of the content. So why not ensure all your Zoom study groups or meetings are more accessible?

Enable automated captions by visiting

cmu.zoom.us

. 

Click

Settings

and then

In Meeting (Advanced)

. 

Click

Automated captions

to enable the feature and allow participants to enable captions in meetings. 

Click

Full Transcript

and display a live transcript in the side panel during the meeting, where participants can follow along. 
Looking for more? You can also engage Computing Services for full-service captioning. 

ENABLING AUTOMATED CAPTIONS
---
Focus Mode
Want to keep the attention of your meeting attendees directed at the presenter? Enabling focus mode brings your presenter to the forefront, limiting participants to view only the hosts, co-hosts, or participants the host has selected to spotlight. Participants will see the names of others and their reactions but not their video feed. 
Enable Focus Mode by

starting

your Zoom meeting.

Click

More

and then

Start focus mode

.
HOW TO USE FOCUS MODE IN A MEETING
---
Customized Waiting Rooms
No one likes to wait around, so if you're planning your next big virtual event, consider customizing your Zoom waiting room with a custom image or video.


Customize your waiting rooms but visiting

cmu.zoom.us

.

Log in with your

Andrew userID

and

password

, then authenticate using

2fa with DUO

. 

Click

Settings

(left) and then

Security

.

Click

Customize Waiting Room

and select a logo and description or a video that will display the next time you have a meeting with a waiting room.
---
These are just a few new features we thought you might be interested in. Check them out today to get the whole Zoom experience!