July 29, 2016
A Century of CMU Psychology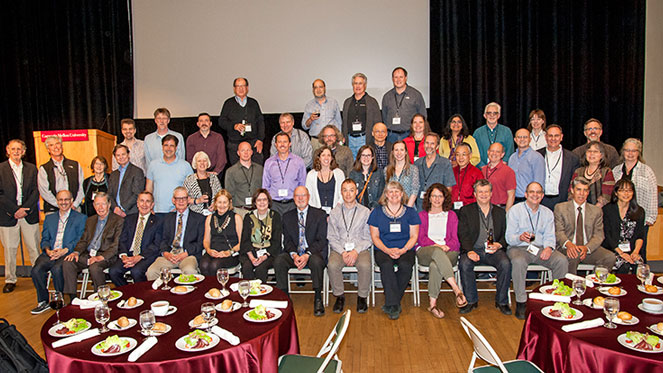 In the City of Champions, where sports teams are lauded for repeat victories and daring displays of athleticism, there is one team that is often overlooked.
Carnegie Mellon University's Department of Psychology has spent the past 100 years redefining academic and research success. Just as there would not have been an immaculate reception without Pittsburgh Steelers Franco Harris, the field of cognitive psychology and big data's intersection with education, language and brain sciences would not exist as they are today without CMU Psychology.
Over the past year, the department celebrated its past, present and future by inviting alumni back to campus for several events. There was, of course, cake. A banner hung proudly from Baker Hall's windows. And, current and past faculty members, students, staff and friends of the department had a chance to reconnect and reflect.
"The most gratifying part about being a teacher is watching your former students succeed. In the Psychology Department, we are spoiled. Our graduates are at the top of many different industries and fields, and that is our real legacy," said Marcel Just, the D.O. Hebb University Professor of Psychology who organized a two-day symposium for graduates of the Ph.D. program.
Just isn't kidding. Stuart Card (DC'78), a consulting computer science professor at Stanford University, is one of the co-founders of the human-computer interaction field. Kevin Gluck (DC'99) is a principal cognitive scientist at the Air Force Research Laboratory. Jessica Cicchino (DC'09) is the vice president of research at the Insurance Institute for Highway Safety. She recently completed a study that found forward collision warning and autonomous emergency breaking systems in cars reduce rear-end crashes by about 40 percent.
And, while the list goes on, many attribute their success to the training they received at CMU.
"The graduate education I received in cognitive psychology was so future-oriented that I always felt like I had the skills to tackle problems in human factors, task analysis, learning, human performance assessment, modeling and many others," said Douglas Eddy (DC'73), a senior research scientist at NTI, Inc.
The Present

Fast-forward to 2016, and Department Head Michael J. Tarr likes what he sees in the department's award-winning faculty and current students.
"We are thriving," Tarr said. "We are not just 'heads in the clouds' scientists. Unique to Carnegie Mellon, we worry about real-world implications and applications. We are risk-takers. We develop ideas and methods that lead and change the field and expect our faculty and students to continue this tradition of innovation."
Today, the department's focuses include applying research to improve educational practices, school environments, the diagnosis and treatment of brain disease and public welfare through better health.
Psychology faculty are at the center of two university-wide initiatives: BrainHub, which focuses on how the structure and activity of the brain give rise to complex behaviors; and the Simon Initiative, which aims to measurably improve student learning outcomes by harnessing a learning engineering ecosystem that has developed over several decades at CMU.
CMU undergraduates studying psychology receive more research training than most of their peers and achieve impressive results. Recent graduate Maya Schumer worked with Associate Professor David Creswell on how mindfulness meditation training can be used as a mental health intervention.
"It's made me into a researcher that I didn't know I could be," she shared. "Now, I can really see myself as an active member of the scientific community."
Senior Adam Dickter, a science and humanities scholar, was bitten by the research bug as a freshman when he took a course with Marlene Behrmann, the Cowan University Professor of Cognitive Neuroscience, and then approached her about research opportunities.
Now, Dickter is working on a new project that involves an EEG methodology called Steady State Visual Evoked Potential (SSVEP). Researchers are able to collect data more quickly with SSVEP than with traditional EEG methods because in SSVEP, participants see stimuli several times per second.
"The hands-on research experience that our students receive is truly invaluable, and it is also very exciting for us as teachers and mentors to work with enthusiastic, eager and young minds," Behrmann said.
The Simon Era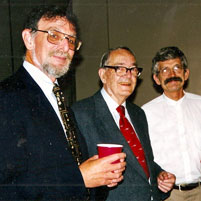 This is all built on a solid foundation that began back in 1915-1916. While the exact date is somewhat of a mystery, the roots have clear and direct ties to the department today through its interdisciplinary nature.
The real coup for CMU Psychology started in 1962 when Herbert A. Simon, a professor of computer science who would go on to win the Turing Award and the 1978 Nobel Prize in Economics, decided that he needed to move his office to the Psychology Department. Simon and CMU's Allen Newell were convinced that the future of psychology was in artificial intelligence and cognition.
To kickstart his new effort, Simon secured substantial National Institute of Mental Health funding and created the annual Carnegie Symposium to help attract superstar new faculty to the department.
"Herb Simon played an influential role in the department's subsequent hiring strategy, in which the department energetically recruited the emerging stars in the field of computational models of cognition, including such world-class scientists as John Anderson, Marcel Just and Jay McClelland," said David Klahr, the Walter Bingham Professor of Cognitive Development and Education Sciences and de-facto department historian for the centennial celebration events.
The results were impressive. According to Leigh Nystrom (DC'95), the director of Princeton University's Scully Center for the Neuroscience of Mind and Behavior, "CMU Psychology in the 1980s was the indisputable epicenter of computational modeling of human cognition."
At the same time, the department began establishing itself as a social and health psychology powerhouse by bringing Sheldon Cohen, now the Robert E. Doherty University Professor of Psychology and member of the National Academy of Medicine, to join Professor Michael Scheier.
The Next 100 Years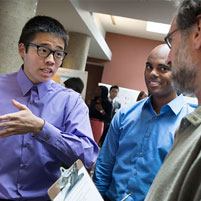 Tarr believes that the future is especially bright for CMU Psychology in four areas: creating large-scale computational theories of human behavior, thinking and its neural underpinnings; driving the development of cutting-edge technologies; leading in multidisciplinary research and training and diversifying career opportunities.
He is especially grateful to several alumni who are helping to ensure that these things happen.
An anonymous alumnus recently donated more than $1 million to fund a wide variety of training and research efforts across the department as well as remain competitive in faculty recruitment and retention.
Barbara Bessey (DC'77) has endowed the Kevin Gilmartin and Barbara Bessey undergraduate scholarship to honor her late husband, also a CMU psychology alumnus.
Four alumni—Josefina and Stuart Card, Edward Deci ('70) and Patrick Cavanagh (DC'72)—launched a new Centennial Fund as the lead donors. With a goal of an ultimate endowment of more than $100,000, the fund will provide permanent graduate student support that will enable CMU Psychology to be even more competitive in recruiting and supporting its students.
"I benefitted immensely from my time at CMU and hope to be able to help others have the same opportunity," said Cavanagh, who called his recent visit to campus for the graduate student alumni symposium "wonderful" and said it was nice to "revisit the site of so much discovery and adventure and see how it has kept strong into the present."
Learn more about the Psychology Department's 100th anniversary.
Related Links:
_____
By Shilo Rea