Science and Technology Studies
Courses in the humanities and social sciences provide powerful tools to understand the central role of technology and science in our world.
Students interested in interdisciplinary questions about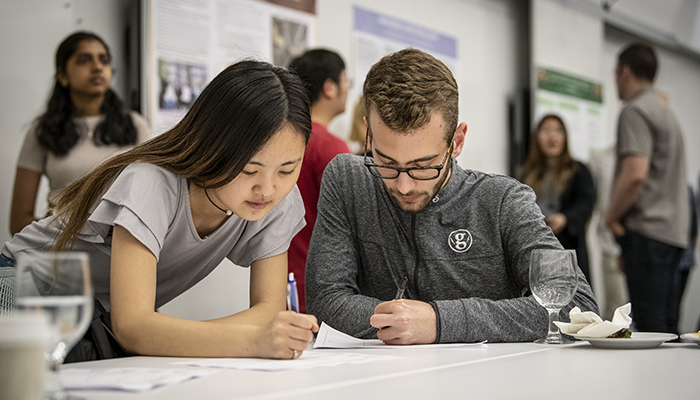 Ethics and artificial intelligence
Environmental history and policy
Technology and humanity
Rhetoric of science

Science and human rights
will find opportunities to explore these themes in Science and Technology Studies (STS) at the Dietrich College of Humanities and Social Sciences.
STS explores how society, politics and culture affect scientific research and technological innovation, and how these, in turn, affect society, politics and culture. Students from STEM fields and those in the humanities and social sciences will find common ground to explore critical issues facing our society. CMU graduates who complete STS minors or coursework are prepared to enter careers in academia as well as public policy, business, law, engineering and medicine.
Academic Offerings
The following undergraduate academic offerings provide opportunities for reflection and analysis on social, cultural, ethical, political and creative themes related to technical and scientific fields.
The additional major in Health Humanities will allow you to broaden your understanding of science and medicine at the intersection of culture, ethics and history. Health humanities, which can be paired with any primary major at CMU, is ideal for anyone who plans to pursue higher education in health professions such as medical school, dental school, veterinary medical school and physician assistant school, graduate programs in biomedical research, bioinformatics and public health, as well as for those with general interests in topics like public health or history of medicine. 
The additional major in Environmental and Sustainability Studies is designed to allow students from any college at CMU to complement the depth of a primary major and address the breadth of intrinsically interdisciplinary issues associated with the environment and sustainability. You will explore and analyze environmental and sustainability issues in your core courses and expand your understanding of environment and sustainability beyond your primary discipline in elective courses. 
This minor provides interdisciplinary perspectives on the development and meaning of science and technology in modern society. The core courses enable you to explore the philosophical underpinnings, cultural and historical contexts, and economic and literary assessments of the interplay among science, technology, and society. Elective courses enable you to pursue in greater depth and variety of subjects and approaches that build on both the core courses and your primary major.
Students pursuing this minor will learn to apply social and scientific perspectives to environmental problems, distinguish among scientific methods for evaluating environmental problems, and identify and assess sources of environmental data. You also will learn to identify environmental justice issues within the context of proposed policy solutions and distinguish among impacts on different communities and groups of stakeholders when considering environmental problems and proposed solutions.
Climate Change
AI & Humanity
Thinking with Evidence
Feeding the Word, Feeding Ourselves
Sample of Recent STS Courses:
Environmental Rhetoric
In Search of Mind: The History of Psychology
Mathematic Revolutions
Moneyball Nation: Data in American Life
Philosophy of Science
Telecommunications Technology and Policy for the Internet Age
Faculty