First-Year Experience: A Foundation for Learning
You can expect great things from your first year at Dietrich College.
From day one, you'll be actively immersed in our problem-solving, interdisciplinary approach to learning.
Holistic Advising: We're Here to Guide You
Making the transition to college life is exciting – but it can also be a little overwhelming at times.
That's why your relationship with your advisors and faculty mentor will be so important. Throughout your time at Dietrich, you'll work closely with a team of advisors, both from the Academic Advisory Center (AAC) and the academic departments — along with a faculty mentor — to help you navigate your experience. Through this partnership, your advisors and mentor will help you explore academics, career opportunities and experiential learning projects.
Your AAC or Information Systems (IS) advisor will reach out to you the summer before you arrive on campus to introduce you to the college and plan your fall schedule.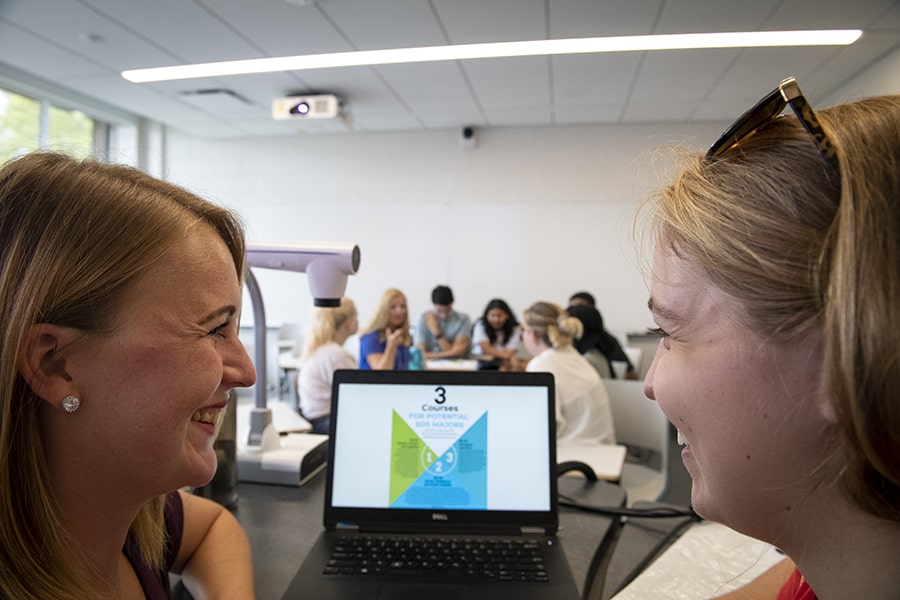 Build Community at Orientation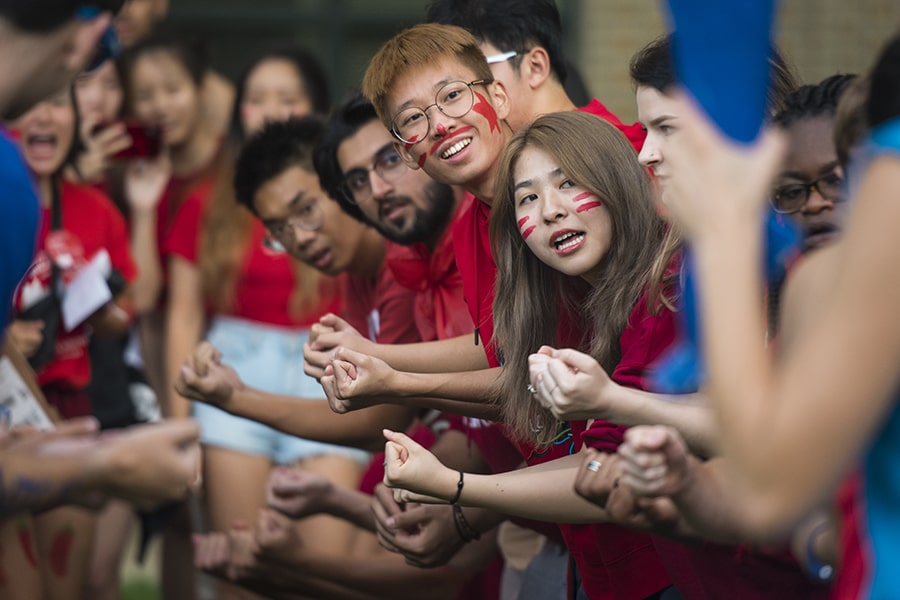 If you're a first-year or transfer student, orientation is your chance to familiarize yourself with the CMU campus, connect with classmates and meet our faculty and staff. It's also the ideal time to explore Pittsburgh – a tech-driven city with great green spaces and world-class culture.
You'll also have the opportunity to meet your Dietrich College peers through college-wide events during Orientation week, like our off-campus trip or during the sessions and Convocation on Academic Day.
Typical First-Year Course Schedule
Take on a Grand Challenge
Want to confront real-world problems and learn more about yourself in the process? Our Grand Challenge Seminars are part of the experience for all first-year students, and they're not like any courses you've taken before. You'll focus on complex, global issues like democracy and data, racism or environmental justice, hearing perspectives from faculty across disciplines and collaborating in small groups with your peers.
Students tell us that Grand Challenge courses have helped them build confidence, encouraged them to take additional courses on related topics and even inspired them to choose a major.
Additional General Education Requirements
A Dietrich education includes a great variety of subject matter and perspectives. Along with an interdisciplinary Grand Challenge Seminar, all first-year students will take a foundations course in data analysis and communication and will choose one humanities and one social sciences course to begin exploring all that Dietrich College offers. In addition to the required courses, your first-year schedule will also allow you to explore majors and minors of interest.
Throughout your remaining years in Dietrich, you'll build on those foundations by completing the remaining General Education requirements, all of which are tied to specific learning outcomes, alongside your major courses. These courses will help you acquire and apply new knowledge and skills that are essential to your career, citizenship and life.
*Most students complete Computing@CarnegieMellon, a required three-unit course, the summer before their first fall semester.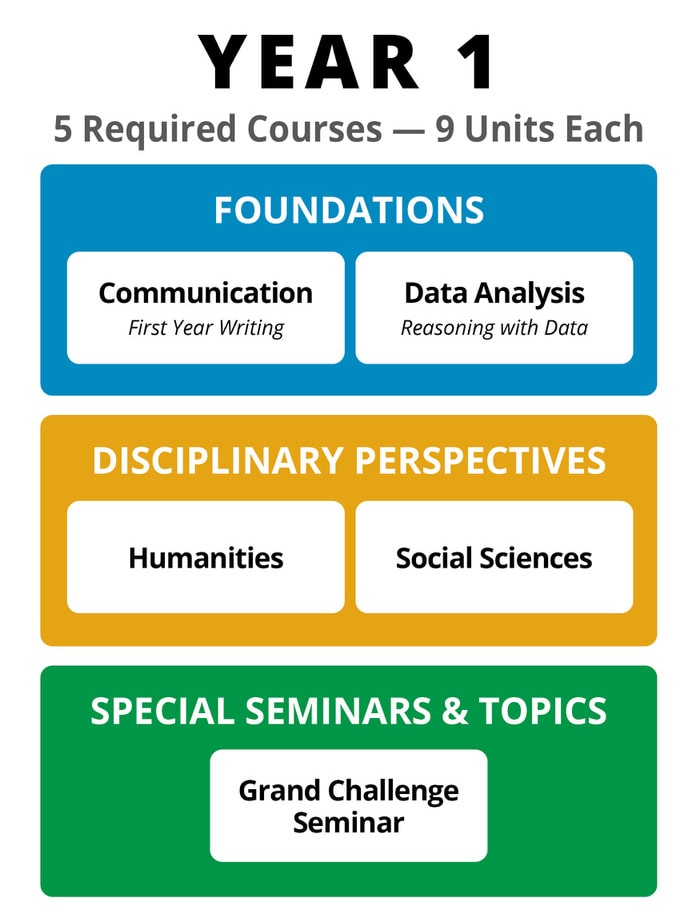 Get Out and Get Involved
What happens outside of the classroom is important, too. That's why our experiential learning programs – like internships, undergraduate research, study abroad and community service – can enhance your Dietrich College education. Since our college represents a diversity of students, we strive to make our experiential learning options just as varied.
We're obviously serious about our studies, and we also think you should have some fun!
Dietrich students are encouraged to take part in favorite Tartan traditions like Spring Carnival's Booth, Buggy and Mobot, or signature college activities like Fall Fest and Dietrich Day. In addition, our students get involved in athletics, Greek life, student organizations, leadership and many other aspects of student life.