Graduate Students
Though most graduate student life in the Dietrich College of Humanities and Social Sciences is centered in the academic departments, the graduate program coordinators collaborate to enrich the graduate student experience across the whole college.
Dietrich's Graduate Program Coordinators
Networking within Dietrich and at CMU
Monthly social events for all Dietrich Graduate Students, with each month hosted by a different department.  Check with your department's graduate coordinator if you want to help plan the event your department is hosting.
Graduate Student Social
The psychology department will be hosting a family-friendly pumpkin carving/painting event on Friday, October 22 at 5:00pm at the Merson Courtyard outside of the CUC, next to ENTROPY.
Come to enjoy cider, snacks, Halloween candy and more! Two tickets to Kennywood will be awarded to the winner of the Best Decorated Pumpkin Contest.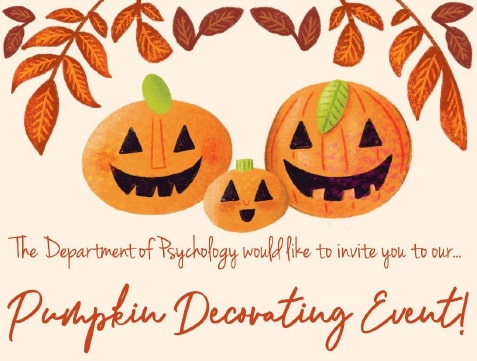 2021-22 Professional Development Series
Spring Workshops
Jan

27 Thursday, January 27 from 4:45 to 6:00pm: Stress & Coping - Viviana Ferrer-Medina (Counseling and Psychological Services)

Feb

10 Thursday, February 10 from 4:45 to 6:00pm: 4 Steps to Evidence-Based Interview Preparation - (Career and Professional Development Center)

Mar

3 Thursday, March 3 from 4:45 to 6:00pm: Job Offer Negotiation: Tips for Measuring and Communicating Your Market Value - (Career and Professional Development Center)
Health & Wellness
Additional Resources
Graduate Student Awards and Fellowships
Funding Opportunities
Career & Professional Development
Policies
Department Graduate Student Requirements
Resources