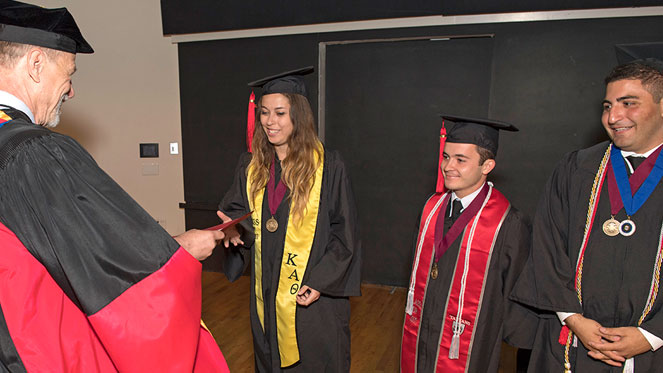 May 31, 2017
New Graduates: We Can't Wait To See What You Do Next
By Shilo Rea and Emily Stimmel
Caps were tossed, tassels moved from right to left and now Carnegie Mellon University's Class of 2017 will show the world what they're made of.
"Graduating from Carnegie Mellon University is no small feat," said Richard Scheines, dean of the Dietrich College of Humanities and Social Sciences. "Our faculty take pride in putting obstacles in your way. Our education is one of the most rigorous in the world, and our graduates tell me that they are more prepared than anyone else."
CMU President Subra Suresh challenged the graduates to think about what they could accomplish and where their paths might lead.
"With a CMU degree you are prepared to separate signal from noise, fact from fiction and evidence from a mere innuendo. As you accomplish much, we expect you to return to this campus sharing your knowledge and experiences," Suresh said. "Whatever you do, where ever you live, you will have a profound impact on the world with a CMU degree. I cannot wait to see how you change the world."
Many of the newest Dietrich College graduates will start their journeys at companies like Amazon and Google or in top graduate programs, taking the experiences of the past four years with them.
"We've grown. We've accepted that life, much like learning, is a process," said David Diran Selverian, a decision science major, in his speech at the Department of Social and Decision Sciences' diploma ceremony.
Over Commencement Weekend, a total of 4,883 undergraduate and graduate degrees were conferred. Out of 287 Dietrich College graduates, 145 graduated with honors, and 12 were inducted into Phi Beta Kappa, a prestigious national honor society that only about 10 percent of college students across the United States are invited to join.
The Dietrich College conferred 102 master's degrees and 38 doctoral degrees.
At the Doctor's Hooding Ceremony, Arthur S. Levine, M.D., the John and Gertrude Petersen Dean of the University of Pittsburgh's School of Medicine, presented a keynote address that stressed the importance of protecting the humanities.
"I think that Dr. Levine's address underscored an important aspect of Carnegie Mellon that has particularly influenced me: the collaboration between the humanities and sciences," said Matthew Lambert, who received his Ph.D. in literary and cultural studies from the Department of English.
Commencement Weekend was not just about the new graduates. Several alumni were recognized at the 67th annual Alumni Awards: Ruth Osborne Rouleau (DC'52,'53) was honored alongside her husband, Wilfred T. Rouleau (E '51,'52,'54), with the Alumni Service Award, and Sachiko Takayasu (DC'85) and Joshua Zak (CMU'17) received the Alumni Achievement Award and Student Service Award, respectively.
Full Commencement Coverage: