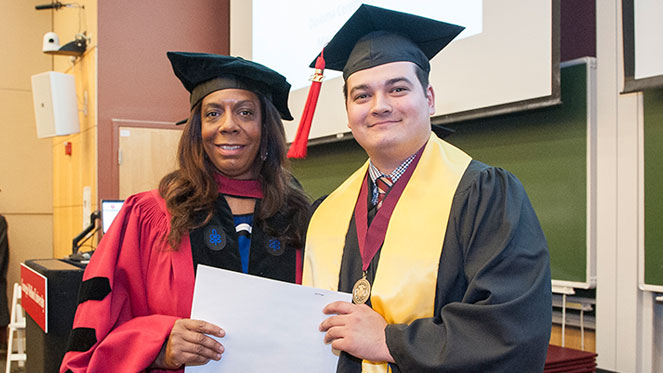 May 31, 2017
Class of 2017: Ready for the Next Step
By Emily Stimmel
Before the ink even dried on their Carnegie Mellon University diplomas, many of the newest Dietrich College of Humanities and Social Sciences graduates had secured jobs or spots in top graduate programs.
Stephen Wu, who double-majored in computer science and logic and computation, will begin working as a software engineer at Amazon, where he will help scale its new Amazon Tickets platform. He sees it as a major boon for Amazon to branch out into ticket sales and is excited to build a startup within a large company.
Wu hopes the experience will inspire ideas for his own music industry startup, which he plans to launch with other alumni from his CMU network.
"I have made some of my best friends at CMU. I want to apply my analytical thinking to identify problems in the industry and work with the smart and talented people I met here," said Wu.
But that's not all he is looking forward to.
Before jumping into his new role at Amazon, Wu will complete a once-in-a-lifetime Artists and Repertoire (A&R) internship at Warner Music Group in Los Angeles.
He will sign new talent to the label and plan music release strategies with multi-platinum musicians Wiz Khalifa and Kehlani.
"I want to make big waves and create something that really helps people," said Wu. "My secondary goal is to have fun in L.A. and meet celebrities!"
Wilfried Sieg is not surprised to see Wu use his logic and computation background in the music industry. Sieg believes the major gives students an excellent base that they can apply to a wide range of fields, including computer science, artificial intelligence and cognitive psychology.
"Our students gain a broad methodological perspective that I think makes them stand out," said Sieg, the Patrick Suppes Professor of Philosophy who advised Wu on his thesis. "Stephen is an extremely smart and thoughtful young man with good ideas of his own, but also with openness to other perspectives. That will make him not just a congenial collaborator, but also a very cool leader."
Not all students are launching careers immediately after graduation. Others—like Jack Kroger—are pursuing graduate school at highly-ranked institutions.
In September, Kroger will begin a one-year master of science program in development studies in the London School of Economics' (LSE) International Development Department. Afterwards, he plans to become an analyst for a transnational organization like the World Bank or a non-governmental organization specializing in development or human rights.
"I think that CMU has provide a well-rounded and interdisciplinary education that I will be able to continually pull from in the future," said Kroger, who majored in economics and statistics and had an additional major in international relations and politics. "The Institute for Politics and Strategy (IPS) specifically has been instrumental in shaping me to think critically about policy in a non-political way. It has also shown me ways that the statistical and economic tools that I have learned can be used to enhance research into international relations, political economy and, ultimately, development."
When weighing the decision to pursue an advanced degree, Kroger sought guidance from Geoffrey McGovern, whom he worked with as a teaching assistant for Decision Processes in American Political Institutions.
"LSE is a great fit for Jack because their program looks at the policy and economic challenges of creating 'healthy, wealthy and sustainable societies.' That challenge is inherently interdisciplinary, and one that Dietrich College students are quick to recognize," said McGovern, a lecturer in IPS. "Coming from CMU with a super-strong analytic toolkit and a mastery of the theories and approaches to governance and policy, Jack is going to find himself very well prepared, indeed."
Wu and Kroger aren't the only ones with ambitious plans. Statistics major Skye Toor is working as a statistician and programmer at Pew Research Center. Statistics and machine learning major Emily Helfer will begin working as a data scientist at Microsoft. Quinton Laurencio, who also majored in statistics and machine learning, will work as a summer analyst at Credit Suisse. Mengyao (Zoe) Wei, who majored in business administration with an additional major in statistics, will begin working as a business analyst at Deloitte Consulting. And Jade Schiffer, who majored in decision science with an additional major in human-computer interaction, will also join Deloitte as a summer business analyst.
Logic and computation major Tim Brooks will start a job this summer in Google Research's camera group, where he will help develop algorithms for image processing, mobile cameras and photography software. Fresh from her public relations internship in the Dietrich College Dean's Office, Sarah Gutekunst will head to New York City, where she will work as a communications assistant at Fried, Frank, Harris, Shriver & Jacobson LLP, a top international law firm specializing in mergers and acquisitions, private equity and real estate.
"I know that I'm prepared for the future because Carnegie Mellon taught me how to work hard and I have the skills to solve almost any problem that lands in front of me. Even if I don't, Carnegie Mellon also gave me the humility to admit that and seek out wisdom in others," said Gutekunst, who majored in professional writing. "I'm excited to prove to myself that I'm ready for this. I've spent the last four years anticipating and preparing for the moment I would step out on my own. Now it's here, and I don't have a doubt in my mind that I can make it."
There are undoubtedly many more graduates embarking on new adventures. Share your story »
Pictured above, from left to right: Kiron Skinner, director of the Institute for Politics and Strategy, and Jack Kroger.