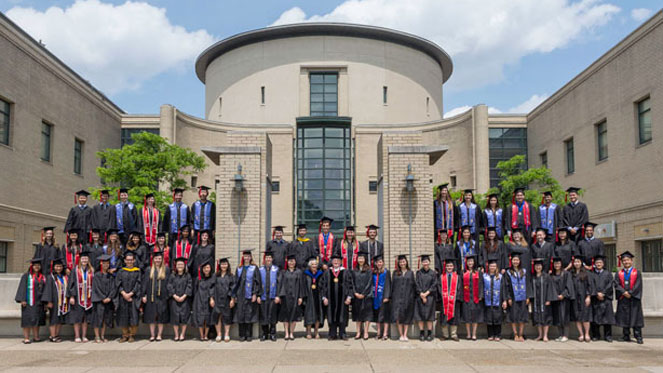 May 24, 2017
Seniors, English Professor Honored at Phi Beta Kappa Ceremony
By Emily Stimmel
Forty-eight seniors were inducted into Carnegie Mellon University's chapter of the Phi Beta Kappa Society (PBK) this spring and 12 were from the Dietrich College of Humanities and Social Sciences. Only about 10 percent of college students across the United States are invited to join PBK, which has chapters at 286 higher education institutions nationwide.
English Professor Peggy Knapp, who is retiring after 47 years at CMU, delivered the keynote speech. A PBK member since 1959, Knapp served as the inaugural president of CMU's chapter and was instrumental in its growth.
"You are being inducted today into a very exclusive fellowship. You've made original contributions to science, or to the arts—or both—and shown leadership among your very talented peers," said Knapp. "The world needs you."

Robert Stephens, a senior majoring in global studies with an additional major in international relations and politics who was inducted into PBK last fall, was the student speaker and gave a talk on the history and significance of the honor society's key emblem. He also remarked that the students joining the prestigious honor society were in good company: In addition to numerous presidents and Supreme Court justices, notable members have included author and activist W. E. B. DuBois, former Secretary of State Condoleezza Rice and Amazon founder Jeff Bezos.
"The best thing that has come from joining Phi Beta Kappa in the fall has been the opportunity to join a network of passionate individuals and share stories with other scholars," said Stephens. "The opportunity to share the history and a bit of my own story with the spring initiates was such an honor, and I look forward to maintaining these relationships and being able to observe how we all shape history going forward."

Spring 2017 Students Initiated in Phi Beta Kappa:
Jackson Bahr, Mathematical Sciences
Madeline Balzarini, Chemistry (Biological Chemistry Track)
Kate Beittenmiller, Materials Science and Engineering
Katherine Borst, Mathematical Sciences
Jacob Buckman, Computer Science
Benjamin Chang, Business Administration (Finance)
Jemmin Chang, Computer Science
Jane Chua, Computer Science
Xue An Chuang, Computer Science
Diana Connolly, Cognitive Neuroscience and Art
Mary Catherine (Casey) Devine, Global Studies
Melanie Diaz, English
Claire Dingwell, Chemistry
Emmett Eldred, Creative Writing
Allison Fisher, Computer Science
Alexander Frieder, Computer Science
Alexandra George, Professional Writing
Preeti Gondi, Computer Science
Dante Horvath, Linguistics and Music Performance
Katherine Huang, Biological Sciences
Susheel Khetarpal, Biological Sciences
Yeh Jin Kim, Psychology
Kimberly Kleiven, Computer Science
Hannah Kolev, Biological Sciences
Grace Lee, International Relations and Politics
Kayla Lee, Global Studies
Tristan Lockwood, Decision Science
Michelle Ma, Computer Science and Art
Lindsey Matesic, Global Studies
Taechawidd Nantawisarakul, Biological Sciences (Neuroscience Track)
Karen Nguyen, Professional Writing
Alexander Pomerantz, Biological Sciences
Ticha Sethapakdi, Art
Andrea Sherwood, Creative Writing
Maegha Singh, Chemistry
Megan Strain, Business Administration
Joan Sullivan, Psychology and Art
Ruoxi Tan, Computer Science
Zun Yi Brent Tan, Physics (Astrophysics Track)
Ariel Tian, Computer Science
Jonathan Tsao, Chemistry
Michelle Wan, Business Administration
Mengyao Wei, Business Administration
Delancey Wu, Psychology
Joshua Zak, Chemistry
Zheng Zhang, Chemistry
Min Zhou, Business Administration
Xiaote Zhu, Computer Science