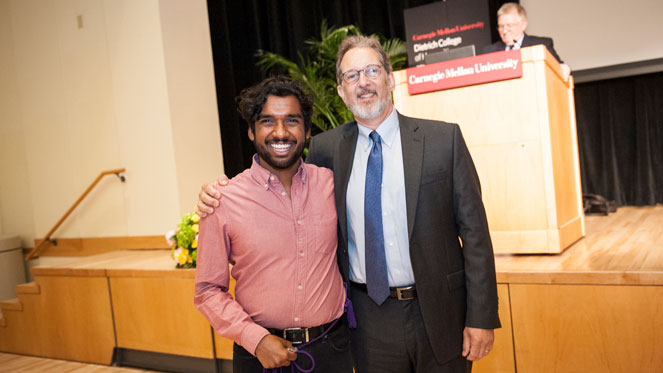 May 31, 2017
145 Dietrich College Students Graduate with Honors
By Shilo Rea and Emily Stimmel
An astounding 145 Dietrich College of Humanities and Social Sciences students walked away with more than a diploma during Carnegie Mellon University's Commencement Weekend.

Undergraduates with a 3.5 or higher quality point average (QPA) received University Honors and students who completed an honors thesis as part of the college's Senior Honors Program received College Honors. Twenty-three received both.
"CMU is a proudly tough university. The honors you've achieved carry special weight," said Steven Schlossman, professor of history and director of undergraduate studies, during his keynote speech as the winner of the 2017 Elliott Dunlap Smith Award for Distinguished Teaching and Educational Service.
Dietrich College Dean Richard Scheines believes that the thesis process allows students to become individual thinkers and gain important skills in research and precise communication.
"Doing an honors thesis is an immersive experience that will stay with you, and advising you is as rewarding as doing it," said Scheines. "On behalf of our faculty advisers, thank you for your curiosity and energy. It keeps us going."
Schlossman gave the honors graduates advice in his talk, "Some Elements of a Long and Happy Career." His prerequisites to thrive at work for the next several decades include a highly supportive work environment in which to develop one's professional ambitions; "on fire" colleagues whose positive energy builds our potential for continuous career advancement; professional mentors; and truly being able to say what Andrew Carnegie described in his famous saying, "My heart is in the work."
Read the full transcript of Schlossman's keynote address
View photos from the Honors Ceremony
University Honors 2017
Economics
Mohin Banker
Peter Brady
Jian Chao Huo
Daniel Lee
Mohak Nahta
Michael Rosenberg
English
Melanie Diaz
Emmett Eldred
Gordon Estes
David Frank
Christina Galvin
Anne-Sophie Kim
Jasmine Kim
Shaune Marx
Stephanie O'Neil
Carina Paliocha
History
Lindsey Matesic
Robert Stephens
Brady Wilson
Information Systems
Martin Lorenzo Bautista
Nikita Bokil
Ann Chen
David Gao
Daniel Graf
Jennifer Han
Max Harlynking
Augustus Henry
Luke Hottinger
Tsz Chung (Tommy) Hung
Karen Irvine
Jennifer Jin
Benjamin Junker
Yeon Soo Kim
Anne Lueh
Israel Madueme
Connor Moore
Gaury Nagaraju
Chiamaka Nnebe
James Ormond
Suvrath Penmetcha
Javed Ramjohn
Shijie Rao
Ryan Sickles
Alex Tsai
Mark Vella
Alex Wang
Christabelle Wong
Jingqi Yang
Shuang Yu
Hanson Zeng
Ziyun Zheng
Institute for Politics and Strategy
Hye Yeun Jeon
Emily Joyce
Grace Lee
Alexandra Pasch
Vivian Wang
Philosophy
Timothy Brooks
Tess Harty
Karyn Michela
Miranda Nguyen
Ariel Rao
Psychology
Siriana Abboud
Lilah Buchanan
Yiran Buckley
Amelia Clark
Alexander Frieder
Thomas Garncarz
Elani Gitterman
Laura Gunsalus
Katherine Kim
Yeh Jun Kim
Kennix Lee
Louisa (Lisa) Murphy
Timothy Pham
Renee Sajedian
Melanie Seah
Social & Decision Sciences
Amelia Britton
Hyo Jung Choi
Margaret Davis
Zade Delgros
Rebecca Greubel
Colleen Hamilton
Tianbo Jiang
Gihyun Kim
Alexandra Kirshon
Tristan Lockwood
Sarah Moss-Horwitz
David Selverian
Emily Vokach-Brodsky
Marianthie Wank
Ju Ho Yoon
Statistics
Annabelle Chang
Shaheen Essabhoy
Emily Helfer
Sung Jin Hong
Crystal Hou
Leshaun Jones
Jack Kroger
Yifan Leng
Kevin Li
Arjun Manimaran
Andrew Manka
Dorsa Massihpour
Michael McCaffrey
Yuka Moroishi
Noshin Nova
Daniel Park
Kevin Reichek
Yoona Seon
Angelina Sheremet
Kunal Wadwani
Qiyang Xu
Siqi Yang
Qiutong Ye
Sung Jun Yoon
Quan Yuan
Annie Zhang
Marianne Zhao
University and College Honors 2017

Economics
Gujri Singh (Tepper College Honors)
Charlotte Townsend (Tepper College Honors)
English
Jordan Cox
Alexandra George
Sarah Gutekunst
Ariel Hoffmaier
Karen Nguyen
Charles Rock
Andrea Sherwood
History
Mary Catherine (Casey) Devine
Kayla Lee
Robert Reynolds
Information Systems
Karen Segal
Institute for Politics and Strategy
Yeawon Choi
Damin Jung
Philosophy
Dhruva Krishna
Cullen Wells
Psychology
Kaoon (Francois) Ban
You Bin Maeng
Sophia Makal
Delancey Wu
Social & Decision Sciences
Hannah McDonald
Statistics
Theodore Peterson
College Honors 2017
Economics
Sree Unnava (Tepper College Honors)
English
Kristina Wagner
Psychology
Madhumita Govindaswamy
Social & Decision Sciences
Alexa Smith
Pictured above, left to right: Honors graduate Dhruva Krishna with Dean Richard Scheines.