May 23, 2017
Congratulations Class of 2017
Modern Languages Graduates Reminisce and Look Ahead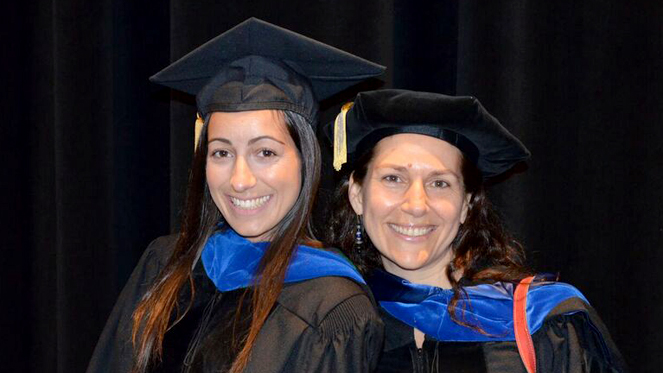 "It's great to see you all here to celebrate the accomplishments of some pretty amazing young people," said Christopher Jones at the start of this year's Modern Languages graduation ceremony, held in the Cohon University Center on May 21.
Jones, interim head of the Department of Modern Languages, delivered opening remarks at the event.
"Not only have they [the graduates] learned to speak, listen, read and write in another language," he told the audience, "but they've also learned that context and culture condition all human communication."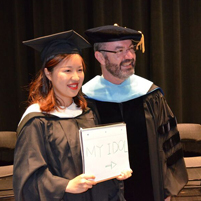 Graduates from the department will "reap the substantial economic and intellectual benefits of bilingualism," Jones said; "contribute to social integration"; join groups and raise children who value differences in others; and will be "lifelong learners of at least one other language and culture."
By studying languages and cultures, he said, some students are reaching both forward and backward: "Forwards to the globalized environment for work and play that exists for those prepared to thrive in it. Backwards in the sense of having regained or improved the ability to communicate with older family members who are still in touch with ancestral language and culture."
Before returning to his seat, Jones introduced three graduates — John (Jack) Biggs, Catherine Ho and Gabrielle Rickstrew — who each shared thoughts about their years at Carnegie Mellon, and reflected on the value of studying languages and cultures.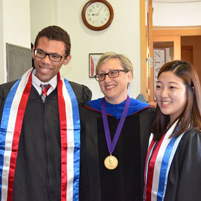 Jack Biggs, who majored in French & Francophone Studies, praised faculty members in this program, calling them "incredibly talented."
"These wonderful people have not stopped at teaching me about French culture, or what French people think it means to be French, but have also put careful emphasis on our changing roles as citizens in today's global society," he said.
"I hope that the Department of Modern Languages will continue to foster this idea of cultural understanding on campus so that more and more people can have the opportunity to view the world through [a] broader lens of multiculturalism."
Fellow graduate Catherine Ho spoke next. She said that while there may be differences among languages, they all have something in common: each serves as "a lens to better understand the values and cultures of others."
"[Language learning] has fostered my ability to be more attentive to the vantage point and perspective of others," she said, "and therefore develop an appreciation for ideas that may differ from my own world views."
Ga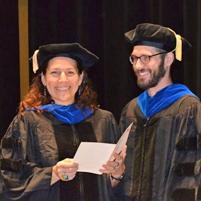 brielle Rickstrew was the last graduate to speak.
After struggling to choose a major and discover what she is most passionate about, Rickstrew was relieved when she found a "home" in global studies and Hispanic Studies. Looking back on her time at CMU, she recalled with fondness an impactful study abroad trip to Chile, and "the warmth and brilliance" of her professors.
Following the speeches, certificates and diplomas were presented to students for successful completion of coursework in Chinese Studies, French & Francophone Studies, Hispanic Studies, Japanese Studies and Russian Studies. Graduate students were awarded master's degrees in Applied Second Language Acquisition, and María Pía Gómez Laich was honored for receiving a Ph.D. in Second Language Acquisition. Germán Canale, who also received a Ph.D. in Second Language Acquisition, was unable to attend the ceremony.
While accepting their diplomas, two undergraduate students received an award.
Kate Beittenmiller took home the G. Richard Tucker Award for Scholarship and Leadership. The award was established in 2015 in honor of Dr. G. Richard Tucker, Paul Mellon University Professor of Applied Linguistics Emeritus. It is presented annually to a student in recognition of scholarly excellence in modern languages, and for leadership and dedication to the university.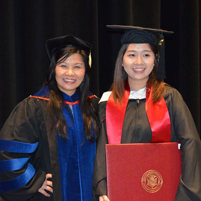 Fellow graduate Emily Joyce received the María Purificación Aguilar Memorial Award for earning the highest grade point average this year among students completing a major in Hispanic Studies.
Joyce will soon depart for Mexico to participate in a Fulbright program in Mexico City. Other students from this year's graduating class have plans that range from entering graduate school in Chicago to traveling to Ecuador to volunteer and teach English.
"Where to from here?" Catherine Ho asked earlier in the day during her speech. Later, she answered her question.
"I think the possibilities are endless," she said, "and the journey has just begun."