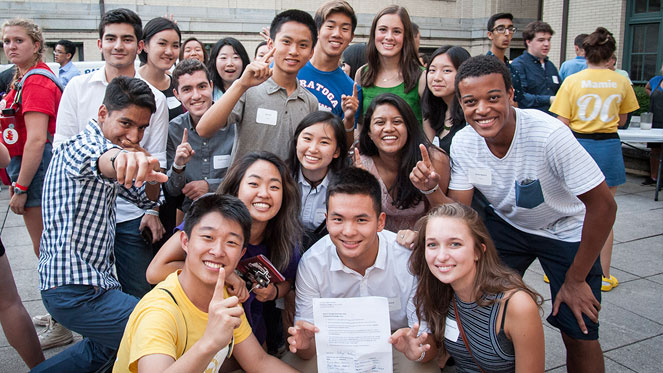 August 30, 2016
Class of 2020 Welcomed to the Dietrich College Community
By Emily Stimmel
Freedom of speech and opinion. Evidence and rigor. Diversity. Civility and respect. According to Richard Scheines, dean of the Dietrich College of Humanities and Social Sciences, these are just a few of the core values of American universities—and Carnegie Mellon University in particular.
Scheines welcomed the Class of 2020 by asking incoming students to brainstorm values that come to mind when they think of CMU.
Their responses included honesty, integrity, creativity and collaboration—a particularly salient element of the university's culture.
At CMU, Scheines said, "We value the idea as much as the person responsible for the idea."
In fact, themes of collaboration, teamwork and community were woven throughout the university and college's orientation events, which spanned a full week. They included a dinner with 40 faculty members representing each department in the college, an ice cream social and the annual postprandial scavenger hunt that introduced students to Oakland landmarks like Phipps Conservatory and Botanical Gardens.
Upperclassmen, faculty and administrators participated in panel discussions on academic success and integrity, various opportunities and lessons learned.
Emily Vokach-Brodsky (DC'17) urged students to resist comparing themselves to each other—or even to compare what they're doing now to their own past accomplishments. She remembered being shocked by lower-than-usual grades in her first semester but said the experience taught her an important lesson.
"Don't take a class because of where it will get you in 10 years if you don't actually like it," said Vokach-Brodsky, a decision science and international relations and politics double major. "Pat yourself on the back for your own successes."
Erik Thiessen, associate professor of psychology, shared that he did not know what he wanted to do when he started college, but he knew he was interested in the idea that language matters. By working in labs, he realized that he could formulate—and answer—important questions. This led him to studying the ways that infants and adults learn language.
Thiessen said, "Don't just memorize what you learn in class; take the opportunity of being in a world-class institution to become an expert in something."
George Loewenstein studies the border between economics and psychology and is a world-renowned leader in two fields that he is also credited with co-founding: behavioral economics and neuroeconomics. Loewenstein said he found his niche in CMU's Department of Social and Decision Sciences because it is an "intellectual hothouse."
"CMU is the place to do interdisciplinary work," Loewenstein added.
He invited students to participate in projects at the Center for Behavioral Decision Research, which investigates a variety of topics from trust and fairness and memory and decision making to saving and spending behavior, the effects of race and much more.
Bonnie Youngs, teaching professor of French & Francophone Studies in the Department of Modern Languages, also emphasized research opportunities. She encouraged students to register for 198-level courses through the Research Training Program open to freshmen and sophomores.
Though students were encouraged to explore the many opportunities available to them at CMU, professors admonished them not to lose sight of their own health and happiness.
Christopher Warren, associate professor of English, had a simple suggestion: "Read for pleasure."
"Don't stress—and take advantage of more opportunities," added Chante Cox-Boyd, associate teaching professor of psychology.
Associate Professor of History John Soluri said, "Don't just do stress management, do stress prevention. Remember: You have four years. Pace yourselves."
Freshman Jarrek Holmes was pleasantly surprised to discover that self-care is such a high priority.
"CMU is a lot more of a compassionate community than I expected. They actually seem to care," Holmes said. "They're passionate about making sure you're OK."
Holmes is eager to dive into coursework, particularly the Decision Processes in American Political Institutions course with Geoffrey McGovern, a lecturer in the Institute for Politics and Strategy whom he met at an orientation dinner. He's also looking forward to Modeling Complex Systems, which bridges his interests in economics, politics and computer science.
"I want to do a little bit of everything," he said.
Grace Cao (DC'20) is also excited to sample from the college's broad course offerings. Cao is interested in statistics, neuroscience and machine learning and is looking forward to taking Statistical Theory.
She has already begun to see the strengths of the college's interdisciplinary approach and is most excited about "all that fields that connect to each other."
Cao said that the faculty members are approachable and it's been easy to make friends. In fact, she noted the emphasis on community throughout orientation.
"You can accomplish more together as a team," she said.
The Dietrich College's incoming class is made up of 274 students from 29 U.S. states, Puerto Rico and countries including China, India and Korea. And their SAT scores far exceed the national average.
"The kids that I have met so far here are super smart," said Holmes. "It's a community of scholars."
To make the most of being part of this special community, Brian Junker, professor of statistics and associate dean for academic affairs, offered simple advice.
"Do what you love. Do what gets you up in the morning and keeps you up at night," said Junker.
Related Article