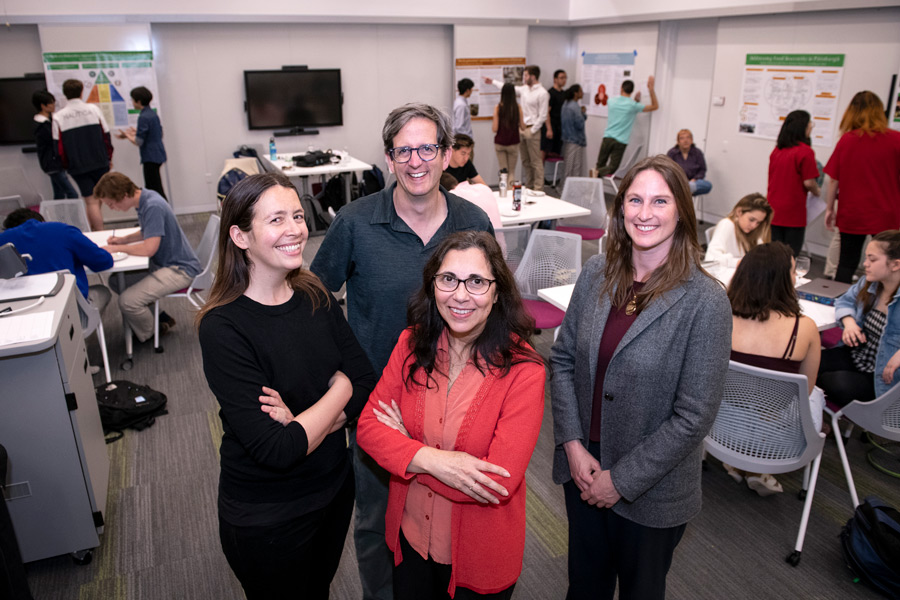 August 06, 2019
Feeding the World, Feeding Ourselves
By Stefanie Johndrow stef(through)cmu.edu
How do cultural, ecological, economic and technological contexts shape food acquisition, preparation and consumption? What are the causes of hunger — can we feed 8 billion people healthy food and not trash the planet?

These are just two of the questions Carnegie Mellon University students set out to answer as part of the course "Feeding the World, Feeding Ourselves," which launched in spring 2019.

Confronting societal challenges — like food insecurity — is the basis of the Dietrich College of Humanities and Social Sciences' Grand Challenge Seminars, courses that are co-taught by multiple faculty members who bring a multi-disciplinary lens to problem-solving.

The course is taught by Lauren Herckis, special faculty for the Simon Initiative; Abigail Owen, assistant teaching professor of history; Gloria Silva, associate teaching professor of chemistry in the Mellon College of Science; and John Soluri, associate professor of history.

"We want students to develop enriching relationships with Carnegie Mellon's campus, the city of Pittsburgh and communities across the region by exploring local foodways. As part of their final projects, students visit new places and speak with people in the community," Herckis said.

"Feeding the World, Feeding Ourselves" aims to help students make informed choices about the foods they consume and to better understand the ways that lives are shaped by food systems — even when they're not eating.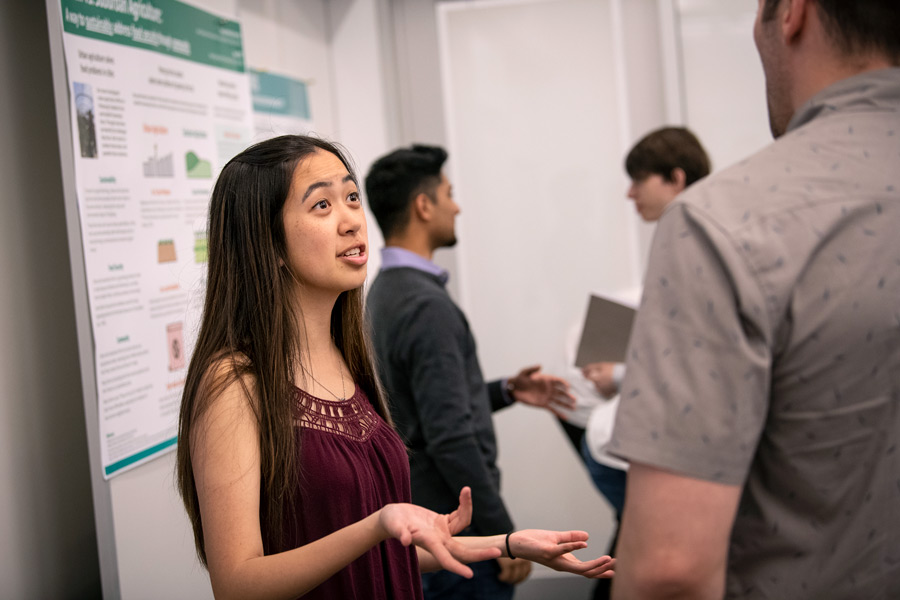 "I chose to take 'Feeding the World, Feeding Ourselves' to learn more about how the different roles that food plays into our lives. All humans regardless of ethnicity or class consumes food, so I was curious to understand how other factors of the world such as economic growth, social inequality, culture and history shape the way we perceive and consume food," said Andey Ng, a rising sophomore in the Dietrich College.

In the spring, students applied the lessons they learned in the classroom to the world around them by investigating topics like how orange juice is affected by processing, preservation and packaging; the cultural impact of national supermarkets moving into Pittsburgh's East Liberty neighborhood; and food sustainability on CMU's campus.

Through their project, Ng and her classmates — Rong Kang Chew, Jonathan Fischer and Krish Visht — tried to find a way to sustainably address food security through community action. The team examined urban agriculture efforts in Pittsburgh by visiting and speaking with people at Braddock Farms and Garfield Community Farm. The group found that by growing produce closer to those who are food insecure allows them to obtain fresh, nutritious produce more easily while also serving as an educational center to teach people about where their food comes from and how it's made.

"I appreciated how this class had a final project where students were encouraged to apply concepts related to food and connect to the local community of Pittsburgh," Ng said. "Local organic food all contains a story to it, and this class and project provided me the opportunity to visit and learn about Pittsburgh's urban community farms. Through this experience, I was able to learn more about how food positively influences a community while also learn about technological and agricultural solutions and alternatives that communities such as CMU are uncovering."

"Our students learn concepts which apply in their everyday lives, as they think about the foods they buy, why they buy them and how they might be processed. This course instills in our students an appreciation for everything that goes into a meal, from ingredients to dining companions, how some dishes are particularly memorable and why some people go hungry despite an abundance of food," Silva said.

The spring 2020 offering of "Feeding the World, Feeding Ourselves" will align with a prestigious Sawyer Seminar on "Bread and Water: Access, Belonging and Environmental Justice in the City," granted by the Andrew W. Mellon Foundation for the 2019-2020 academic year. Sawyer Seminars are temporary research centers that bring together faculty, postdoctoral fellows, graduate students and other experts to intensely study historical and cultural issues of critical importance. "Bread and Water" is the brainchild of Owen and Soluri, who will seek to demonstrate that challenges associated with provisioning urban residents with clean water and food go far beyond boosting agricultural yields and tapping new sources of clean water.

Pictured above: Abigail Owen, John Soluri, Gloria Silvia and Lauren Herckis teach the interdisciplinary course, "Feeding the World, Feeding Ourselves."

Pictured second: Rising sophomore Andey Ng discusses her group's project which addressed food security.