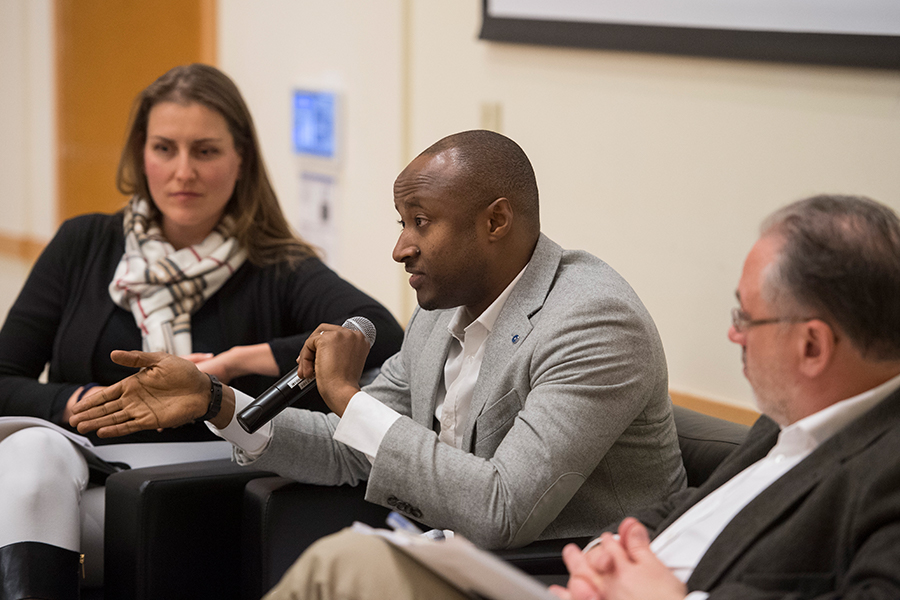 January 25, 2018
The Real Deal: U.N. Paris Agreement Negotiators Hold Workshop for CMU Students
It isn't everyday that students get to learn negotiation strategies from the experts on the frontlines, but a class of Carnegie Mellon University students recently got to do just that.
Part of the Dietrich College of Humanities and Social Sciences' Grand Challenge Interdisciplinary Freshman Seminars, first year students spent last semester learning about climate change and then participated in a three-day mock climate change negotiation as negotiators from the United Nations (U.N.) Framework Convention on Climate Change (FCCC) process, more commonly known for arriving at the Paris Climate Agreement.
Climate Change was taught by Peter Adams, professor of civil and environmental engineering & engineering and public policy, Katarzyna "Kasia" Snyder, an adjunct instructor in the Dietrich College and a former FCCC negotiator, and James Wynn, associate professor of English and rhetoric. The course aims to help students understand what climate change is, how scientists know it's happening, why there's so much public debate over it, what solutions are available and how the policymakers go about them.
During the first two days of the mock negotiations, students broke into thematic groups and, after the lead negotiators made official plenary statements, they engaged in topical negotiations talking through finance, mitigation and loss and damage.  A civil society student group even staged a protest.
Snyder, a former U.N. climate change lead negotiator for Poland, invited former colleagues Paul Watkinson and Hussein Alfa Nafo to join the class for final day of the presentation for a question and answer session. 
Watkinson is a chief negotiator and head of the climate negotiations team for the French ministry for Ecological and Solidary Transition. Watkinson was a member of the French inter-ministerial team that prepared and ran the 2015 United Nations Climate Conference in Paris, with responsibility for coordinating the negotiation of the Paris Agreement. 
Hussein Alfa Nafo is the Malian Ambassador to the UN FCCC and the head of the African Group of Negotiators. Also an adviser to the president of Mali, Nafo co-chaired the Standing Committee on Climate Finance and previously held roles of the Africa Group negotiator for the so-called Workstream 2 and was the spokesperson of the African Group.
"I saw how young some of the students were and I realized that I would have liked to have been exposed to some of the ideas at their age," Nafo said. "It doesn't really matter if you pursue a career in climate change, but I think it's important to be exposed to the issue, because it's one of the most important issues of our time."
Snyder added, "One doesn't have to be a climate professional to become part of the solution. But you have to be aware of the problem and its complexity." 
The mock negotiations also included projecting outcomes for scenarios including climate sensitivity, ecosystem extinction and sea level rising.
"Discussing climate change policy with Mr. Nafo and Mr. Watkinson, two visionary leaders of international climate change policy, was easily the most remarkable moment of my entire semester," said Jacob Feldgoise, a freshman in the Science and Humanities Scholars Program. "During our class's U.N. climate change simulation, I led the African bloc in negotiations. A week later, I literally met the man I had represented—Mr. Nafo—, asked him questions about his work in climate finance and got answers straight from the source."
The Grand Challenge Interdisciplinary Freshman Seminars are designed to bring renowned faculty from many fields together to approach complex topics from multiple angles and perspectives. Having Nafo and Watkinson on campus provided the students with an added bonus. 
"The meeting was the cherry on top of the cake," Snyder said. "The students overall did amazing."
Pictured above, Kasia Snyder, Hussein Alfa Nafo and Paul Watkinson talk climate change negotiation with CMU students.