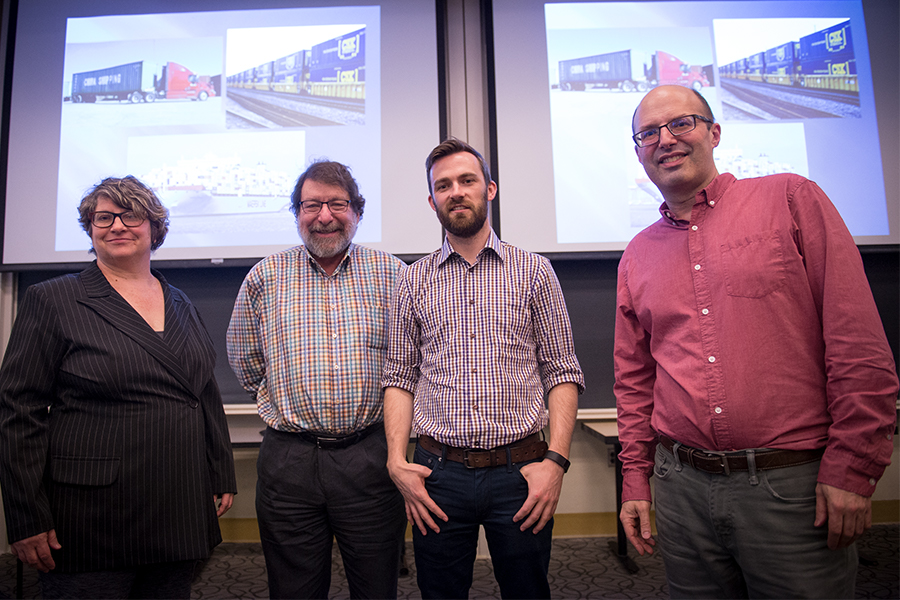 March 28, 2018
Deconstructing Inequality
According to several studies, the gap between the rich and the poor in the U.S. is wider than in any developed nation. On a global scale, eight men own as much wealth as half of the world's population. 
First-year Carnegie Mellon University students are examining different demonstrations of inequality as part of the Dietrich College of Humanities and Social Sciences' Grand Challenge Seminars. 
The seminars are designed to tackle complicated societal problems from multiple angles and perspectives. Paul Eiss, associate professor of anthropology and history, Mark Kamlet, Provost Emeritus and University Professor of Economics and Public Policy in the Dietrich College and Heinz College of Information Systems and Public Policy, Kody Manke, assistant professor of psychology, and Kathy M. Newman, associate professor of English, are coming together to explore inequality across their areas of expertise.
"In my own research on the relationship between culture and the economy, as well as my political work on public school funding and local elections, I have become increasingly aware of the pernicious effects of income inequality in the United States. That is what inspired me to put together a team of faculty to teach this course," said Newman.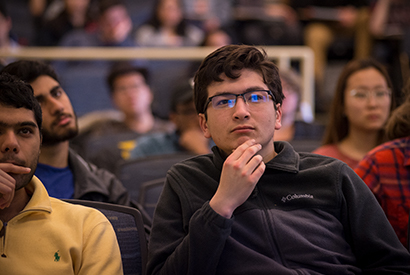 Students are learning how inequality has emerged as a social and political problem in the 18th and 19th centuries and how it has re-emerged as a key concept for current socio-political movements. In addition to inequality's past and present, the course focuses on the future, especially with the coming of increased automation and the elimination of jobs being done by humans.
"My favorite part of the course so far has been the amount of discussion and interdisciplinary conversations we've been having," Melanie Kerber said. "Inequality is an important topic that affects all of us in our day-to-day lives, and it is often something that we are unable to discuss in larger lectures. This class allows for me to interact with my peers in tackling large global issues, and it's already added a lot to my overall college experience and my perspective on things I learn in other classes across disciplines."
Kamlet, who taught the first part of the course, focused on the potential impact of new technologies on human jobs and how they may well prove to be one the biggest challenges countries like the U.S. face. He believes that the process of automation will be more nuanced than some projections suggest.
"Complex problem solving skills, higher order social and emotional capabilities, are important for 'technology proofing' careers," Kamlet said. "The humanities may—should, in my opinion—play a central role in instilling these characteristics."
The economics aspect and set up of the class have been most interesting for Anirudh Narayanan.
"I'm planning on majoring in economics, so that section of the course was my favorite," Narayanan said. "The feature of the class that I find the most interesting is the different special activities that we have every few weeks to further advance our development of the topic at hand. Each of these events have helped to emphasize many points made in our lecture, while providing an enlightening and entertaining method that our entire class is able to see together."
Topics shifted from economics to cultural studies with Newman, who used Edith Wharton's "The House of Mirth" as a focal point.
"I chose 'The House of Mirth' because it's emblematic of the Gilded Age—that period from the end of the Civil War to the turn-of-the-the-last-century—and because the Gilded Age was the last time in U.S. history when we had the same levels of inequality, the gap between rich and poor, as we do today," Newman said. "The moral of the novel is that inequality is bad for the rich and the poor, a message that I think still holds up." 
In his part of the course, Eiss had students produce an archive of inequality in global terms. Each student researched a commodity that gets produced and circulated globally and used it as a window to the relationships between distant parts of the world to learn not just how things are produced, but how the way they're produced contributes to inequality around the world.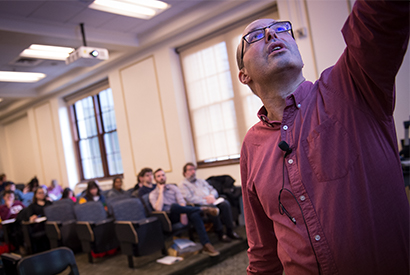 "This course is good for students as well as for faculty to have context where they can think across different disciplines and approaches," Eiss said. "Having multiple viewpoints for such a large, complex problem is beneficial." 
For Josh Pinckney, this interdisciplinary discussion is the reason why he signed up for the seminar. 
"I decided to take this course on inequality because I think there's never been a more unique time to examine this issue," Pinckney said. "I really appreciate that the course examines inequality through multiple academic disciplines. To me that exemplifies that the world's biggest problems are solved at the intersection of different fields when experts cooperate and collaborate."
Manke gave inequality a different perspective by focusing on the situation of inequality in America, focusing in particular on inequality along racial and socioeconomic lines.
"I chose the areas of education, criminal justice and housing because they are very clear examples of how people's identities—things like their race, their gender, the amount of money their families make—play important roles in the way their lives play out," Manke said. 
He continued, "In addition, these three domains are meaningfully interrelated, in historical contexts that led to these inequalities, in the current systems that further these inequalities, and in the individuals who are most impacted by these inequalities."
Additional campus activities were closely related to the seminar. The annual International Film Festival focused on "Faces of (In)Equality" and brought 14 award-winning films to Pittsburgh to explore the realities of societal imbalance. 
And Newman organized a series of events around Karl Marx's bicentennial.
"Marx's written work critiques capitalism and inequality," she said. "In some of my social activism outside the university, I have also addressed the problem of inequality. I thought it would be an exciting, difficult and relevant topic to tackle."
Pictured above are Kathy Newman, Mark Kamlet, Kody Manke and Paul Eiss.