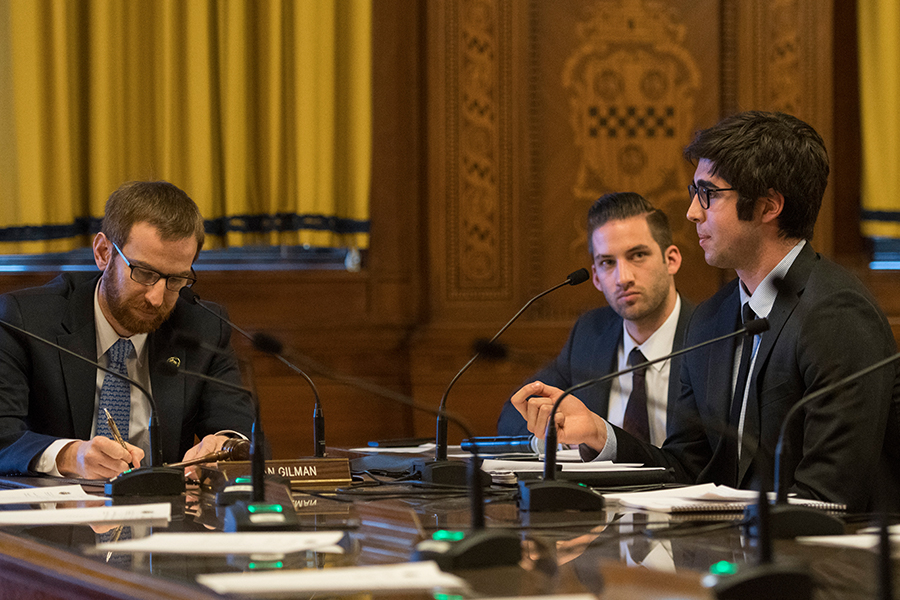 January 30, 2018
Students to City Council: Use Self-Driving Vehicles to Help Underserved Communities
Pittsburgh and Carnegie Mellon University have been trailblazers in autonomous vehicle research and technology. Now, a group of Dietrich College of Humanities and Social Sciences students have proposed a plan to Pittsburgh City Council to use self-driving cars to better the lives of residents, especially those with limited access to public transit.
Last semester, eight seniors—Ian Asenjo, Cameron Dively, Margaret Edwards, Zachary Ettensohn, Jeremy Goldstein, Gaurav Gupte, Alison Hoffman and David Matvey—offered Pittsburgh City Council a report on autonomous vehicle and transportation equity in Pittsburgh. The presentation concluded their capstone project for the Ethics, History and Public Policy (EHPP) major under the supervision of Danielle Wenner, assistant professor of philosophy and associate director of the Center for Ethics and Policy. 
"Carnegie Mellon's EHPP students are some of the brightest students in all of Pittsburgh," said Dan Gilman (DC'04) chief of staff for the Office of the Mayor.
The class' proposal examined the current public transportation landscape in Allegheny County and identified underserved communities. The multi-faceted plan to implement fair access to transportation for all includes autonomous shuttles that can carry 15 to 20 passengers. The shuttles would use autonomous technology to drive along predetermined routes without the oversight of a driver. 
"I was pleased to see how quickly the students recognized the implications for social justice and access to effective transportation that autonomous vehicles might have," said Wenner, who has overseen the two most recent EHPP capstone courses projects.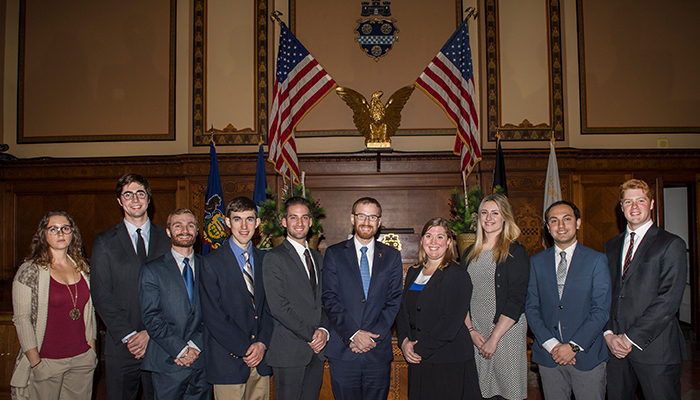 Along with the autonomous shuttles, the group offered plans to revise bus routes and improve Smartcards so riders could use both a bus and a rideshare service without paying a significant amount of money for travel.
"Autonomous vehicles appear to be the next transportation revolution and if the city, Port Authority, county and state work together, they can be leveraged to benefit Greater Pittsburgh as a whole and improve the equity of access to transportation rather than worsen current inequities," said Ettensohn.
This is the fourth year Dietrich College students have proposed ideas to City Council to enhance everyday life for Pittsburgh residents. Previous proposals include drone usage as surveillance technology, the decriminalization of marijuana and— most recently—tapping into the potential of empty city lots.
"The EHPP Capstone Course is a remarkable opportunity for students to put into practice the skills they acquire in the classroom at CMU," said Alex John London, the Clara L. West Professor of Ethics and Philosophy who directs the EHPP major.  "The opportunity to contribute to real policy dialogue within the City of Pittsburgh creates a win-win opportunity for students, the university, and the local government."
Gilman added, "The work they do on these reports is not going into a file cabinet. The city is in some serious conversation about public safety drones as we speak, and the report is coming back into important use now. This is important work and as always you do outstanding work." 
CMU's EHPP major prepares students for leadership positions in law, public policy, ethics and advocacy by providing them with a rigorous, interdisciplinary humanities and social-scientific education. It is jointly administered by the departments of History and Philosophy in the Dietrich College.
Pictured above: Dan Gilman, chief of staff for the Office of the Mayor and Dietrich College alum, listens to the proposed plan for autonomous vehicles and transportation equity.
Pictured middle: Eight EHPP seniors with Danielle Wenner and Dan Gilman.