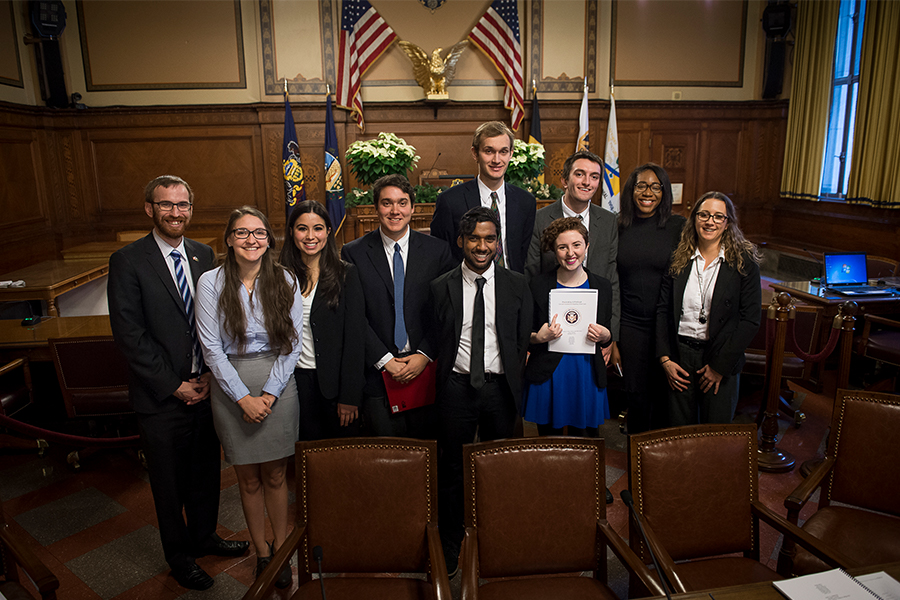 January 10, 2017
Vacant No More: CMU Students Present Urban Development Solutions
By Ann Lyon Ritchie
Media outlets continue to honor Pittsburgh as being a "most livable" city, and Carnegie Mellon University students have equipped city officials with a tool and research to build on this reputation by tapping into the potential of empty city lots.
Eight Dietrich College of Humanities and Social Sciences seniors—Joe Cossins, Emmett Eldred, Ariel Hoffmaier, Dhruva Krishna, Karyn Michela, Uzoma Nwanko, Alex Pasch and Cullen Wells—offered Pittsburgh City Council a report on anti-poverty research and a decision tree they devised as a planning tool for vacant land. The presentation concluded their capstone project for the Ethics, History and Public Policy (EHPP) major.
"We've collaborated with EHPP students on research, for the past several years on a number of topics. Based on discussions to establish an affordable housing trust fund, I talked with the students about how they could take that to the next level, thinking broadly on an affordable neighborhood," said Councilman Dan Gilman (DC '04), who served as the chairperson for the hearing.
The resulting report, "Placemaking in Pittsburgh: Uses and Considerations Regarding Vacant Land," targets the city's 27,000 lots of vacant land, which became the focus after the team researched how similar cities addressed pocket areas of poverty. Portland used vacant lots for affordable housing, and Cleveland cleaned up lots to increase the value of surrounding property.
"There are countless opportunities for vacant lots, depending on size, location, funding and input from residents," said Alex Pasch. The students described opportunities such as attracting a pharmacy to serve health needs and provide jobs, encouraging community gardens and establishing low-cost police substations to facilitate walk-in crime reporting and meeting spaces.
In the report, the students emphasize the placemaking paradigm, defined as a holistic approach to developing sustainable communities "shaped by time and history, rather than mere public space or affordable housing units." Where other development methods could potentially displace low-income residents by a sudden rise in property values, placemaking seeks to foster affordable neighborhoods over time.
A highlight of the report is a decision tree the students devised to help planners select vacant land and apply strategies. The decision tree identifies areas of high poverty and concentrated poverty as priorities, and then describes options for land use, such as establishing job training centers, building recreational green spaces, increasing job opportunities and improving access to health and wellness centers.
Danielle M. Wenner, assistant professor of philosophy and associate director of the Center for Ethics and Policy, advised the students.
"The students' decision to focus on vacant land use was both creative and on target. I was incredibly impressed by the depth of their research on the subject, as well as the extent to which they were motivated to create a policy recommendation that prioritized community voice and autonomy," said Wenner.
"Our recommendations are about how city and community leaders can reference our research to make decisions about community development," said Emmett Eldred. "Having eight sets of eyes on your work instead of just one allowed us to write something of high quality. We were thorough."
The report describes the decision tree as "a long-term tool for all Pittsburghers seeking to improve impoverished neighborhoods as they work with private, public, and nonprofit partners."