January 12, 2015
Big Brother Is Watching
Students Take Concerns, Suggestions To City Council
by Shilo Rea

Red light cameras are designed to enforce traffic laws, but what about the other footage they capture?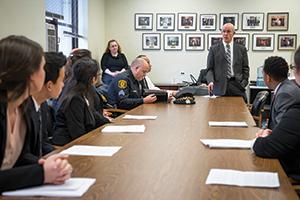 Using surveillance technologies raises serious legal and ethical questions, and cities across the U.S. are tasked with figuring out how to balance public safety with protecting privacy rights.
To help Pittsburgh officials understand the issues and develop effective policies, City Councilman Dan Gilman (DC'04) turned to Carnegie Mellon's Ethics, History and Public Policy (EHPP) seniors. 
The 10 students spent the semester researching the 
history of surveillance technology, analyzing how similar cities have implemented different tools and policies and developing recommendations for Pittsburgh.
Students sit in on a private briefing with Pittsburgh's new police chief Cameron McLay (standing) before entering council chambers to give their recommendations on surveillance policy.
They recently presented their findings to City Council, Debra Lam, director of the city's Department of 
Innovation and Performance, and 
Pittsburgh's new chief of police, 
Cameron McLay.
"It is always helpful to have a fresh set of eyes look at city policy. In this case, it is particularly helpful to have a younger perspective look at a timely issue of great national concern," said Gilman, an EHPP alumnus who credits the research skills he learned at Carnegie Mellon as a critical component of how he approaches his work in city government.
One key recommendation the students made centered on community engagement. Colin Shaffer explained how Cleveland, which uses a variety of surveillance technologies from CCTV to a Police Aviation Unit, attempted to collect and use public opinion, but fell short of capturing the complete picture — perhaps contributing to the recent U.S. Department of Justice report that revealed a high-level of distrust among Cleveland residents for the police department.
"The public needs to understand how new surveillance technology will be used, and they need to be given the chance to give feedback on its current use," Shaffer said. "City officials must also pay particular attention to the needs and concerns of the most disenfranchised and vulnerable residents of the city."
Chief McLay called the suggestion "music to my ears."
"When I walked in the door, I said that I wanted to do internal and external surveys because we, the police, need to know what the safety needs are, neighborhood to neighborhood," he said. "I'm a big believer in moving policing into the 21st century by leveraging technology and academic research."
The students examined some of 
the newest tools being used, such as mobile observation towers and drones, and pointed out the ethical, technical and privacy issues that each raises. They also offered ways Pittsburgh could implement their use within the city's current legal structure.
Jay D. Aronson, associate professor 
of history and the faculty director of EHPP, called the surveillance project the standard by which future senior capstone projects will be measured.
"These students did an extraordinary job of integrating historical and ethical concerns into their policy analysis, and they offered recommendations that were both forward-thinking and practical," Aronson said. "It's very challenging to learn about a complex policy issue over the course of a single semester and then offer meaningful policy suggestions to relevant stakeholders. This group took things to a new level though, and offered highly specific recommendations 
about wording changes in the city's Code of Ordinances that would better protect individual privacy and freedom of expression. They also suggested ways to ensure a productive and positive relationship between the police and the public as surveillance technologies become increasing integrated into 
the fabric of 
the city."
Gilman, impressed with how much work was accomplished in only four months, promised their report would 
be put to good use.
"The City will not only review the recommendations and determine which can be implemented locally, but we 
will continue the dialogue and further engage the students in an ongoing policy conversation," he said.
Chief McLay also expressed 
interest in having the students continue their work by helping the police force with public engagement.
In addition to Shaffer, the student participants were Marie Avilez, Catherine Ciriello, Christophe Combemale, Latif Elam, Michelle Kung, Emily LaRosa, Cameron Low, Madison 
Nagle and Rachel Ratzlaff Shriver.
CMU's EHPP major prepares students for leadership positions in law, public policy, ethics and advocacy by providing them with a rigorous, interdisciplinary humanistic and social-scientific education. It is jointly administered by the departments of History and Philosophy in the Dietrich College of Humanities and Social Sciences.
Students sit in on a private briefing with Pittsburgh's new police chief Cameron McLay (standing) before entering council chambers to give their recommendations on surveillance policy. Read the full report