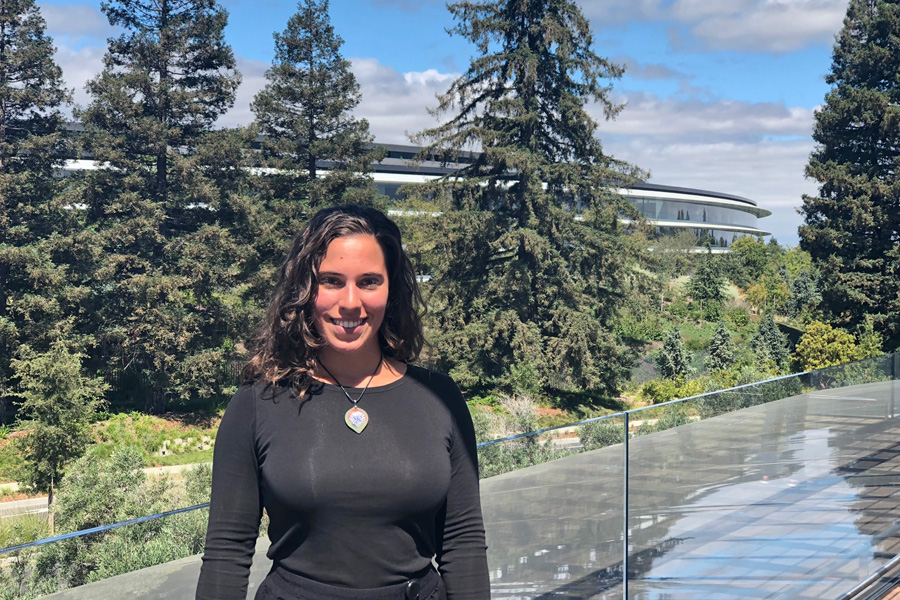 August 29, 2018
Hey, Siri…
What CMU Linguistics Major Leads Your Language Understanding Team?
Behind every Apple user's favorite virtual assistant is a Carnegie Mellon University alumna. Enrica Rosato (DC '13), who graduated from the Dietrich College of Humanities and Social Sciences with a degree in linguistics, took a job with the tech company in February as the Siri Natural Language Annotation Project Lead.
At Apple, Rosato uses her linguistics background to plan and organize the projects that collect human annotation data, which helps train models to understand natural language.
"There's a lot that goes into getting artificial intelligence like Siri to understand something and then respond based on that understanding," Rosato said. "Seeing how much language can become a part of technology is really fascinating. My favorite part of what I do is being able to connect with people and their own individual impressions of language every day."
Rosato's love of language and its applications lead her to Carnegie Mellon, where she also minored in French and Francophone studies.
"I was that person in high school who loved everything," Rosato said. "I loved science and the humanities, and I excelled in English, history and my French classes. When I was looking for a university to go to, there wasn't a lot of emphasis placed on interdisciplinary work between the sciences and the humanities. I was exploring Carnegie Mellon, and I thought it was really wonderful that they were embracing the interdisciplinary thought and were really encouraging undergraduate students to pursue research and intellectual curiosity."
Housed in the Department of Philosophy, the linguistics major is a collaborative effort between the Departments of English, Modern Languages, Psychology and Philosophy, and the School of Computer Science's Language Technologies Institute.
"I really liked the way the program was structured in terms of incorporating classes and fields of study from all of the different colleges," Rosato said. "Carnegie Mellon's emphasis on art and science being co-dependent has been really helpful. CMU gets it, they've always had their finger on the pulse within the tech industry."
As a student, Rosato was active on campus as a member of Kappa Alpha Theta, Phi Beta Kappa, Phi Sigma Iota and CMU Soundbytes. Rosato's studies lead her to an education abroad experience in Aix-en-Provence. She also won three different awards at the 2012 Meeting of the Minds for her linguistics-focused project "Adjective Order in English: A Semantic Account with Cross-Linguistic Applications."
Among Rosato's meaningful college experiences were meaningful people.
"I think about the Department of Philosophy's Tom Werner and Mandy Simons, the Department of Modern Languages' Bonnie Youngs and Michael West and the Department of English's Paul Hopper and Barbara Johnstone, as people who have formatted my brain for an open-minded approach to linguistics, because there are so many different ways to study language," Rosato said.
She continued, "Tom was my adviser and a pivotal figure in my senior year, because of the thesis I wrote that wound up catapulting me into my career My thesis got a lot of attention, and people wanted to suddenly start listening to what language could be in terms of deconstructing it and trying to figure it out and how it can apply to tech. That was really important, and I will never forget those months."
"Enrica exemplified the kind of student our linguistics major is aimed at, and she represents our 'language first' approach, which means we want language study to take a leading role in the study of linguistics," said Tom Werner, assistant teaching professor and director of the Linguistics Program. "Enrica had a natural way with language and could transition smoothly from speaking French to studying Icelandic to learning about Siberian languages. Her interest in languages motivated her study of linguistics and linguistics, I believe, helped her with her mastery of particular languages."
"I think everyone needs to keep studying linguistics and language," Rosato said. "Keep Tom Werner and Mandy Simons on their toes, keep the program alive and keep people interested in language."