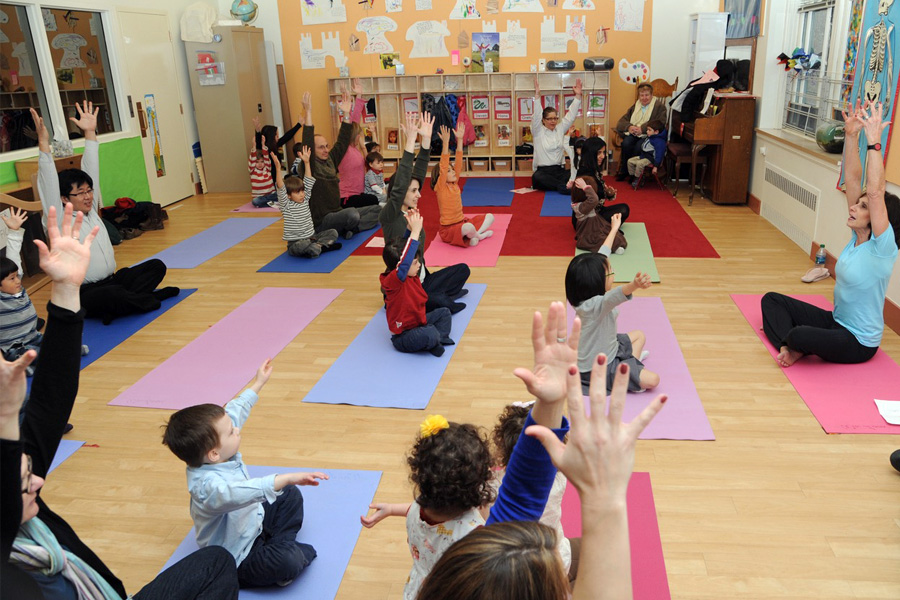 August 30, 2018
All Is Wellness at the Children's School
By Ann Lyon Ritchie
Good self-care habits develop early. Carnegie Mellon University's Children's School designed a "Healthy Mind and Body" curricular theme for its early childhood education program with this in mind.
Children's School Director Sharon Carver and her team create the school's curriculum. Each fall, a new theme threads through the year across all levels from age 3 to kindergarten.
"Our educators will be introducing mindfulness practices and enhancing what we already do to help our young learners build lifelong habits of well-being," Carver said.
Krissy Opferman, who teaches four-year-olds, and Caitlin Armbruster, who teaches three-year-olds, have prepared numerous preschool activities, from learning about anatomy and the five senses to involving the children in actively taking care of their physical health through exercise, safety practices and personal hygiene.
"Children are naturally curious about their bodies and how they work. We are excited to use this natural curiosity to help us teach and discover ways to take care of our bodies and minds," Opferman said.
Topics on mental health and emotional wellness will cover the care of young minds by discussing the benefits of relaxation, play and laughter and working to recognize and cope with emotions.
"I'm excited about the mind-body connection and the opportunity to introduce the children to ways to cope in difficult and uncomfortable situations. For example, in the classroom, when a child's block structure is knocked down, and strong emotions arise as a result, we will practice mindfully reacting and appropriately managing and coping with the strong emotion," Armbruster said.
Opferman added, "As a staff, we have been learning more about mindfulness and are excited to bring some of this new knowledge and techniques into the classroom."
David Creswell, associate professor of psychology in the Dietrich College of Humanities and Social Sciences, talked with the school's educators about mindfulness. Creswell is a pioneer of the health neuroscience field and leads cutting-edge research on how the brain can influence physical health.
"There's a lot of enthusiasm about fostering the whole person in children at the Children's School. Mindfulness programs have the potential for benefiting younger children, particularly ones that have been adapted for their age," Creswell said.
Carver described the whole school theme as an important link between the Children's School families and the CMU community. In addition to Creswell's visit, the school connected with the Be Well at CMU wellness initiative and the resources on its website, such as Headspace, an app for self-led meditation.
Angela Lusk, program director of student affairs wellness initiatives, said Be Well at CMU is dedicated to enhancing wellness culture at Carnegie Mellon and beyond.
"When we are better to ourselves, we are better at our work, and we are better parents, siblings, friends and co-workers. Together we become a better community. In a place like Carnegie Mellon that challenges status quo in every arena imaginable, we also must challenge status quo when it comes to personal development, self-care and wellness as afterthoughts to our day. In a world that is always on the go, we must recognize the importance of rest, reflection and the incredible power of pause," Lusk said.
Academic performance, for all ages, is only as good as the health of mind and body will allow. The children at the Children's School, which is celebrating its 50th anniversary, are receiving an early message that their well-being is a priority.